Chioggia Beet Salad with Parsley Pesto and Goat Cheese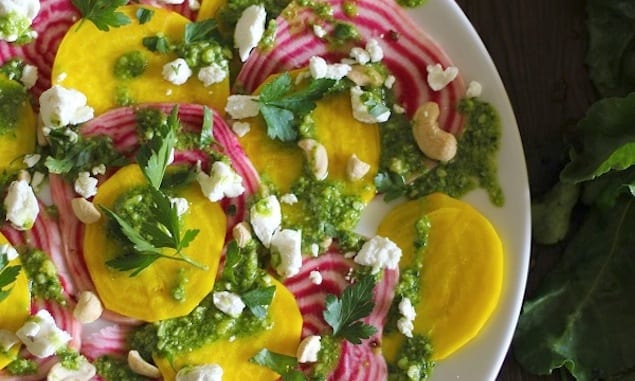 A quick and healthy side dish with beautifully striped beets, a vibrant pesto, and a sprinkling of goat cheese. Enjoy the sweeter chioggia beets raw on a warm day.
By Julia Mueller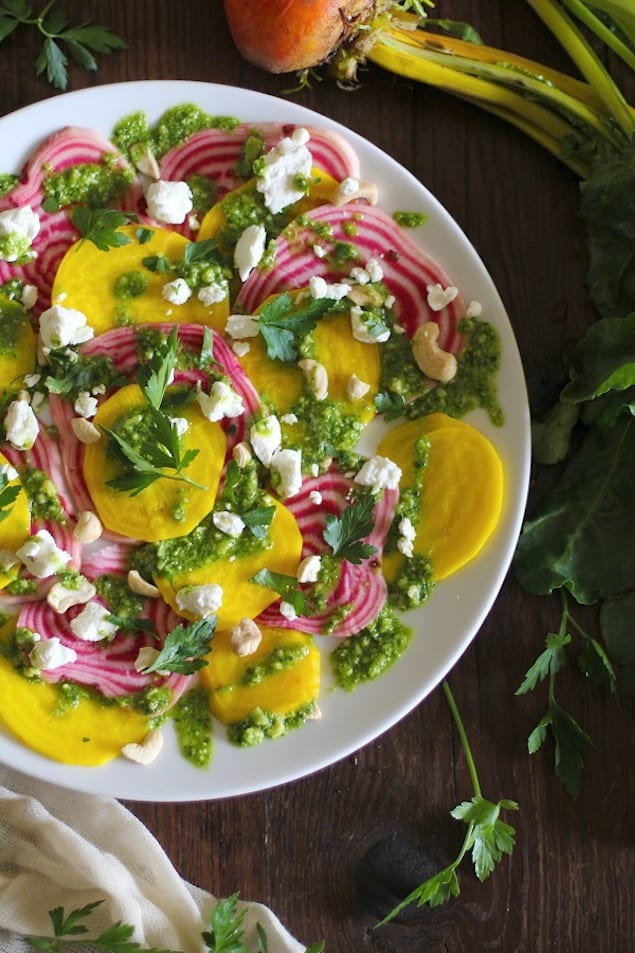 Chioggia beets have pink skin, and when you slice into them, you're pleasantly greeted by vibrant stripes that look like a candy cane. This is exactly why the vibrant root is nicknamed the candy stripe beet.
Both Chioggia beets and golden beets are sweeter than red beets. For this reason, slicing them thinly and leaving them raw makes for a snappy and incredibly nutritious snack. Lately I've been enjoying super raw superfood salads. Because beets are full of B vitamins, minerals, and antioxidants, I always feel like a tricked-out grown up when I eat me some raw beets.
I used my trusty mandolin slicer to do all the dirty work because let's face it: my motor skills are not fine-tuned enough to thinly slice anything using a knife.
If you're looking for a pretty and healthy appetizer, you've got one right here! In the event you spot a Chioggia beet at the grocery store or a two-headed komodo dragon window shopping on the streets of San Francisco, trust yourself to make good decisions.

Chioggia Beet Salad with Parsley Pesto and Goat Cheese
A quick and healthy side dish with beautifully striped beets, a vibrant pesto, and a sprinkling of goat cheese. Enjoy the sweeter chioggia beets raw on a warm day.
Ingredients
Parsley Pesto
1 Bunch parsley, chopped
½ cup raw cashews
⅓ cups parmesan cheese
3 Tablespoons lemon juice
2 cloves garlic, minced
⅔ cup olive oil
salt to taste
Salad
1 medium chioggia beet, sliced
1 medium golden beet, sliced
2 ounces goat cheese
2 tablespoons raw cashews
Parsely pesto to taste
Instructions
Pesto
put all of the ingredients except the oil and salt in your food processor, turn it on, and slowly pour the oil in through the feed tube until it reaches a consistency you like, stopping to scrape down the sides if needed.
Season with salt
Salad
Prepare the parsley pesto according to instructions.
Wash the beets and peel them.
Using a mandolin slicer, thinly slice the beets and arrange them on a plate.
Sprinkle on the goat cheese and cashew pieces. Drizzle desired amount of parsley pesto over everything.
Serve alongside your favorite entre.
Julia Mueller
As a fitness and nutrition enthusiast, Julia writes a food blog called The Roasted Root, where she share recipes that are mostly vegetable and meat based along with stories of her travels and day-to-day activities. Julia loves enjoying fresh home cooked meals with her friends and family, and the process of developing recipes, photographing, and sharing them.