This gluten free creamy pork porridge, based on the traditional Chinese Jook, is extremely easy to make in your own home and allows you to kick up the flavor by introducing a multitude of savory garnishes.
By Tania Goulart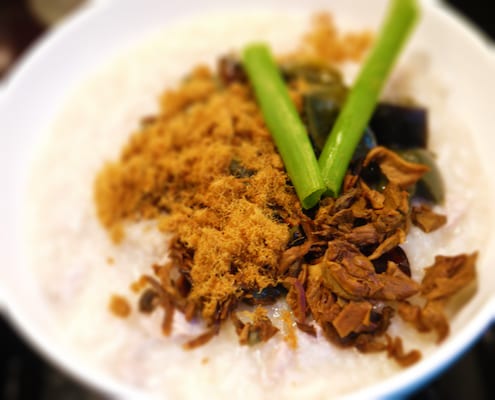 Jook - Creamy Rice Pork Porridge
As the heavy rains drench the city, leaving no urge to depart from home, cravings lend themselves toward warming and soothing soups and stews. This creamy pork porridge, based on the traditional Chinese Jook, is extremely easy to make in your own home and allows you to kick up the flavor by introducing a multitude of savory garnishes.
Ingredients
1 cup jasmine rice
6 (thick) OR 9 (medium) OR 12 (thin) cups of water
100 g lean pork died into ½ inch cubes
2 tsp low sodium gluten free Soy sauce (ex: San J Tamari)
1 tsp salt
2 tsp of mushroom seasoning (ex: Po Luk KU – All Natural Mushroom Seasoning)
1 tblsp olive oil
Garnishes:
1 large handful of dried porcini mushrooms - soaked for 10 minutes, drained, and chopped into fine slivers
1 ½ inch piece of grated ginger
2 shallots, minced/2 garlic pieces , minced/1.5 tsp crushed red pepper - mix
4 scallions, finely sliced
¼ cup Pork Sung (homemade recipe)
2 tblsp cilantro, chopped
2 Century Eggs, chopped into ½ inch pieces (OPTIONAL)
Instructions
Wash the rice: rinse until the water runs clear, stirring vigorously to reduce of grit.
Place water (amount depends on consistency you like) and rice into deep, large Dutch oven or heavy bottom pot and bring to a boil, then turn the heat down until reducing to a "cheery" medium-low simmer and partially cover.
Add the mushroom seasoning, salt and soy sauce.
Stir the rice and scrape the bottom to prevent burning every 5 minutes. Very important because the rice will stick.
Meanwhile – prep the garnishes and in a small skillet on med-high heat add the olive oil. Once the oil shimmers add the, shallots until softened (min and then add garlic and crushed red pepper about 2 to 3 minutes.
Once the rice has cooked for 15 minutes add pork for the last 10 to 15 minutes until it is fully cooked.
This should take approximately 25-30 minutes (up to 45 minutes for completely broken down Cantonese style porridge).
Fill bowl with rice porridge and top with garnishes as desired.
Notes
!Serves 4 !Pork Sung in this recipe is gluten free, however pre-packaged generally is not.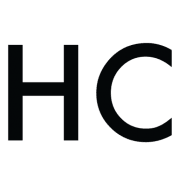 Tania Goulart
Tania Goulart is a lover of all things foodie. Based out of San Francisco, California, she enjoys the good fortunes of her hometown - the thriving local food culture, abundance of culinary resources, and some of the best produce in the world. A self-taught cook and food writer, her passion is natural, whole foods cooking, using only the freshest, local and sustainable ingredients. You can follow her at her blog, The Urban Farmerette (www.theurbanfarmerette.com), where she chronicles her adventures focusing on seasonal ingredients, gluten free, and Portuguese fare.