Banana leaves can be found in the frozen aisle of many supermarkets and especially those carrying Latin American ingredients.
By Camille Becerra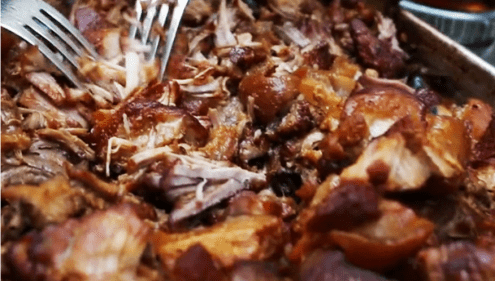 China-Latina Pork
Banana leaves can be found in the frozen aisle of many supermarkets and especially those carrying Latin American ingredients.
Ingredients
Vegetable oil
5-6 pounds bone-in or boneless pernil (or Boston butt), cut into 2- to 3-inch cubes
Kosher salt and freshly ground pepper
Garlic powder
Onion powder
Banana leaves
2 cups ketchup
¾ cup packed dark brown sugar
¾ cup unsulfured molasses
1 cup dry red wine, such as Syrah
¾ cup red wine vinegar
Fish sauce
Soy sauce
½ cup chipotle chiles in adobo sauce
Instructions
Adjust oven rack to middle position and preheat oven to 300°F. Heat 2 tablespoons oil in large Dutch oven over medium-high heat until just beginning to smoke. Season pork with salt, pepper, garlic powder, and onion powder. Cook the pork in batches, avoiding overcrowding, until deeply browned on all sides. Transfer to baking sheet. Repeat process with additional oil and remaining pork. Turn off heat and discard any
remaining fat. Line the pot with 3 layers of banana leaves. Return the browned pork and place all of the pernil and any accumulated juices in the pot. In a large bowl, whisk the ketchup, brown sugar, molasses, wine, vinegar, 2 tablespoons fish sauce, 2 tablespoons soy sauce, and chipotles. Pour the sauce over the pork and add enough water to the mixture to cover the pork by about 1 inch.
Cover with 3 more layers of banana leaves and submerge them. Bring the mixture to a boil over medium-high heat.
Cover the pot and place in oven. Cook 2 to 3 hours until the pork is fork tender.
Transfer the pork to a bowl with a slotted spoon and bring the sauce to a boil. Cook until thickened and reduced to about half, adjusting seasoning to taste with soy sauce, fish sauce, vinegar, and molasses. Shred the pork with two forks and return to the pot, stirring to coat.