These latin style kebabs are simple to make, and the beauty if it is that you can fill them up with whatever you have on hand.
By Carolyng Gomes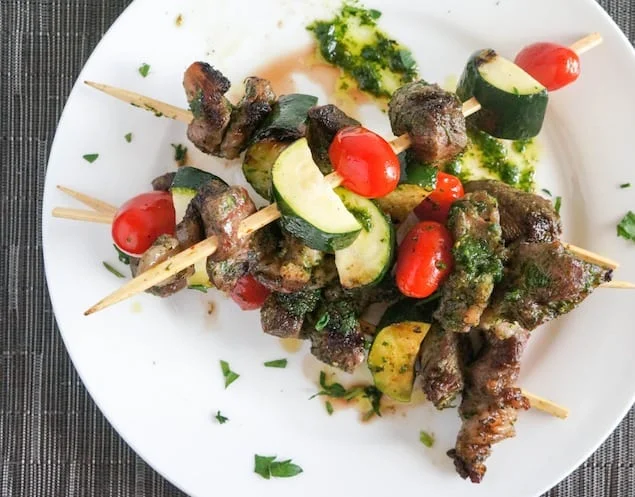 This recipe is great for mixing and matching too. Don't have steak? Use pork chops or chicken thighs.

Chimichurri Steak Pinchos
Ingredients
1¼ lbs steak
½ cup parsley, fresh
½ cup cilantro, fresh
4 cloves garlic
½ cup olive oil
1 tbsp red chili flakes
1 medium zucchini
1 cup cherry tomatoes
8 bamboo skewers
Instructions
Preheat grill pan on medium-high heat or fire up the grill
Place bamboo kebab sticks in water and set aside.
Cut steak into 1 – 1½ inch (bite sized) pieces. Transfer to bowl and set aside.
In a food processor combine parsley, cilantro, garlic, olive oil and chili flakes. Pulse until a thick sauce forms. Transfer half to bowl with steak and toss until each piece is covered.
Cut ends off of zucchini. Cut in half lengthwise, then again to make 4 long spears. Cut spears into 1 inch pieces. Add vegetables to another bowl and toss with remaining chimichurri sauce.
Using one kebab stick at a time, pierce vegetables/steak and leave about ½ inch on ends and ¼ inch between pieces. Repeat with remaining vegetables/steak and kebab sticks.
Place pinchos on grill and cook for 10 minutes, flip and cook for an additional 10 minutes or until steak and vegetables have charred grill marks.
Serve hot off the grill.