This is a crisp and spicy indo chinese recipe of chilli baby corn.
By Dassana Amit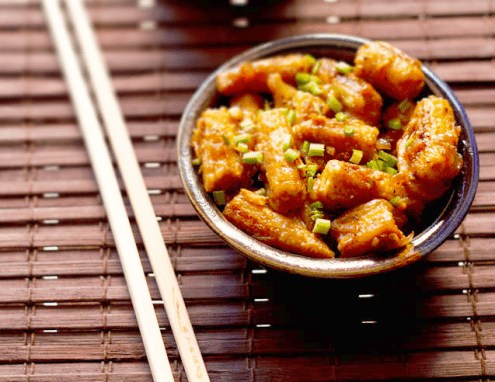 This indo chinese recipe is a hit with many folks. I usually make chilli baby corn as a side dish when i have a indo chinese menu at home. This recipe is a crisp version and a semi dry dish. It has some moistness, hence i call it semi dry. There is no gravy and the sauce coats the fried baby corn.
Chilli Baby Corn
This is a crisp and spicy indo chinese recipe of chilli baby corn.
Ingredients
main ingredients:
12-15 baby corn
½ inch ginger, finely chopped
2-3, green chilies, slit
3-4 garlic, finely chopped
½ cup finely chopped onion or spring onions
1 small capsicum/green bell pepper, thinly sliced
1 tsp soy sauce or as required
½ tsp apple cider or white vinegar (optional)
1 tsp chopped celery
2 tbsp water
1 tsp corn starch/corn flour to be sprinkled from above
salt, pepper and sugar as required
2-3 tsp oil for frying the baby corn
1 tbsp oil for the sauce
for the batter:
2 to 3 tbsp all purpose flour/maida
2 to 3 tbsp cornstarch/cornflour
water as required to make a thick paste
salt and pepper as required
Instructions
preparing the batter:
make a smooth paste with the cornflour, all purpose flour (maida), salt, pepper and water.
rinse and dry the baby corn with kitchen towels.
chop the baby corn if they are larger in size or keep them whole if they are smaller.
heat oil on a tava or a frying pan.
dip each baby corn piece in the batter and coat it well with the batter.
pan fry the baby corn till the edges and sides are golden brown.
since we have used less oil, you don't need to drain the babycorn on kitchen napkins.
preparing the sauce:
in another pan or kadai or wok, heat about 1 tbsp oil.
add chopped onions or spring onions, ginger, garlic and slit green chilies.
stir fry on a medium flame till the onions have become translucent. (if adding capsicum, add now.stir fry till the capsicum have partly cooked but still retain their crunch.)
add the soy sauce and stir well.
now sprinkle black pepper powder, salt and sugar.
add 2 tbsp water and stir.
add the pan fried baby corn with chopped celery to this mixture.
stir well.
to give a glaze and smoothness in the dish, sprinkle about 1 tsp of corn flour. mix well and cook for 1-2 minutes or more till the corn flour has cooked.
lastly add the apple cider or white vinegar and stir again.
check the seasonings and add salt, pepper or soy sauce if required.
serve the baby corn garnished with some spring onions or chopped celery.
serve as a starter or with bread or even veg fried rice.
Dassana Amit
Dassana never intended to start a food blog. She never ever thought about blogging in her wildest of dreams. Her only passion in her life was meditation. As she went deeper in meditation, she realized that her inborn gift of cooking delicious & healthy food needs some creative expression. So she started her blog " Veg Recipes of India " as an outcome of creative flowing energy. Now she has also combined her another gift i.e photography with cooking. When not blogging & food photographing - she works as a web developer and seo expert.