Chilled Cucumber and Kefir Soup
Enjoy a chilled cucumber and kefir soup. Perfect for these hot summer days when you just want something simple and cooling.
By Debra Smith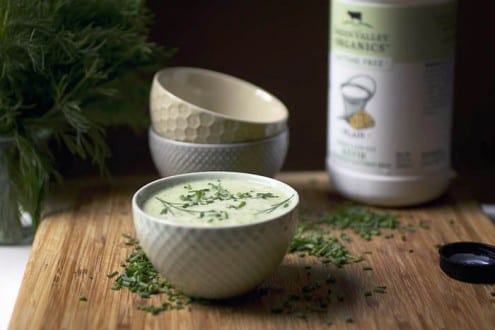 I used the plain kefir to make this chilled Cucumber & Kefir soup – perfect for dinner al frescos with friends or even packed up for a picnic at the beach – all you need to add are great conversation and fun!
Chilled Cucumber and Kefir Soup
Enjoy a chilled cucumber and kefir soup. Perfect for these hot summer days when you just want something simple and cooling.
Ingredients
4 cups peel, halved lengthwise, seeded and chunked English cucumbers (hothouse variety)
1 cup Green Valley Organics Lactose-Free Plain Kefir
2 Tablespoons finely chopped preserved lemons
1 green onion including tender green tops, chopped
2 Tablespoons finely chopped chives
3-4 Tablespoons chopped fresh dill
1 clove garlic, chopped
2 teaspoons jarred horseradish
1 teaspoon kosher salt
¼ teaspoon ground black pepper
2-3 Tablespoons fruity extra-virgin olive oil
Instructions
Coarsely chop the cucumber halves and place in a large bowl
Add the kefir, preserved lemons, green onion, chives, dill, garlic, horseradish, salt and pepper
Stir to combine, cover with plastic wrap and set aside at room temperature for 1 hour to blend the flavors
After an hour, in a blender, puree the cucumber mixture until smooth
Cover with plastic wrap and refrigerate until chilled, at least 2 hours; the soup can be prepared ahead up to 12 hours and stored in an airtight container in the refrigerator – just stir to emulsify to serve
Just before serving, stir in olive oil
Garnish with chives and dill; serve at once
Debra Smith
Debra and 'The Professor', Midwest-based husband and wife freelance videographers, photographers, writers, storytellers, and publishers of the Smith Bites. Using images, words, music and video, they connect the stories about food, friends and family to the world around them.