Chilled Cucumber and Dill Soup
This chilled soup is great in warm weather to showcase the fresh vegetables of the season. Garnish with shrimp and make this refreshing side into a main course.
By Debra Smith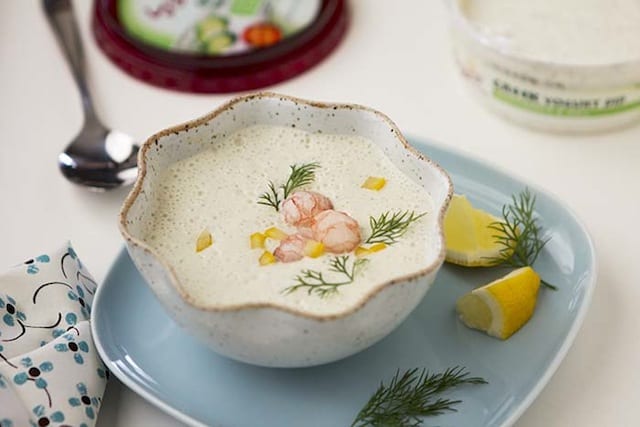 I am a lover of all seasons and really do look forward to the fade of one while ushering in the next. This soup is a great way to usher in the beginning of spring through until summer.

Chilled Cucumber and Dill Soup
This chilled soup is great in warm weather to showcase the fresh vegetables of the season. Garnish with shrimp make this refreshing side into a main course. Adapted from Ina Garten
Ingredients
20 oz cucumber & dill veggie dip (or substitute greek yogurt, dill and a cucumber)
1 teaspoon lemon juice
1 cup whole milk
¼ cup chopped sweet onion
4 green onions, white and green parts, chopped
2 teaspoons kosher salt
1 teaspoon freshly ground black pepper
4 Tablespoons freshly squeezed lemon juice (1 large lemon)
Cooked langostino, shrimp or salmon (optional)
Garlic powder (optional)
Preserved lemon, minced for garnish
Lemon wedges, for garnish
Fresh dill, for garnish
Instructions
Place dips, or yogurt, whole milk, onion, green onions, salt, pepper and lemon juice in a blender and process until smooth – about 1-2 minutes
Divide into bowls, top with fresh dill, preserved lemon and langostinos if using
Serve immediately or store in refrigerator
Debra Smith
Debra and 'The Professor', Midwest-based husband and wife freelance videographers, photographers, writers, storytellers, and publishers of the Smith Bites. Using images, words, music and video, they connect the stories about food, friends and family to the world around them.