A delicious seasonal pasta with an extra kick from chili peppers.
By Chitra Agrawal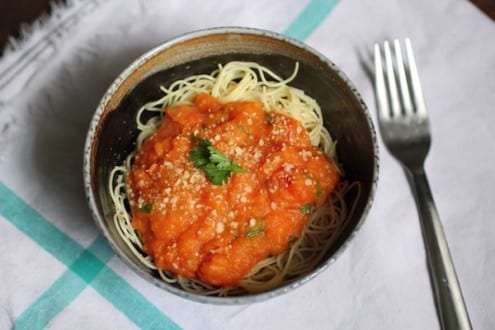 I grew up eating pasta sauce with Indian green chillies so when I got these ristra peppers in my farm share with a big pumpkin, I thought I'd put them both together and make a pasta sauce out of them.
See Also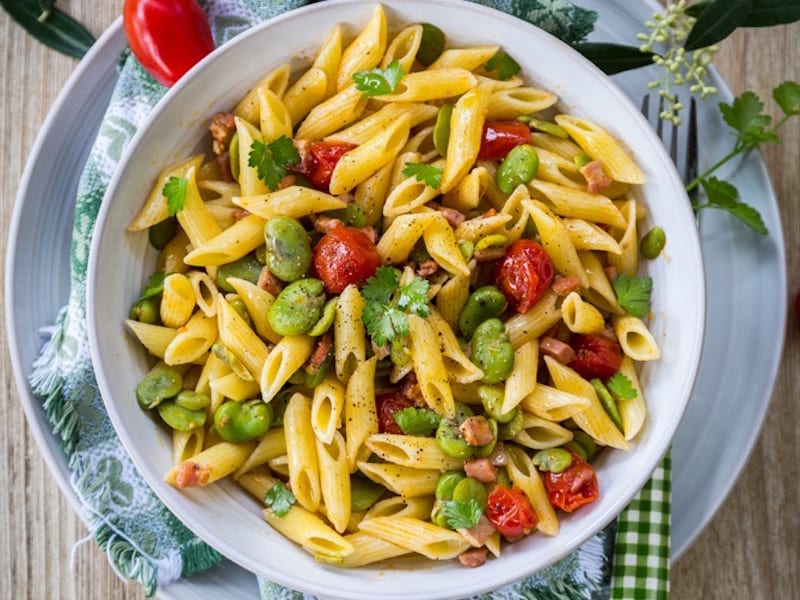 The sweetness of the pumpkin goes really well with the chillies. I had two pumpkins from my farmshare so this recipe was a good one to freeze and use leftovers for later.
Chili Pumpkin Pasta Sauce
A delicious seasonal pasta with an extra kick from chili peppers.
Ingredients
Fresh Chili Pepper Pumpkin Pasta Sauce
2 pumpkins, roasted & pureed (about 4 cups)
2 tablespoons ghee or butter
3 tablespoons olive oil (1 for cooking and 2 for later)
1 large yellow onion, chopped
3 cloves garlic, sliced
2 ristra chili peppers (can use jalapeños, serrano or Indian green chilies), chopped fine
1 28 ounce can whole peeled tomatoes
1 cup grated parmesan (grate extra for sprinkling on top)
2 cups water - could use more depending on what consistency
1 tablespoon red or white wine vinegar
2 tablespoons heavy whipping cream
cilantro, chopped (could use parsley or basil)
salt & pepper to taste
dried red chili flakes if you need more heat:)
Instructions
To roast the pumpkin, cut it in half. Take out the seeds and stringy mess. Then generously brush both sides of the pumpkin with oil. Lay them face down on a baking sheet and roast them in the oven for about 45 minutes at 350 degrees fahrenheit or until you can pierce the skin easily with a fork.
To make puree, dig out the flesh of the pumpkin and puree in a blender, food processor or with a hand blender.
Heat the ghee and 1 tablespoon of olive oil in a large pot under medium heat. When hot, add in onions and cook until translucent. Mix in garlic and chillies and cook for 30 seconds or until garlic is fragrant. Add in the pumpkin puree and mix well, adding salt to taste. Fry the pumpkin for a few minutes and next add in the whole tomatoes (keeping them whole) and water.
Bring the mixture to a boil and then let simmer gently for 1 hour. 45 minutes in, check to see if you should add more water, depending on how thick you like your sauce. At the hour, stir in the vinegar and chop up the tomatoes in the sauce. Add in the cream and cheese and mix well until cheese melts. Turn the heat off and mix in your herbs, season with salt & pepper and top the sauce off with 2 tablespoons of really good olive oil.
Serve over your favorite pasta or raviolis with more cheese, black pepper and fresh herbs on top. Add some dried red chili flakes if you want it hotter. There will be leftovers so you can freeze the rest for pasta or pizza in the future!
Chitra Agrawal
Chitra writes the food blog, The ABCD's of Cooking, which chronicles her adventures cooking American Born Confused Desi recipes. When she is not recipe blogging, Chitra can be found hosting her online cooking show and a supper club featuring Indian-inspired, vegetarian cuisine. She also teaches cooking classes and sells Indian street foods (sometimes yummy Indian tacos!) at events and artisanal markets in Brooklyn. Her cooking has appeared in the New York Times Dining Journal and she is a contributor to The Huffington Post, Gojee, The Daily Meal and Brooklyn Based.