You can use classic basil pesto to top this light soup, or add a twist with a different base: rocket, coriander or even mint.
By Preethi Vemu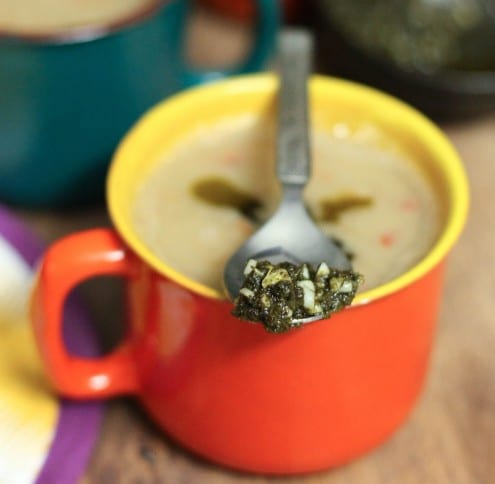 Chickpea Soup with Pesto Garnish
You can use classic basil pesto to top this light soup, or add a twist with a different base: rocket, coriander or even mint.
Ingredients
Chick peas - 1 C, soaked in water overnight
Pesto - 1 Tbsp.
Olive oil - 1 Tbsp.
Garlic cloves - 5-6, chopped fine
Red chilli flakes - 1 Tbsp.
Salt - To taste
Sriracha sauce - 1 Tbsp. [Alternately, use red chilli sauce]
Hot water - 4 C
Instructions
Pressure cook the chick peas. Cool and grind them in a mixer-grinder till they form a thick paste.
Pour hot water into this paste and bring to a boil in a deep cooking pot.
Add the Sriracha sauce and salt to taste. Keep stirring for another 10 min on a medium flame.
Meanwhile, heat the oil in another saucepan.
Sauté the pesto in that oil along with the garlic pieces and red chilli flakes for about 5 min on a low flame.
Take this off the flame.
To serve, pour couple of ladles of the soup into each soup bowl and top it with the sautéed pesto.
Serve hot.
Preethi Vemu
Preethi loves tea, animals, food and her Kindle. When she is not busy being a geek, she dreams about seeing her name in print media some day . An avid reader and an amateur food photographer, Preethi lives in Hyderabad, India with her husband who is subjected to all her culinary experiments.