Chicken Tzatziki Lettuce Wraps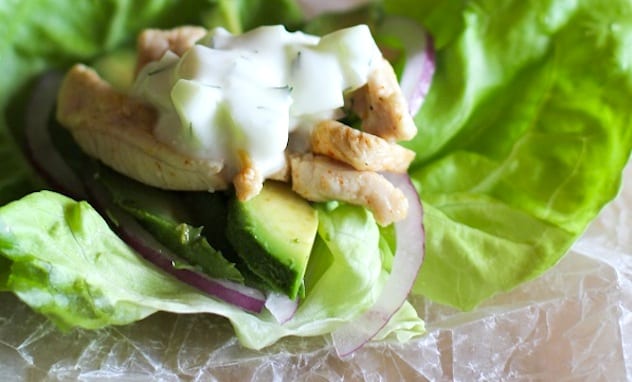 These wraps are easy like Sunday morning. Red onion, avocado, the chicken, and tzatziki sauce go in butter lettuce for a delicious swaddling.
By Julia Mueller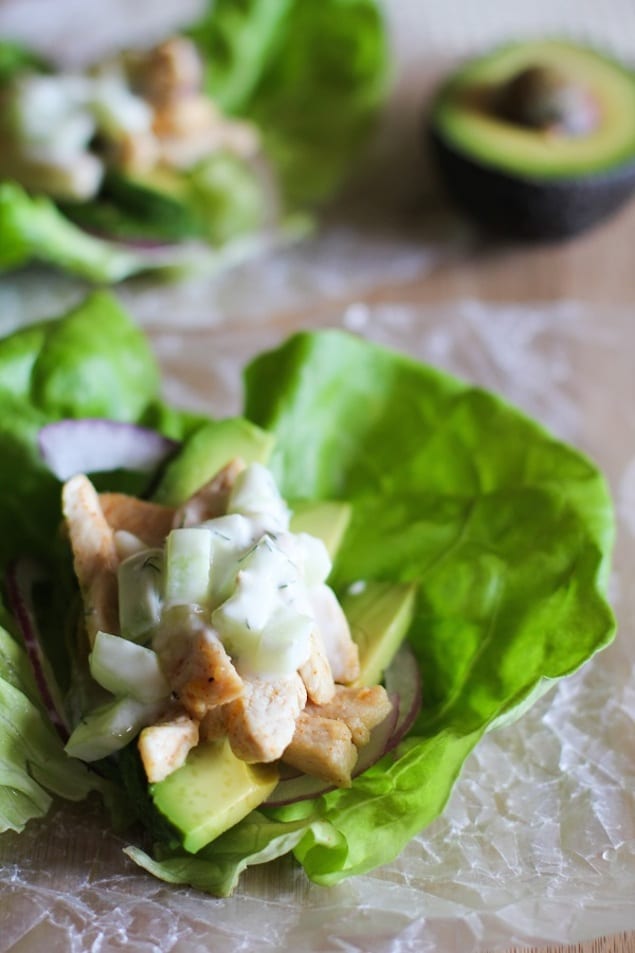 Oh hey, these things are easy like Sunday morning. You just whip yerself up a batch of tzatziki sauce. Red onion, avocado, the chicken, and tzatziki sauce go in the butter lettuce for the swaddling. Swaddled food is good food. The tzatziki sauce? Drink it.
These lettuce wraps come together quickly! Like one episode of Jeopardy quickly. Which means they're probably the best TV dinner food item ever, follow my logic? But heck, you can also make the wraps on the weekend, because let's face it: weekends are for playing – ain't nobody got time to put together a meal that takes longer than an episode of American Pickers.
Let's win this game called life.

Chicken Tzatziki Lettuce Wraps
These wraps are easy like Sunday morning. Red onion, avocado, the chicken, and tzatziki sauce go in butter lettuce for a delicious swaddling.
Ingredients
Tzatziki Sauce
1 cup plain whole milk yogurt
1 cup cucumber, peeled and chopped into small bits
3 cloves garlic, minced
1 heaping tablespoon fresh dill, chopped
1 tablespoon cider vinegar
¼ teaspoon salt, or to taste
Wraps
1-1/2 tablespoons coconut oil or grapeseed oil
2 chicken breasts, cut into strips
Zest of 1 lemon
2 tablespoons lemon juice
Pinch of salt
Pinch of cayenne pepper
For serving
Butter leaf lettuce
Tzatziki sauce
1 to 2 avocados
Thinly sliced red onion
Instructions
Sauce
Chop cucumber and place in a colander. Sprinkle with a little bit of salt, toss, and place colander in the sink and allow cucumber to drain for 30 minutes.
Place all ingredients in a bowl and stir together well.
Serve on your favorite gyro, pita, or in wraps and on salads.
Wraps
Heat the oil to medium-high in a cast iron skillet.
Add the chicken, and sauté, stirring frequently about 1 to 2 minutes.
Add the lemon zest, lemon juice, salt, and cayenne pepper, and stir well. Continue cooking until chicken is cooked through but still tender, about another 3 to 4 minutes.
Wash and pat dry butter lettuce leaves.
Add sliced red onion, avocado, chicken, and desired amount of Tzatziki sauce. Wrap em up and devour!
Julia Mueller
As a fitness and nutrition enthusiast, Julia writes a food blog called The Roasted Root, where she share recipes that are mostly vegetable and meat based along with stories of her travels and day-to-day activities. Julia loves enjoying fresh home cooked meals with her friends and family, and the process of developing recipes, photographing, and sharing them.