Chicken skillet nachos are topped with all the favorite fixin's and a lime crema. It's about to be your new favorite, fun meal.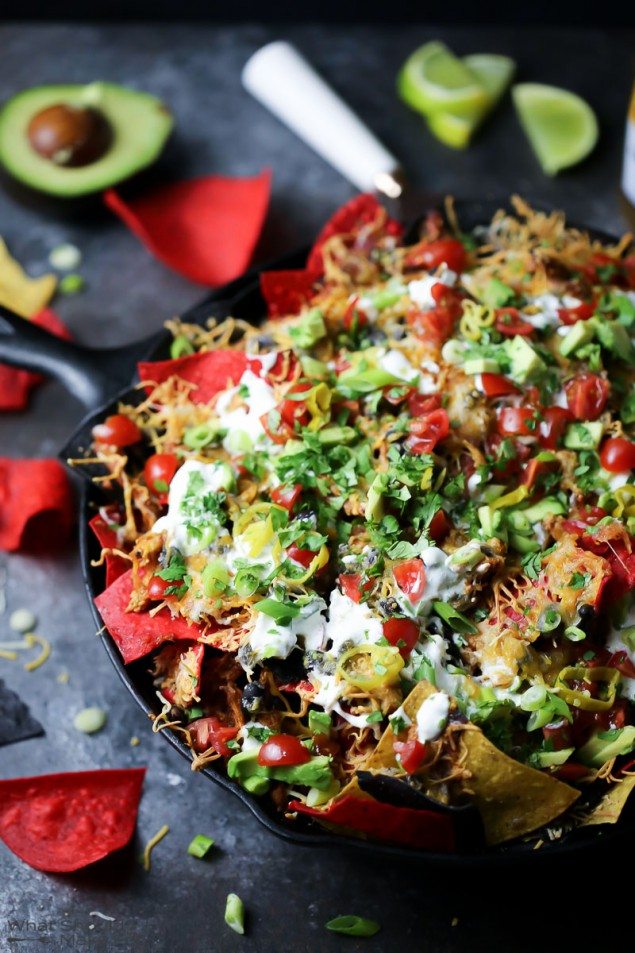 Crunchy tortillas, saucy pulled chicken, beans, cheese and all of your favorite toppings get layered and baked. Pure YUM.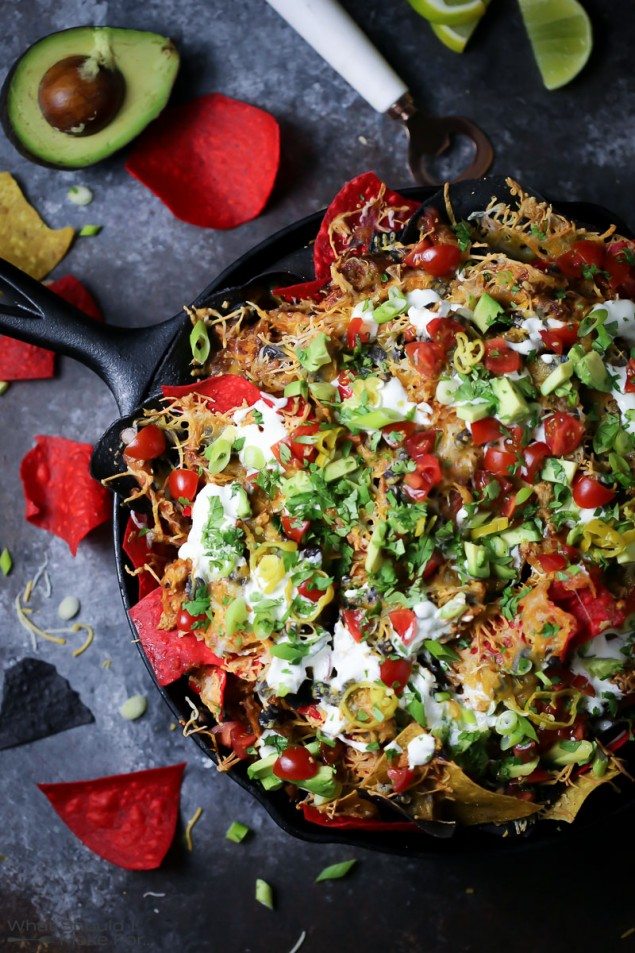 I have yet to meet a person that can say no to a plate of nachos and quite frankly, if I ever meet that person I can pretty much guarantee we wouldn't be friends. That's not to say that all nachos are created equal. Apparently the kids at my son's school line up in droves for Nacho Day at lunchtime where the "nachos" consist of a bag of tortilla chips and a little container of sticky, yellow goop on the side. So I guess I need to revise my previous statement about saying no to a plate of nachos, because there's not a chance that I could say yes to that.
I definitely do not reside in the less is more nacho camp. I like it all on there. Chicken or beef, beans, cheese, tomatoes, guac, and on and on and on. I also believe in layering those fixins. You know that disappointed feeling when you're scraping the bottom of your ice cream sundae dish and there's not a speck of hot fudge in sight? Well that is exactly how I feel when I'm left with a pile of naked chips midway through a plate of nachos. I want those last chips to be piled high and just as decadent as the first bite.
I made a saucy pulled chicken for these bad boys and layered it with black beans and cheese. I was kicking myself after cooking the chicken because I should have doubled the recipe. Not for these nachos, but so we could have it on hand for later in the week. It's awesome for tacos, enchiladas, sandwiches or straight out of the tupperware after too many margaritas. Check out my Mango Shrub Margarita that pairs perfectly with these nachos.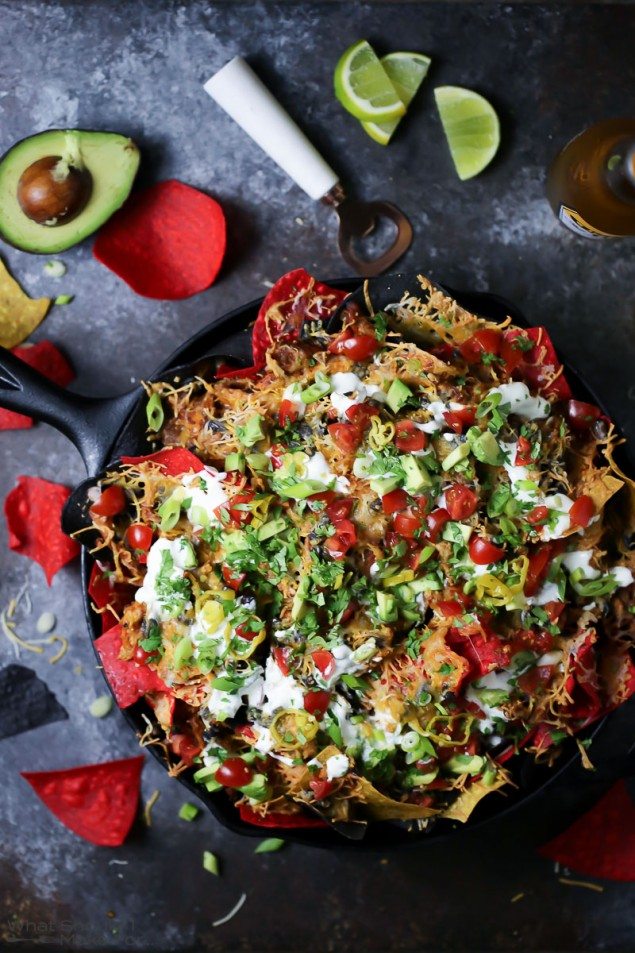 So back to that skillet…my nacho-making method is layer, bake and then throw on all the toppings. Oh, and then pop open a beer and dive in. Check out quick video below to see it in action.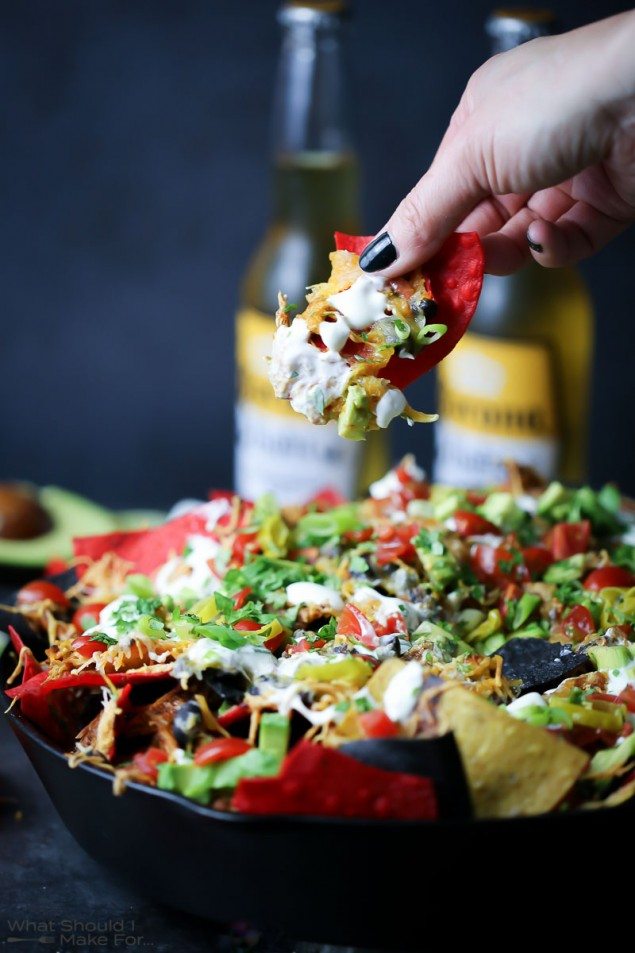 Click here for the lime crema recipe.

Chicken Skillet Nachos
Chicken skillet nachos are topped with all the favorite fixin's and a lime crema. It's about to be your new favorite, fun meal.
Recipe Type:
Main, Appetizer
Ingredients
Pulled Chicken
1 Tbsp olive oil
1 medium onion, diced (about 2 cups)
2 large garlic cloves, minced
1 Tbsp chili powder
1 tsp dried oregano
1 tsp ground cumin
1 - 6 oz can tomato paste + 1 can water
1 - 4oz can diced green chiles
1½ Tbsp white wine vinegar
1 tsp sugar
1½ cups chicken stock
1 tsp kosher salt
¼ tsp freshly ground black pepper
1½ lbs skinless, boneless chicken breasts
Lime Crema
Click the link above for the recipe.
Skillet Nachos
1 - 10 or 12 oz bag of tortilla chips
Pulled chicken (recipe above)
1 -15 oz can black beans, drained and rinsed
1 - 7 oz bag shredded cheese (Mexican blend or cheddar)
Lime crema (recipe above)
1 Tbsp cilantro, minced
2 Tbsp scallions, sliced
? cup diced tomatoes
1 avocado, diced (optional)
2 Tbsp pickled jalapeños, sliced (optional)
Instructions
Pulled Chicken: Heat the oil over medium/high heat in a large skillet until hot but not smoking. Add the onion and cook for 3-4 mins, until the onion is golden, stirring frequently.
Add the garlic and cook an additional 1-2 mins.
Stir in the herbs and spices and toast for 1-2 mins. Add the tomato paste and then fill the tomato paste can with water and add that to the pan. Stir until well blended.
Mix in the chiles, vinegar, sugar, stock, salt and pepper and bring to a boil.
Reduce to a simmer and add the chicken breasts in a single layer and cover the chicken with the sauce.
Cover and reduce the heat to very low and cook for 30 mins.
Remove the chicken to a large bowl or plate and allow to cool slightly. Return the sauce to stove and heat over high heat. Bring the sauce to a boil and reduce by half, about 10 mins. Use two large forks or your hands to pull apart the chicken and shred. Stir back into the sauce.
Lime Crema: Whisk together sour cream, lime juice, zest and salt.
Skillet Nachos: Preheat the oven to 400 degrees. In a large (I use a 10 inch) cast iron skillet layer one half of the tortilla chips with the shredded chicken, beans, and cheese. Repeat.
Bake until cheese is melted, about 10 mins.
Remove pan from the oven and drizzle with the lime crema, sprinkle with cilantro, scallions, tomatoes, avocado and jalapeños