Judith Klinger, with an Italian – poultrified – take on the classic British Shepherd's Pie.
Text And Photo By Judith Klinger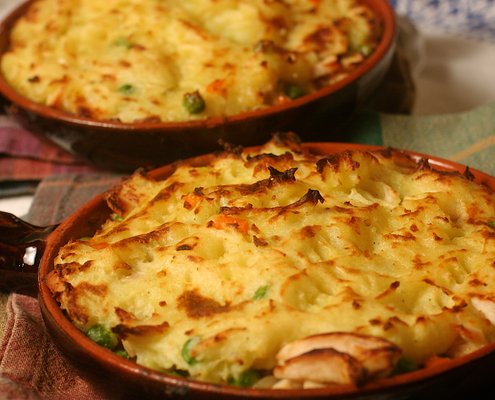 Shepherd's pie is a classic dish from the British Isles, but variations on the dish exist anywhere there are potatoes and a bit of leftover meat.
According to Wiki, it's "pastel del popa" in Argentina, it's 'hachis Parmentier' in France,  it's 'siniyet batata' in Syria & Libya, and 'pate chinois' in Quebec. Although why a potato topped meat pie made in Canada is a "Chinese pie" is beyond me.
We have left over roast chicken so I'm calling it Chicken Shepherd Pie or "Tarta di Pollo dello Pastore" because I made it in Italy!  The name doesn't matter, what does matter is that you turn your leftovers into something delicious and that you tailor the ingredients to what you have on hand and to what flavors you like. That is the beauty of being the cook, you get to make it your way.

Turn your left over roasted meats into a delicious new dish. Get creative with this variation on a classic mashed potato topped shepherd's pie.
Ingredients
The Filling
1 cup chopped left over roast chicken, this is approximate. If you have less chicken, add more vegetables
⅓ cup, 225 g fresh or frozen peas
1 carrot chopped
1 onion chopped
2 stalks of celery chopped
1 T, 3g flour
¼ cup, 25dl chicken stock
Potato Topping:
2-3 medium potatoes, peeled and cubed
1 T, 28 g mustard
2 T, 28g butter
2T, 6g milk
salt, pepper to taste
Instructions
Preheat the oven to 305F/180C
Boil the peeled and cubed potatoes in salted water until tender. About 15 minutes.
Chop the carrots, onion, celery into small pieces. Add a small quantity of olive oil to a saute pan, and saute the vegetables over medium heat until soft and snuggly, not browned.
Remove the chicken meat from the bones if you haven't already done so and roughly chop the meat into bite size pieces.
Lower the heat on the sauteed vegetables and stir in 1 tablespoon of flour, mixing well to coat all of the vegetables. Add ¼ cup of chicken stock or a little more if you want a wetter, more stew like consistency in your pie. Stir until the stock has thickened.
Remove the vegetables from the heat and pour into a bowl, add the chopped chicken meat and the peas and mix well.
By now the potatoes should be tender. Drain and adding the mustard, butter, and milk, push the potatoes through a potato ricer. I don't know the science behind this, but mashed potatoes made in a ricer make for a much fluffier mash and require less butter or milk. Taste and add salt and pepper if needed.
Use small, individual crocks for the pies. This discourages fighting over the last scraps if you make one big pie. Fill the pie pans with equal amounts of the filling, and top with the mashed potato crust.
Bake in the oven until the filling is bubbling and the crust has browned a bit. Approximately 30 minutes.
Judith Klinger
Judith Klinger is a culinary events producer, former Director of Operations for the International Association of Culinary Professionals. Judith and her husband, Jeff Albucher are the creators of Aroma Cucina, an Italian lifestyle blog. She is the author of Cooking Simply The Italian Way.