Made from scratch with a freshly ground spice mix. This taste is just superb!
By Jehanne Ali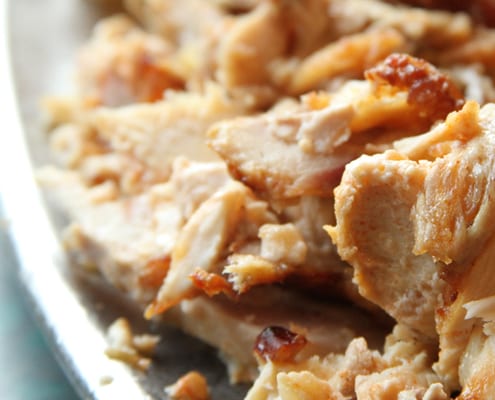 We have a hot spot in our home. It is a shelf. A simple book shelf, but filled with wonderful things and abracadabra that we collected over the years- teapots from the travel, trinkets from friends, shot glasses bought as souvenirs, wooden planks for props, and most importantly, cookbooks that I use often for our meal ideas. Unlike some cookbook collectors who sometimes don't cook from the book, I do like to try out new recipes from cookbooks, a numerous numbers of them, but I only selected a few special ones for my special shelf.
You could imagine how delighted I was to receive a beautiful parcel all the way from Faith, not any ordinary parcel but the best gift that a foodie can get- a signed copy of her 'An Edible Mosaic' cookbook, signed and sealed with love from the author herself! I have been an ardent admirer of An Edible Mosaic the blog, the culinary pit-stop full of middle eastern discoveries and beautifully photographed recipes. So that two weeks waiting for the parcel, I was imagining how beautiful the cookbook will be, or what sort of Arabic dishes would Faith present to us in the book. I must admit that the book exceeded my imaginationwith beautiful layout, with the use of beautiful calligraphy-like font and of course, mouthwatering photos, shot by Faith. The book that she rightly says 'the labour of love', really delivers.
I adhere to my little rules- if 4 recipes turn out great from a book, and if I learn something new and adaptable for my meals, then the book is worth it. So without much ado, I tried few recipes from the collection of over hundred on offer, and fell in love with the simple yet delicious Cucumber Yogurt Salad which was 'an encore' for our dinner meals for few days in lieu!Then it was time to try Tabbouleh. Made a special trip to a specialty store just to get the bulghur wheat, the tabbouleh with a good dose of parsley and herbs turned out delicious and healthy.
The refreshing salads..gorgeous drinks..arabic desserts, and various meals for the spicy palate, An Edible Mosaic is full of traditional as well as easy recipes which suit every budget and resources of a modern kitchen, without numerous trips to specialty stores for that unique ingredient. The book is divided into chapters that cover bread and pies, salads, vegetable and rice side dishes, appetizers, beans and lentils, chicken and seafood, beef and lamb, drinks, and of course desserts. Knowing well enough that not all of us are well acquainted with the spices, or specialty ingredients such as Persian cucumber, orange blossom water or mastic, the book not only has detailed descriptions but pictures too, in a dedicated chapter called 'Buying the Right Middle Eastern Ingredients'- the most useful chapter of the book.
What sets this book apart from the burgeoning number of other cookbooks, in my opinion is the author's transparent passion for the food and the cuisine, also the beautiful photography that tell a story. After all, food cooked with love is always the best.
I ventured into the world of spices and tried the Spiced Shawarma Chicken Wraps, made from scratch with freshly ground spice mix. The taste was just superb! So much so that I now keep a jar of the spice mix and marinate anything and everything with it, from simple tofu tartine (yes!), to chicken wings for afternoon snacks. But the flavour is best on Arabic style shredded chicken, infused with spices and marinated to perfection with yogurt, garlic and olive oil, wrapped in flatbreads. The perfect flatbread recipe is also in the book! I also like the fact that her shawarma mix recipe doesn't contain sumac, as it is difficult to source here. Because I was naughty (read: too rushed for time to make the flatbreads), I have been enjoying the chicken shawarma as open sandwich tartine on potato bread, which taste heavenly and makes the perfect quick lunch. So if you think middle eastern cuisine is not for you, think again, as the spice-infused flavours can go well with other type of cuisines too.
The one bookmarked recipe which I am excited about is Ma'amoul, which is our family's favourite. They look so picture perfect, if only I could find the wooden maamoul mould now!
I am pleased to let you know that Faith has kindly agreed to share the chicken shawarma recipe here on the blog, but I strongly recommend you to get a copy of the book, as it is a keeper. The recipes are delicious, and even if you haven't tried middle eastern cuisine before, I am sure there is always something for you in the book.
Chicken Shawarma from An Edible Mosaic
Middle eastern Chicken Shawarma.
Ingredients
1 batch Shawarma Spice Mix
½ cup (125 ml) plain yogurt
1½ tablespoons fresh lemon juice
3 large cloves garlic, crushed
1½ teaspoons salt
2 lb (1 kg) boneless, skinless chicken breast
2 tablespoons olive oil, plus more for sautéing
16 ?atbreads Garlic Mayonnaise (page 24)
Pickles (page 27)
Shawarma Spice Mix
2 teaspoons ground cumin
2 teaspoons ground coriander
¾ teaspoon ground black pepper
½ teaspoon ground ginger
½ teaspoon ground allspice
¼ teaspoon ground fenugreek
¼ teaspoon ground cardamom
¼ teaspoon ground cloves
¼ teaspoon ground sweet paprika
¼ teaspoon ground turmeric
¹/ 8 teaspoon ground red pepper (cayenne) (optional)
Instructions
Prepare the Shawarma Spice Mix
Combine the spice mix with the yogurt, lemon juice, garlic, and salt in a large bowl. Add the chicken and toss to coat. Cover and refrigerate 2 to 24 hours.
Preheat oven to 350°F and spread 1 tablespoon of oil on the inside of a large baking dish.
Scrape off any excess marinade from the chicken with your hands. Starting in the center of the oiled dish, arrange the chicken so that it overlaps, and drizzle the remaining 1 tablespoon of oil on top. Bake (uncovered) 1 hour, or until the chicken is fully cooked; cool. (It's done when you cut into the center and there is no pink.)
Remove the chicken from the pan and transfer it to a large cutting board; slice it very thinly across the grain, then transfer it back into the pan it was cooked in to soak up the juices (the chicken can be refrigerated this way for up to 3 days before continuing with the rest of the recipe, or you can continue after 10 minutes).
Coat the bottom of a large skillet over medium-high heat with oil. Once hot, add the sliced chicken and sauté until crispy and golden brown (you may need to sauté the chicken in two or three batches so the pan isn't overcrowded).
Spread some Garlic Mayonnaise in the center of each piece of bread; add some chicken and pickles (and any other vegetables you like) and roll it up.
Toast the sandwiches on a dry griddle or a sandwich press so that the bread gets golden brown and slightly crispy.
Serve as is, or cut into small rounds; serve with additional Garlic Mayonnaise for dipping.
Jehanne Ali
Jehanne is an enthusiastic baker, food blogger, mother and wife all in one. She swaps her scalpel from her day job as a doctor to kitchen utensils in the evening and creates magical treatment of healthy treats for her family, which she shares in her blog, The Cooking Doctor. She is a firm advocate of healthy eating and always believes that honest and healthy food will steer you clear from the doctors.