SPONSORED POST: From Dijon Originale mustard to Cornichons, Maille has a rich heritage starting in 1747 that honors tradition. Check out these easy recipes that pack great flavor, thanks to Maille. BONUS: Maille is giving away a one year's supply of their delicious products! Be sure to enter below.
This Apple and Chicken Sausage Skillet is a spin on kielbasa and cabbage. It's an easy one-pan meal that is full of flavor, loaded with veggies, and has a fantastic sauce made from Dijon mustard, white wine, and apple juice.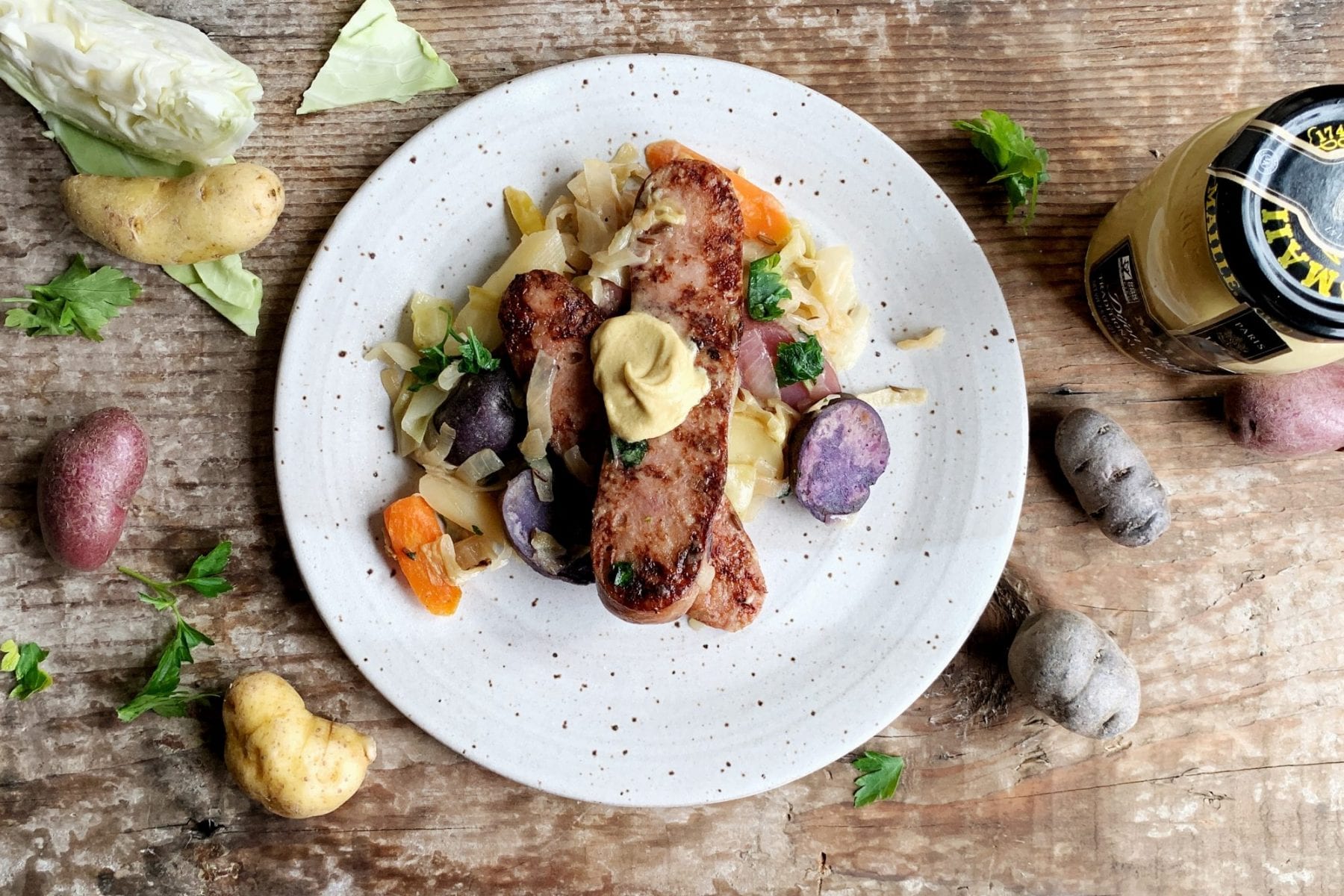 Year's Supply of Maille Giveaway!

What's better than one-pan meals? Not too much.
I love creating delicious, quick, and easy one-pan recipes. The secret to these dishes is developing as much flavor as possible in as little time.
This Chicken Apple Sausage Skillet is my take on a healthier kielbasa and cabbage dish.
I love this recipe. It reminds me of something I would order at a German beer hall, or something my Irish grandma would make.
It would also be perfect for St. Patrick's Day next month!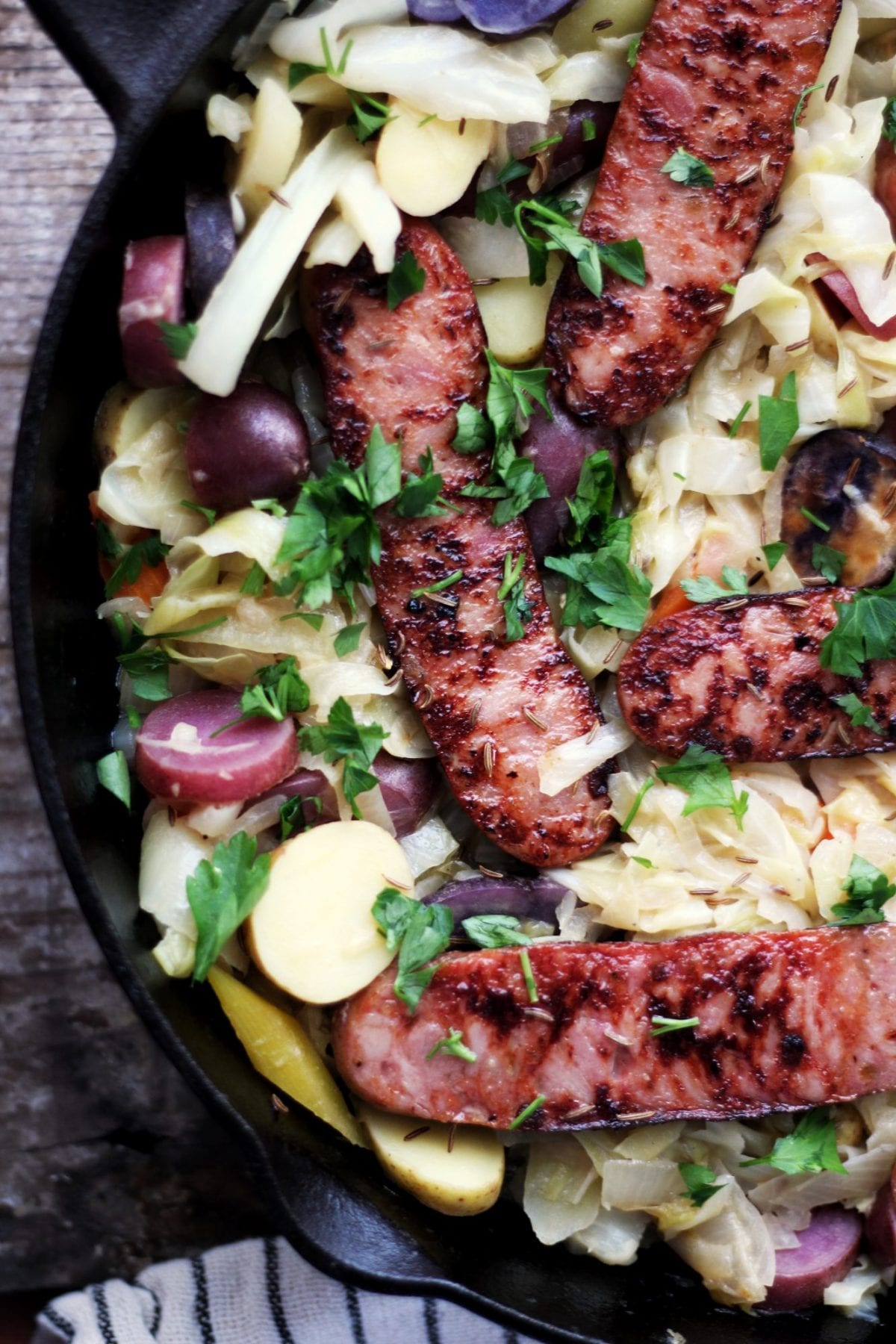 This Chicken Apple Sausage Skillet is made with rainbow fingerling potatoes, cabbage, onion, carrots, and fresh parsley.
A rich and flavorful, but still light, pan sauce comes together quickly. White wine, chicken stock, apple juice, caraway seeds, and Dijon mustard form the foundation for a creamy sauce that is a great balance of sweet and savory.
For the mustard, I use Maille Dijon Originale Mustard, which is the real star of this dish. This traditional mustard dates back to 1747 when Maille was founded, and is the creamiest Dijon I've found.
The skillet is healthy, hearty, gluten-free, and will be on your table in under 30 minutes.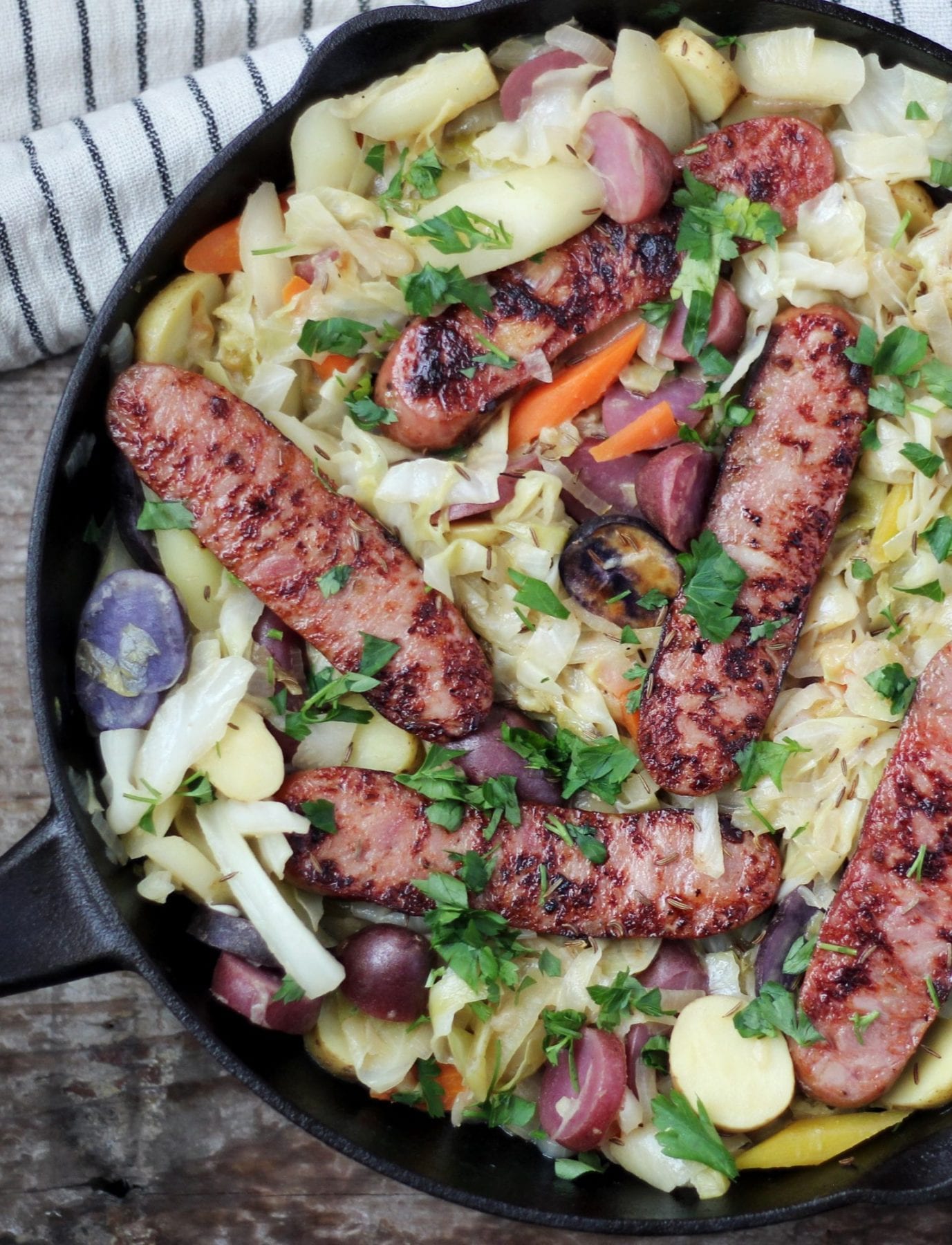 Chicken Sausage Skillet with Cabbage and Potatoes
Ingredients
1 tablespoon olive oil
4 chicken apple sausage links
2 tablespoons butter
1 yellow onion, quartered and thinly sliced
½ head green cabbage, quartered and thinly sliced
1 pound rainbow fingerling potatoes, sliced
3 carrots, peeled and sliced
½ cup white wine
2 tablespoons Maille Dijon Originale Mustard
¼ cup chicken broth
¼ cup apple juice
½ teaspoon caraway seeds
¼ cup chopped fresh parsley
Instructions
Heat a large skillet or Dutch oven over medium heat. Halve the sausage links lengthwise. Add the olive oil to the skillet and once hot, sear the sausage until browned on both sides and cooked through. Transfer to a plate and set aside.
To the skillet, melt the butter and add the onion and cabbage. Cook until golden, softened, and cooked down. Add in the potatoes and carrots and cook until the vegetables are slightly caramelized and tender. Season with salt and pepper.
Deglaze the pan with the white wine and cook until it is reduced by half. Whisk together the Dijon, chicken broth, and apple juice. Add the sauce to the pan along with the caraway seeds.
Cover the skillet and cook until all of the vegetables are tender. Serve garnished with fresh parsley.