Chicken Sausage and Potato Casserole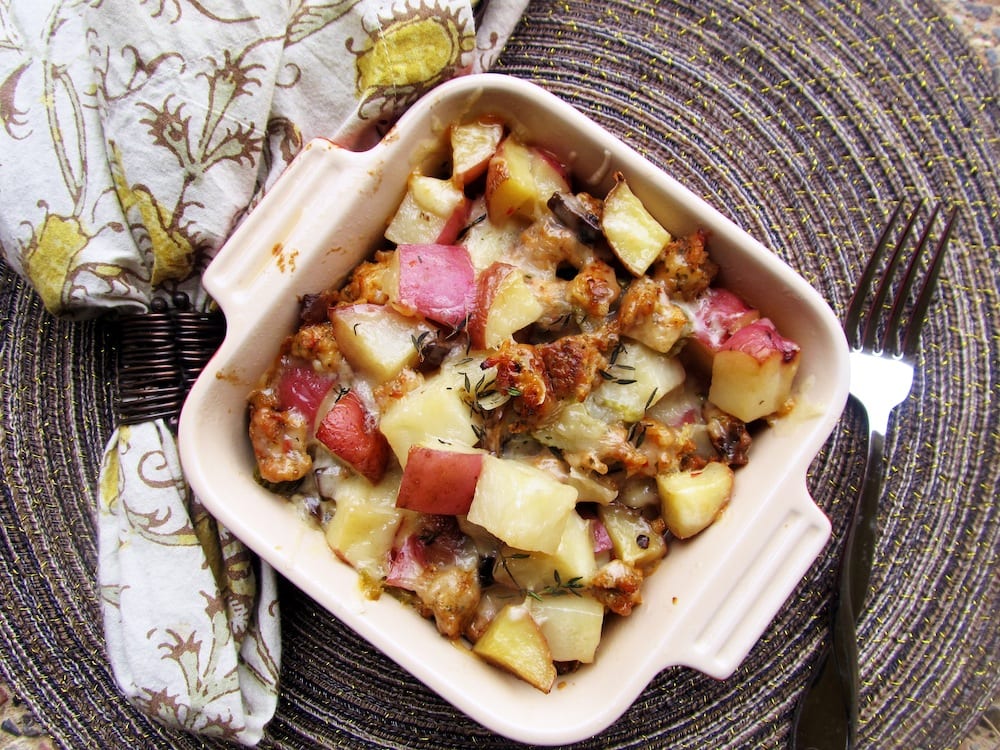 This one-dish dinner gives your the flavors of Thanksgiving anytime of the year, and without all the hassle.
By Amber Massey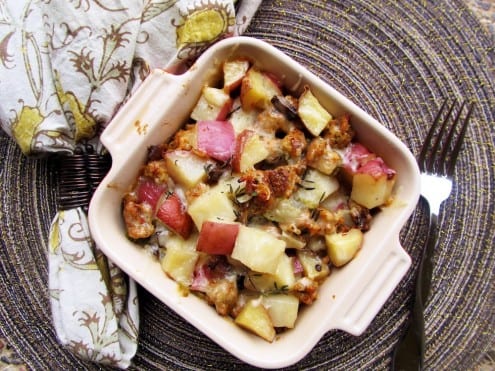 Chicken Sausage and Potato Casserole
This one-dish dinner gives your the flavors of Thanksgiving anytime of the year, and without all the hassle.
Ingredients
3 (4-ounce) chicken Italian sausage links, casings removed (turkey may be substituted)
1 tablespoon butter
3 cups chopped onion
¾ cup chopped celery hearts
8 ounces Baby Bella mushrooms, chopped
1½ pounds red potatoes, cubed into bite-sized pieces (about ½-in cubes)
½ teaspoon kosher salt
¼ teaspoon fennel seed
¾ cup fat-free, lower-sodium chicken broth
Pinch of red pepper flake
Cooking spray
¾ cup (3 ounces) shredded Swiss cheese
2 tablespoons chopped fresh thyme
Instructions
Preheat oven to 400°.
Heat a large nonstick skillet over medium-high heat. Add sausage to pan, and sauté for 5 minutes or until browned, stirring to crumble. Remove sausage from pan; drain. Wipe pan with paper towels. Melt butter in pan. Add onion and celery; sauté 8 minutes, until onion begins to caramelize, stirring occasionally. Add mushrooms; sauté 6 minutes, until browned and juices are released, stirring occasionally. Add potatoes, fennel seed, and salt; sauté 5 minutes or until browned, stirring occasionally.
Stir in crumbled sausage, red pepper flake, and broth. Remove from heat. Spoon potato mixture into an 11 x 7-inch glass or ceramic baking dish coated with cooking spray; top with cheese. Cover and bake at 400° for 30 minutes. Uncover and bake an additional 15 minutes or until golden. Sprinkle with fresh thyme.
Amber Massey
Amber Massey is a southern-raised, food-loving, registered dietitian focusing on the culinary world of dietetics. Personal chef, author of her blog, Chocolate Broccoli, and accidental lover of food photography, Amber takes pride in healthy recipe development as well as culinary and nutrition instruction through personal and public cooking classes, public speaking, and media outlets. Amber can be seen in print for her nutrition expertise, as well as multiple magazine publications for her culinary creations, including Taste of Home, Healthy Cooking, Simple and Delicious, and Country Women's Magazine.