Foggy City Chicken Salad Recipe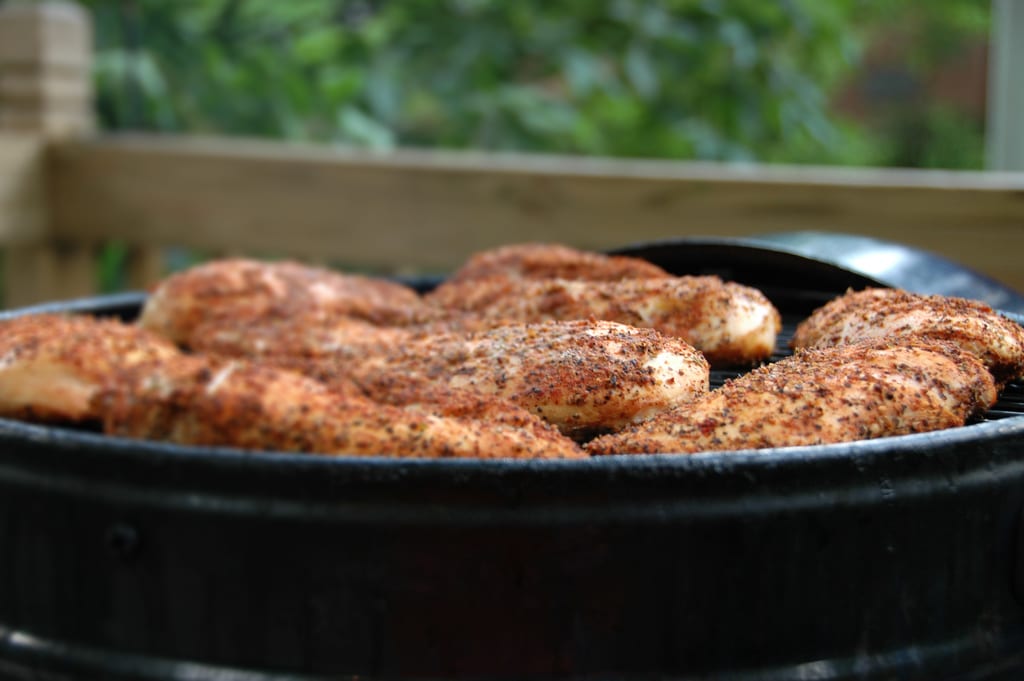 This is an extremely light and delicious spin on a traditional chicken salad recipe.
By Tania Goulart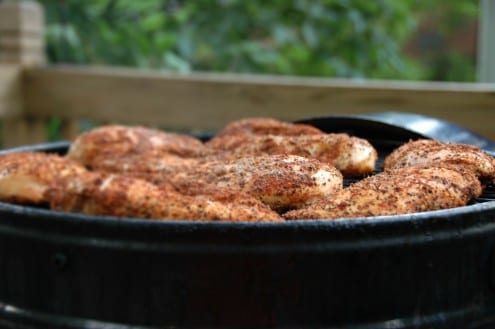 This is an extremely light and delicious spin on traditional chicken salad. The pickled onions, dijon mustard, and succulent chicken, roasted in fine herbs, make for a wonderful group meal or even for a weekly lunch. Although the ingredient list may look daunting, it is quite simple to throw together with ingredients that are generally stocked in the kitchen and well worth the minimal effort!
Ingredients
Roasted, shredded chicken from 2 breasts (ingredients and instructions below)
2 cups of brown rice or quinoa, prepared
½ red onion, sliced paper-thin
2 tblsp red wine vinegar
4 tblsp lukewarm water
2.5 tblsp extra virgin olive oil (or mayo if you wish)
1 tblsp toasted sesame oil
1 tblsp whole grain mustard
2 tbslp dijon mustard
⅛ tsp chayenne pepper
2 tsp celery seed
3 tblsp meyer lemon Juice freshly squeezed
⅓ cup cilantro finely chopped
2 large handfuls of arugula
2 large handfuls baby spring mixed greens
½ cup of walnuts, toasted and coarsely chopped or roasted pepitas, whole
optional: ½ - 1 avocado, cut into small cubes
salt and pepper, to taste
Ingredients for the Roasted Chicken:
2 medium boneless skinless chicken breasts equally sized (skin on and bone in for even more flavor, however this is less lean option)
2 tblsp extra virgin olive oil
4 cloves of garlic, chopped finely
1 tblsp red chili flakes
2 tblsp fresh rosemary, chopped
1 tblsp fresh thyme, chopped
Instructions
Preheat the oven to 450 degrees F.
Place the breasts on a roasting rack on a sheet pan (or if you don't have a roasting rack – directly on the sheet pan will do. Rub the breasts with the 2 tablespoons of EVOO, then with a generous amount of salt and pepper. Then with the garlic, thyme, rosemary and red chili flakes. Roast for 20 - 30 min, depending on the size of the breasts, and whether or not the bone and skin is on. Flip the breasts every 10 min. Once the thermometer reads 165 degrees in the thickest part of the chicken, it is ready. Pay attention to this – and don't overcook it! This will make all the difference in getting the juiciest result. Set aside to cool.
While the chicken is cooling add your red onion to a small bowl with the vinegar, 4 tblsp warm water and a pinch of salt. Let sit for 20 min then drain and set aside.
In a small bowl, place the cubed avocado and sprinkle w 1 tblsp meyer lemon juice and a few flakes of salt and set aside.
Once cool, shred up the chicken into medium threads. Remove and discard skin and/or bones if necessary.
In a large bowl add the chicken and cooked rice or quinoa. Then in a small bowl, whisk together the 2 tablespoons olive oil, two mustards, chayenne pepper, and 1 tblsp meyer lemon juice. Pour the mixture into the large bowl with chicken and grain. Add the onions, celery seed, and cilantro. Mix the ingredients well. Add the arugula, walnuts, avocado. Drizzle with toasted sesame oil and toss lightly.
Salt and pepper to taste
Enjoy
Tania Goulart
Tania Goulart is a lover of all things foodie. Based out of San Francisco, California, she enjoys the good fortunes of her hometown - the thriving local food culture, abundance of culinary resources, and some of the best produce in the world. A self-taught cook and food writer, her passion is natural, whole foods cooking, using only the freshest, local and sustainable ingredients. You can follow her at her blog, The Urban Farmerette (www.theurbanfarmerette.com), where she chronicles her adventures focusing on seasonal ingredients, gluten free, and Portuguese fare.