With minimal special ingredients, this stir fry can be whipped up in no time. Sweet and salty soy sauce and peanut butter coat the vegetables and spicy ginger and garlic to make a dish bursting with flavor.
By Tania Cusack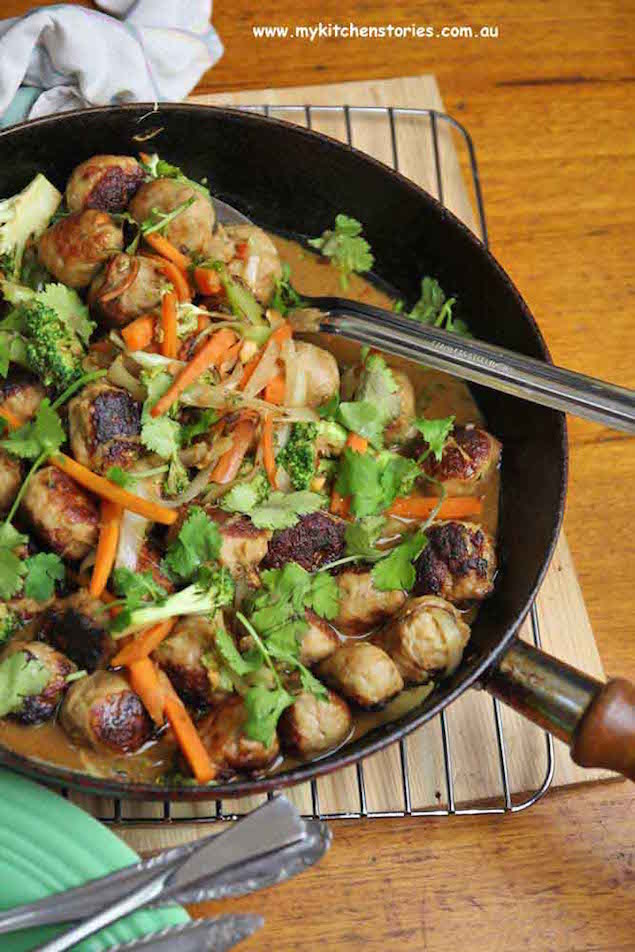 It didn't taste funny. In fact I wondered why I hadn't thought of it before. Chicken peanut balls. I mean, Chicken mince really can take on any flavour you like. We love the chicken and parmesan balls around here and we always have parmesan in the fridge but these, these just happened. I don't really even know why but I reached for the crunchy roasted peanut butter.
So with no special ingredients besides a crunchy roasted peanut butter you should theoretically be able to whip this up in next to no time.

Chicken and Peanut Meatball Stir Fry
With minimal special ingredients, this can be whipped up in no time. Soy sauce, peanut butter, ginger, and garlic coat make a dish bursting with flavor.
Ingredients
To make the chicken peanut butter balls
500gm minced chicken
2 Tablespoons crunchy peanut butter
2 tablespoons sweet soy sauce
a little salt
1 heaped tablespoon grated ginger
1 clove of garlic
Stir fry
1 carrot cut into thin strips
1 onion cut into strips the same size
200 gm ( 7 oz) broccoli flowerettes
1 heaped tablespoon ginger 2 tablesps crunchy peanut butter
1 clove garlic
1½ cups stock or water
1 tablespoon soy sauce
1 tablespoons sweet soy
½ bunch of coriander
3 tablspoons unflavoured oil
Chill sliced to taste
Instructions
Cut the carrot, onion and ginger. set aside
Put the chicken mince into a bowl and add the peanut butter, soy, garlic, ginger, 2 tablespoons chopped/ finely minced coriander stalks and root and a sprinkling of salt. Mix well and roll into small balls about the width of a 20 cent piece. This makes about 30 balls
heat a fry pan and add 1Tablespoon of oil. Add the chicken balls. Turn them as they begin to turn white on one side9 about 2-3 minutes. Leave another 2 minutes and then put onto a plate. The balls should be cooked through but if they aren't they will finish when added back to the sauce. These balls can get dry. Don't overcook.
Put the rest of the oil into the frypan and when hot add the onion, carrots and ginger and stir till coated and starting to soften, add the garlic and toss a little longer till fragrant. Add the broccoli, the peanut butter, water and soy sauces. Stir to dissolve and bring to the boil. Add the balls and stir again. Taste for salt. Add a little more soy or salt. When bubbling again add chopped coriander.
Tania Cusack
After completing Culinary School in Sydney, Tania travelled the world working as a Chef in restaurants, doing catering and cooking on road for a travel company in Europe and the US. Once back at home, the birth of her son meant a change, and during his small years, she enjoyed jobs in wholesale food, buying Artisan food products, testing and recipe writing as sales and educational tools. Tania is now back to what she loves, working as an in house Chef for a large retailer, conducting Cooking Classes and writing recipes for her blog.