Enjoy making a tasty chicken lo mein. Recipe courtesy of Rinku Bhattacharya.
By Rinku Bhattacharya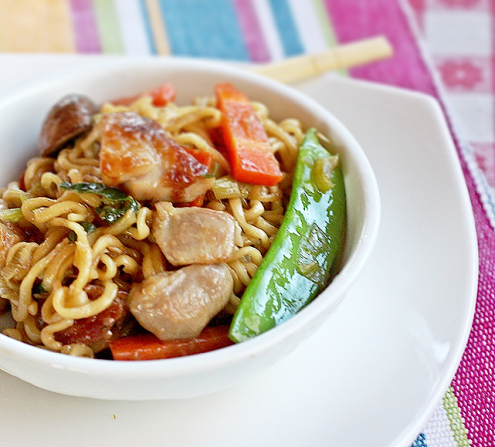 Chicken Lo Mein
Enjoy making a tasty chicken lo mein. Recipe courtesy of Rinku Bhattacharya.
Author:
Rinku Bhattacharya
Ingredients
To marinate and prep the chicken
2 cups water
11/2 teaspoons baking soda
½ pound of boneless skinless chicken, cubed
For the Lo Mein Sauce
3 tablespoons oil
1 teaspoon sesame oil
1 tablespoon ginger paste
1 cup of mixed vegetables ( I used thinly sliced carrots and snow peas)
7 to 8 shitake mushrooms, sliced
3 tablespoons soy sauce
⅓ cup Chinese cooking wine
½ teaspoon sriracha or other chili paste
2 tablespoons mirin
1 teaspoon cornstarch
1 cup stock
2 cups cooked noodles (preferably the thick variety, sold as lo Mein noodles)
Instructions
Soak the chicken in the water and baking soda for about 20 minutes, wash the chicken thoroughly and drain and dry.
Heat 1 tablespoon of the oil.
Toss the chicken in 1 tablespoon of the soy sauce and add the chicken to the oil and cook stirring the chicken until it is well browned and cooked through.
Heat the remaining oil and add the sesame oil and the ginger paste and stir for about 1 minute. Add in the vegetables and cook for 2 minutes.
In the meantime mix the soy sauce, cooking wine, sriracha, mirin and the cornstarch and mix well.
Add to the vegetables and add in the stock and bring the mixture to a low and persistent simmer.
Stir in the noodles and the chicken and cook through.
Serve immediately.
Rinku Bhattacharya
Rinku Bhattacharya, is a teacher of Indian Cooking and the author of the blog, Spice Chronicles. A busy working mother Rinku is committed to offering a practical approach of flavorful, everyday cooking often with an Indian Accent. An author of three cookbooks, Instant Indian, Classic Foods for Every Region of India made easy in the Instant Pot, Spices and Seasons, Simple, Sustainable. Indian Flavors and The Bengali Five Spice Chronicles. Rinku's passion for food starts with cooking and trying new recipes and extends to pairing and drinking wine with food and trying usual combinations by fusing various culinary influences. Rinku and her family are very committed to a sustainable lifestyle, and she uses mostly local produce for her recipes. She is joined in this effort by her husband who is an avid gardener and her children, Deepta and Aadi.