Fresh mango salsa spices up these comfy, crispy coconut chicken fingers.
By Amber Massey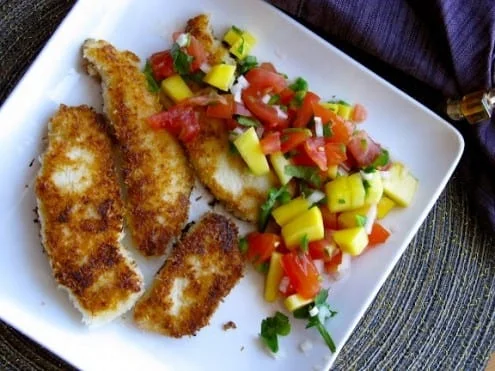 It's been long enough.  I've had this recipe archived with every intention of making it, and finally after repeat Red Lobster commercials for coconut shrimp I decided it was time to make it. 
You know.. the one's that show a jumbo sized lemon squeeze in slow motion.. and random battered shrimp flying through the air. 
Yep, those. 
So… I skipped the shellfish this time (they will have their moment, I'm sure.) and opted for poultry.  The subtle sweetness from the flaked coconut made this worthy of a repeat. Instead of dipping sauce, I made a quick mango salsa to go along with it. 
It's almost too early for mango, but it was pre-chopped and staring at me, begging for an impulse produce buy. It ended up being very sweet and yummy- so I think mango is just fine mid-April. 
I have that problem about once a week during my shopping trip.  This week it was chopped mango.. last week it was the 'buy 2, get one free' Cadbury cream eggs at the check out stand. For the record.. I didn't get any of the three I splurged on.  My Fireman claimed two right when I walked in the door, and then again after lunch and I had completely forgotten I had one left.  Punk.
I used rice flour instead of wheat flour, and left out the Panko breadcrumbs.  Rice flour is so fine and powdery it pretty much is comparable to cornstarch.  It made the coconut really stick to my chicken after being dredged in a buttermilk, honey, and egg mixture. Also.. look for unsweetened coconut.  Less sugar, and typically a finer flake than the sweetened variety.  Plus, less sugar means less likely for the chicken to burn too quickly in minimal amounts of vegetable oil during the pan fry. 
All in all, a better choice than the sweet chile sauce, and a little more kiddo friendly as that chile sauce can be spicy!  You never can tell which variety among the eight bottles on the shelf is going to make you want to chug a gallon of milk. I personally have a bottle in my fridge that has been used once and never again.  It is so hot- even I, the picante princess, can't tolerate it let alone enjoy it.  I need to toss it out..
Print
Coconut Chicken Fingers with Mango Salsa
---
Author:

Amber Massey

Yield:

6

1

x
4

(6-ounce) skinless, boneless chicken breast halves, cut into

1/2

-inch-thick strips

1/2 teaspoon

salt

1/4 teaspoon

ground red pepper

1 cup

rice flour

1 cup

lowfat buttermilk

1

large egg

1 tablespoon

honey

1 1/2 cups

unsweetened flaked coconut

3 tablespoons

canola oil

1 1/2 cups

diced peeled mango (about 2)

1 1/2 cups

diced seeded tomato

2 tablespoons

chopped red onion

2 tablespoons

chopped fresh cilantro

1

jalapeno, diced, seeds and ribs removed
The juice of one small lime (about 2 tablespoons)

1 teaspoon

sugar

1/4 teaspoon

salt
---
Instructions
For the salsa, Combine all ingredients in a medium bowl; toss gently. Cover and chill until ready for use.
Sprinkle chicken with salt and pepper.
Place flour in a shallow dish.
Combine buttermilk, honey, and egg in a shallow dish, stirring well.
Place coconut in a shallow dish.
Dredge chicken in flour; shake off excess.
Dip chicken in egg mixture; dredge in coconut.
Heat a large skillet over medium-high heat.
Add oil to pan; swirl to coat.
Add chicken to pan; cook 6 minutes or until done, turning to brown. Serve with prepared salsa.
Nutrition
Serving Size:

5 ounce chicken, 1/2 cup salsa

Calories:

335

Fat:

12.4

Carbohydrates:

27.5

Fiber:

3.2

Protein:

29.4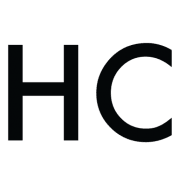 Amber Massey
Amber Massey is a southern-raised, food-loving, registered dietitian focusing on the culinary world of dietetics. Personal chef, author of her blog, Chocolate Broccoli, and accidental lover of food photography, Amber takes pride in healthy recipe development as well as culinary and nutrition instruction through personal and public cooking classes, public speaking, and media outlets. Amber can be seen in print for her nutrition expertise, as well as multiple magazine publications for her culinary creations, including Taste of Home, Healthy Cooking, Simple and Delicious, and Country Women's Magazine.