Chicken Dosa – Indian Pancakes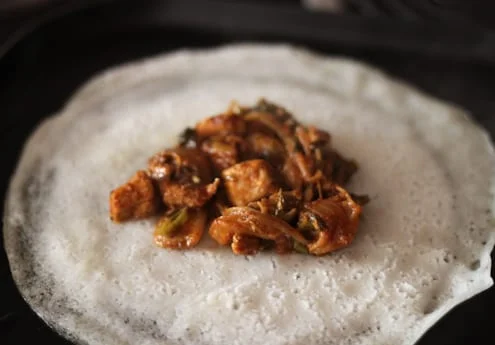 Chicken Dosa is an Indian pancake stuffed with a delicious spicy chicken filling.
By Anita Mokashi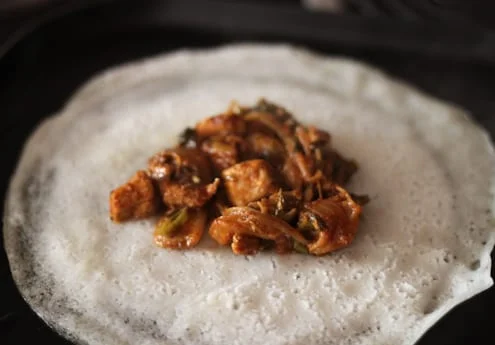 We had been to Anjappar Restaurant for lunch on Sunday. This dish was on their menu. It was so delicious that I couldn't stop myself making it again at home. It's a Chettinad Delicacy.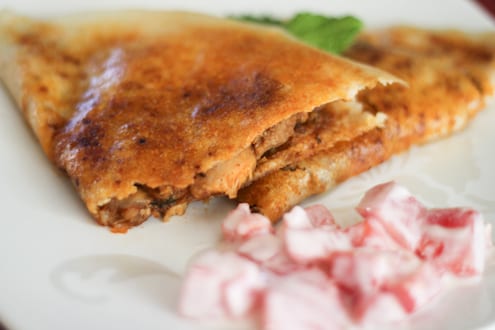 Chettinad cuisine is the cuisine of the Chettinad region of Tamil Nadu state in South India. It is famous for its use of a variety of spices used in preparing mainly non-vegetarian food. The dishes are hot and pungent with fresh ground masalas, and topped with a boiled egg that is usually considered essential part of a meal.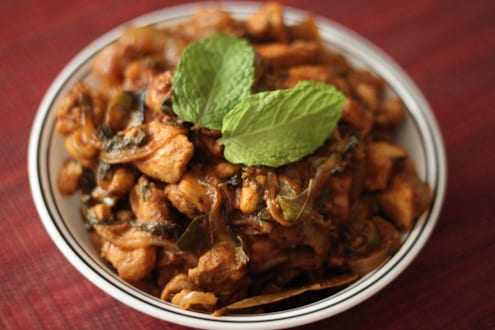 Chicken dosa is a delicious Indian pancake with a spicy chicken filling.
Ingredients
1 can of Shasta dosa batter
1 lb chicken-cut into small pieces
1 big onion slices
5 green chillies chopped
Whole garam masala
(shahjeera, cloves, pepper, big cardamom, bay leaf)
2 tbsp dahi
2 tbsp red chilli powder
1 tbsp garam masala
6-7 curry leaves
½ cup mint and coriander leaves chopped
1 lemon wedge
1 tbsp ginger garlic paste
Salt to taste
Oil
Water
Instructions
In a deep pan, heat oil.
Add the whole garam masala
Add sliced onions, chopped chillies and ginger garlic paste. Saute till onions are translucent.
Now add chopped mint and coriander leaves.
Mix everything well and let it cook for 10 minutes.
Add garam masala and red chilli powder. Mix it and let it cool till oil separates.
Now add the chicken and mix everything well.
Squeeze in the lemon juice.
Add dahi and water and let it cook for 10 minutes.
The consistency should be thick.
The chicken stuffing is ready.
Now heat a non stick pan. Add few drop of water.
Spread the dosa batter.
Add few drops of oil
Add spoonful of butter.
Place the chicken stuffing on dosa and spread it well.
Flip the half side and let it cook.
Serve it hot with Tomato Garlic Raita
Anita Mokashi
Anita Mokashi is based in California, but born and brought up in Mumbai, India. Her blog Crave Cook Click is mostly about Indian cooking, but occasionally she shares recipes from other cultures and cuisines too. Anita is also the publisher of a popular photography blog.