Chicken cakes with tahini and preserved lemon is a great easy summer recipe that even teenagers wont sniff at.
By Tania Cusack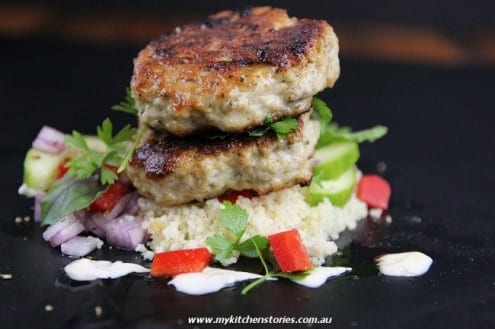 I am not very good at throwing parties. I can cook till the Cows come home but don't ask me to be the social director. On Skaters 9th birthday, some friends of mine arranged for him to have a Treasure Hunt party, inviting 20 of his nearest and dearest pals. It was quite a lot of organising for them and they were exausted by the time the Tiny Bacon and Egg Tartlets, Pork and Fennel sausage rolls and Risotto Balls hit the table…….. and wine had to be dispensed along with cordial ( for the children). Once the reviews came in several days later, it was revealed 'The Triplets' Treasure Hunt party was actually better
Fail…….So, on Skaters 10th birthday I decided to keep the party on my turf. I asked him if he would like a dinner party, to which he happily replied in the positive. I asked him what he would like on the menu. With some thought he replied Mum's Special Fried Chicken and something with chocolate. Well hello…. how easy. Once the guest list was secured, 3 girls 4 boys , another friend volunteered to be the waitstaff and menu writer.  ( as yet undeterred about the reviews) . Menu placemats were made up and put at each place. Glasses, serviettes and lovely low lighting were arranged.  After the Chicken Drumsticks marinated in buttermilk, spiced and baked, served with special New York fries ( new potatoes  steamed and then fried till crispy) they all had homemade chocolate icecream in wafflecones with a choice of sprinkles and lollies and chocolate pieces on the table. Seemed to go down well………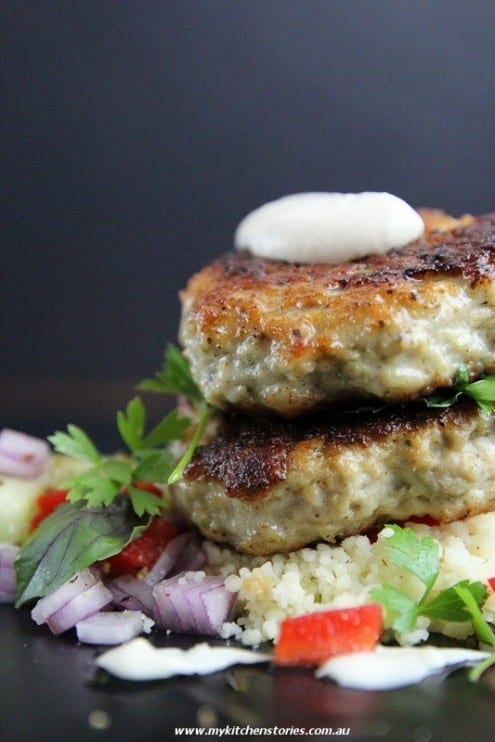 See Also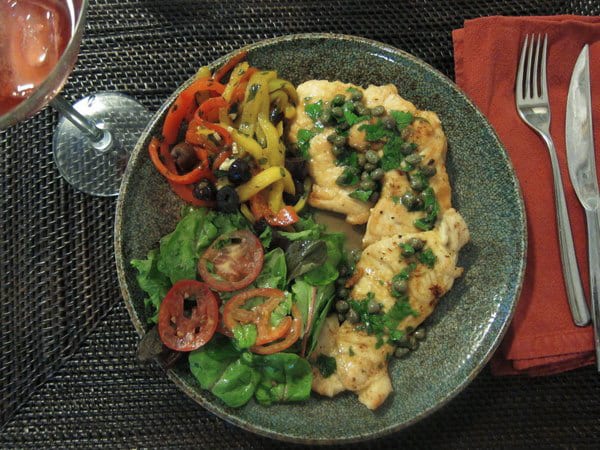 After dinner they retired to Skaters room where they seemed to be having a lovely time   ( with the door closed) while we had a couple of well earned glasses of wine. After a while there was a reasonable amount of giggling and chatter but the wait staff and I figured we should check on them. After a quick knock we entered the room to find a boy on a girl on the bed kissing, and the others kind of looking on, but chatting. Skater was happily laughing and chattering to his mates, seemingly unaware that some of his dining companions were taking their rather  grown up dinner to another level.
After quietly leaving the room to squeal**…….my friend and I had to take a minute here. Hmmmmm, a bit of a shock. Was this a normal 10 year old thing? This was not expected at all, and Skater didn't even seem to notice this boy on girl action going on on his bed! We returned to the room and suggested that they may like to come out and watch a video. When the night was over Skater thanked us and said he'd had a great time. There were no negative reviews or comparisons, as none of the other 10 year olds had ever had a dinner party…ha!
This recipe for Chicken Cakes with Mint, Tahini and Preserved Lemon hadn't been thought up then, but Skater does like them now….also a hard review to crack….

Chicken Cakes with Tahini and Preserved Lemon
Chicken cakes with tahini and preserved lemon is a great easy summer recipe that even teenagers wont sniff at.
Ingredients
Chicken Cakes
500gm( 1 lb) chicken minced ( ground)
3 teaspoons cummin
3 cloves garlic crushed
1 teaspoon smoked paprika ( opt)
1 x ¼ piece of preserved lemon
½ bunch picked chopped mint ( 1 cup)
½ cup of rolled oats
1 cup washed drained chickpeas
2 eggs
pinch of sea salt
1 frypan and ½ cup oil
Tahini Dressing
½ cup of tahini paste
½ cup of lemon juice
½ cup of water
¼ cup of olive oil
salt to taste
Instructions
To Cook the chicken
Put all of the ingredients except the oil into a food processor and whizz to combine. Shape into 12 round patties ( or 24 smaller sized ) and chill while the dressing is made.
Heat the frypan over high heat, reduce the temperature and add the oil and chicken cakes ( making sure to not over crowd the pan. If your pan is small work in batches). The outside of the cakes goes a lovely golden colour.
When one side is done , flip and cook the other side without over cooking. Put the lid on the frypan and let to stand off the heat for several minutes before testing one to make sure they are cooked through.
Serve these with homemade flat bread or some store bought. It works with pork mince and I would suspect lamb or prawn. This will also taste very nice with Hommos. I served this with couscous but it is better with flat bread
Tahini Dressing
Put the water, lemon juice and olive oil into a bowl and add the tahini. Whisk to combine and add salt
You can also add garlic or cumin if you like those flavours
Salad
Use a combination of which ever ingredients you like, but start with two ripe diced tomatoes sprinkled with some sea salt and left for several minutes to release their juices.
Then add diced cucumber, diced red pepper, Finely sliced Spanish onion, leftover chickpeas, ½ bunch of mint leaves, ½ bunch of coriander and a diced avocado If you like add a chopped chilli or some parsley.
Dress the salad with a couple of table spoons of Tahini and a drizzle of olive oil.
You can get Tahini and preserved lemons at your Middle Eastern Grocer
Tania Cusack
After completing Culinary School in Sydney, Tania travelled the world working as a Chef in restaurants, doing catering and cooking on road for a travel company in Europe and the US. Once back at home, the birth of her son meant a change, and during his small years, she enjoyed jobs in wholesale food, buying Artisan food products, testing and recipe writing as sales and educational tools. Tania is now back to what she loves, working as an in house Chef for a large retailer, conducting Cooking Classes and writing recipes for her blog.