What goes perfectly with a bottle of Pinot Noir from Mendocino? A simple, but delicious dish of chicken and mushrooms served over pasta or rice.
By Michelle M. Winner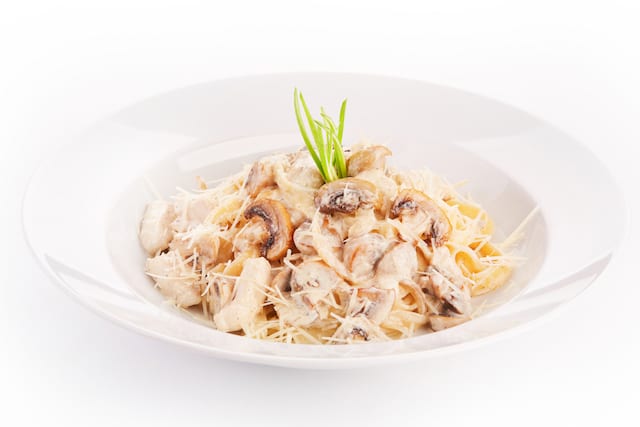 Maxim Ermolenko
When I went to interview Jeff Hansen the winemaker for Lula Cellars at the tasting room in Mendocino, California, he wasn't there. Lula Cellars is a small production, premium label located in the "Deep End" of Mendocino County's famed Anderson Valley. Winemaker Jeff Hansen, a thirty-year wine industry veteran, produces world class Pinot Noir, Zinfandel, Dry Gewurztraminer, Rosato and Sauvignon Blanc wines, made entirely with grapes grown in vineyards from Mendocino County, California.
I was told in advance that Jeff was a hands-on type who works closely with the crew in the cellar and keeps a watchful eye on the development of the grapes in the vineyard. He's the guy responsible for all wine making as well as overseeing the 20 acres of vineyards that Lula Cellars farms. Meanwhile where was he? While I waited for him to turn up, I chatted with the friendly guy minding the tasting room while he poured me a few tastes.
Jeff has been making wine for 28 years, the last 5 at Lula Cellars in Mendocino. He has worked with both European and American winemakers, so his preference is to marry classic old-world style with modern wine making techniques. Many years ago he left a career in commercial photography in Los Angeles to pursue a career in the wine industry in Napa Valley. The brand " Lula" named after his grandmother, is very new. Since launching in 2010, Lula Cellars has built a reputation for crafting award-winning wines by keeping true to their goal of  producing high quality, eminently drinkable wines at prices that are reasonable, by selling directly to consumers. Lula Cellars produces 3,000 cases per year, and sells them winery-direct to consumers.
I had just tasted a lovely Pinot Noir when the phone rang. It was Jeff. "I'm here, where are you?" I asked. "Bottling emergency," he yelled into the phone over the sound of machinery. "Sorry. I will be tied up all day but why don't you grab a bottle to take with you and taste what I do?" That's the best interview I've done so far. Here with a recipe from Lula, Jeff recommends his Pinot Noir. Taste for yourself with a bottle available from the winery.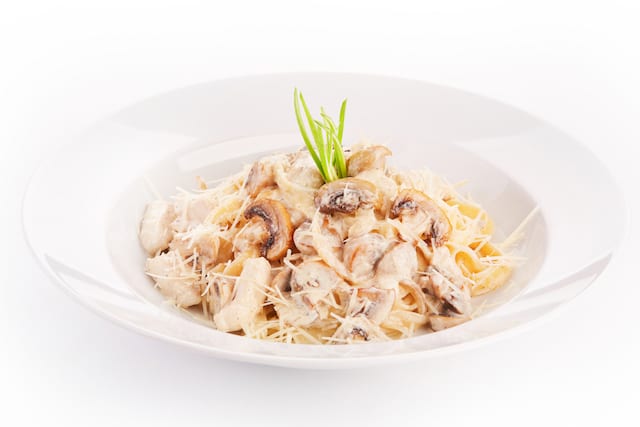 Lula Cellars' Chicken and Mushrooms Paired with Pinot Noir
Easy and elegant Lula Cellars' pairs this chicken dish with their Costa Vineyard Pinot Noir.
Ingredients
4

boneless

skinless chicken breasts

1

pound

cremini mushrooms

stemmed, cleaned

2-3

garlic cloves

chopped

½

cup

brandy

1½

cups

heavy cream

4

sprigs fresh thyme
Instructions
Chop cleaned, dried mushrooms into quarters and set aside.

Season chicken with salt and pepper.

Coat the bottom of a large sauté pan with olive oil and bring to medium heat.

Add the chicken and cook, turning once, until just brown, 3 to 4 minutes per

side.

Remove chicken to a platter and cover, you will finish cooking it later.

Add a few more swirls of olive oil to the pan and reduce heat to medium-low.

Add the garlic and cook until fragrant, about 2 minutes.

Stir often to prevent the garlic from burning .

Add the mushrooms to the pan and stir to coat with the oil; season with salt

and pepper.

Increase heat to medium and cook until tender, 5 to 8 minutes.

Add the brandy, increase heat to medium-high and cook until the liquid is

fully absorbed.

Taste the mushrooms and add seasoning as needed.

Add the heavy cream and thyme bundle to the pan and reduce heat to medium.

Return the chicken breast with any accumulated juices to the pan.

Cook on medium-high for 5 minutes then turn chicken and reduce

heat to low.

Simmer for 5-6 more minutes until sauce has thickened and chicken

finishes cooking.

(Make a small cut into a piece of chicken to ensure it is cooked through.)

Discard thyme and serve chicken and mushroom sauce over your favorite

cooked pasta or rice.

Enjoy with bottle of Lula Costa Vineyards Pinot Noir!
Michelle M. Winner
Michelle was born with a fork in her hand. As a culinary travel writer and confirmed foodophile she delights in the world-wide discovery of new flavor profiles, spices, salts and herbs. Based in one of the world's foodie meccas; Portland, Oregon, not far from "Pinot Noir Heaven" Michelle shares culinary travel and chef's recipes. Her photography has appeared in Saveur Magazine and she has contributed culinary travel articles to Forbes online, WSJ online, Business Insider, Condé Nast Digital Media, Islands magazine and many others. A confirmed globetrotter, she still keeps her bags packed and fork in hand (well . . . except through airport security.)