A take on the simple puttanesca sauce, but this time spooned over chicken and baked.
Most people know the story of Spaghetti alla Puttanesca, about a tomato-based savory sauce that the "ladies of the evening" could prepare very quickly, or literally translated to "spaghetti of the whore." It is a very popular, delicious and quick sauce to make, with just a few quick-cooking ingredients you can serve it over pasta in a matter of minutes.
With today's recipe, I decided to make this simple sauce, but instead of tossing it with spaghetti, I topped oven-roasted chicken pieces with this tangy sauce, to make it a new entrée that can be served as an easy, flavorful and healthy chicken dinner.
Find more delicious Italian main meat dishes here.
See Also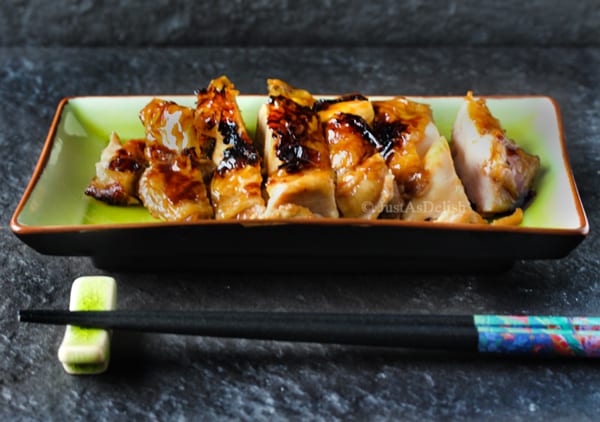 Buon Appetito!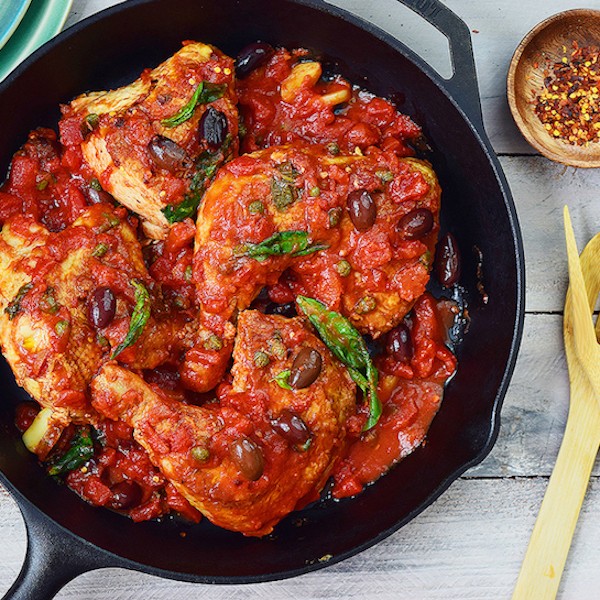 Francesco Romano
Ingredients
FOR THE CHICKEN
5

tablespoon

extra-virgin olive oil

1

whole chicken cut into pieces

2

garlic cloves

smashed

2

teaspoons

salt

1

teaspoon

freshly-ground black pepper

1/2

cup

chicken stock
FOR THE PUTTANESCA SAUCE
28

oz

canned San Marzano diced tomatoes

3

tablespoons

extra-virgin olive oil

1/2

cup

Kalamata olives

pitted and sliced

2

tablespoons

capers

rinsed

Salt to taste

1

teaspoon

dried chili flakes

3

garlic cloves quartered

1/4

cup

fresh basil leaves

torn

1/2

teaspoon

dried oregano
Instructions
Preheat the oven to 350°F.

In large cast iron skillet heat the olive oil and garlic cloves over medium-high heat. Add the chicken pieces, skin side down and brown, turning once, for 10 minutes. Remove from pan and set aside. Discard the excess oil.

In the same skillet add olive oil and garlic and sauté until translucent for 2 minutes. Stir in olives, capers, basil and oregano and cook for 1 minute.

Stir in tomatoes and cook for 3 minutes. Season with salt and chili flakes.

Return the chicken to the skillet, spooning the sauce over the pieces. Add the chicken stock, cover with an oven safe lid or aluminum foil and bake at 350° for 1 hour or until chicken is tender and cooked through.

Remove from the oven and sprinkle with fresh basil leaves. Serve hot.
Francesco Romano
Francesco Romano was born in Italy and has been living in America for 25 years. As he was growing up, he didn't realize how spoiled he was! He had two of the best chefs under one roof, his Grandmother Nonna Sara and his Mama Francesca, who made every meal from scratch and with love. As a kid, he would sit in the kitchen for hours while these women were hard at work, enjoying the smells, tasting when he was allowed to, and later being put to work to help make fresh pasta. It wasn't until he was a grown up, moved away from home, and later to America, that he understood how much of his heritage and family centered on food. It was always made from fresh seasonal ingredients and was a way of bringing the family together to savor, to bond and to enjoy. On his site you WILL find mouth-watering food that is fresh, easy and authentic Italian, straight from my Mama's kitchen to yours.