Holiday Season Treat – Chestnut Flour Biscotti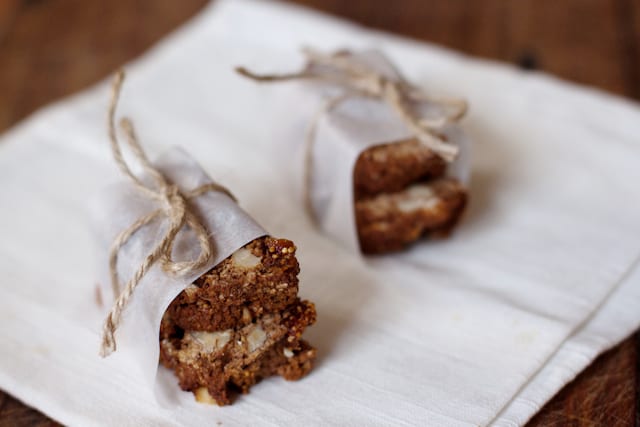 Emiko Davies serves up a batch of chestnut biscotti that would be perfect as a New Year party gift.
By Emiko Davies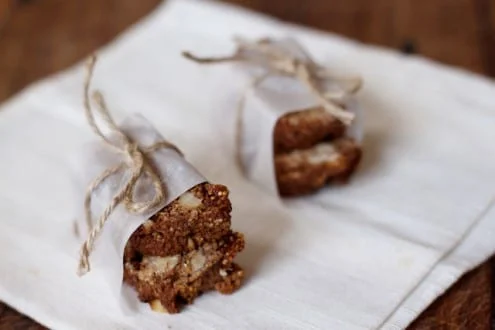 Chestnut flour has a low GI and also naturally has a sweet tendency, so it is perfect if you happen to need something to keep you going in the afternoon but can't eat much sugar.
Instead of the regular white sugar, I used mostly honey and some raw sugar for this recipe. The key to any biscotti recipe of course is the double-cooking (biscotti literally means "twice cooked"): the first as a loaf, which then gets sliced while still warm, then the slices are put back in the oven to crisp up and harden, making them perfect for dipping into a warm drink.

Holiday Season Treat - Chestnut Flour Biscotti
Note that chestnut flour has no gluten so it usually needs to be mixed with another flour when used in baking – pick your favourite.
Ingredients
200 gr of chestnut flour
100 gr of plain, wholemeal or spelt flour
3 eggs
75 gr of honey
25 gr of raw sugar
2 tsp baking powder
70 gr of walnuts, shelled and chopped roughly
70 gr of dried figs, chopped roughly
2 tsp ground cinnamon
1 tsp ground cloves
A splash of vin santo or any other dessert wine
Instructions
Heat the oven to about 180ºC (350F) and prepare a baking sheet lined with baking paper. Sift the flours into a bowl and create a "well" in the centre. Crack the eggs into the well and beat, incorporating the flours slowly as you go. As you're mixing, note the consistency. The dough should be stiff like pastry dough, or stiff enough to shape into logs. Depending on the flour you used and the size and quality of your eggs you may get different results. If it's too dry, you can add a few glugs of extra virgin olive oil while you're mixing. If it's too wet, leave out the vin santo or add a touch more flour. This is one of those sort of recipes.
Add the rest of the ingredients and mix well until just combined. Split the dough into two sections. Shape the dough into logs about 10cm or 3 inches wide and as long as your baking sheet. Place on baking sheet, about 5cm apart.
Bake for about 20-30 minutes or until browned. Remove the biscotti logs from the oven and while warm, slice the logs at a 45 degree angle into cookies about 1-2cm wide. Place these cookies back in the oven for another 15 minutes or until they are crunchy and golden-brown. Allow to cool and serve with a small glass of vin santo or other dessert wine for dipping, if you're being traditional. They also go nicely with coffee and even tea. Store in an air tight container.
Emiko Davies
Emiko Davies is a food writer, photographer and illustrator who Amanda Hesser calls the "Renaissance Woman for the Internet Era". She lived in Florence, Italy, for seven years where she nurtured her love of regional Italian cuisine and now calls Australia's food capital, Melbourne, her home.