Cherry Cobbler with Bourbon Whipped Cream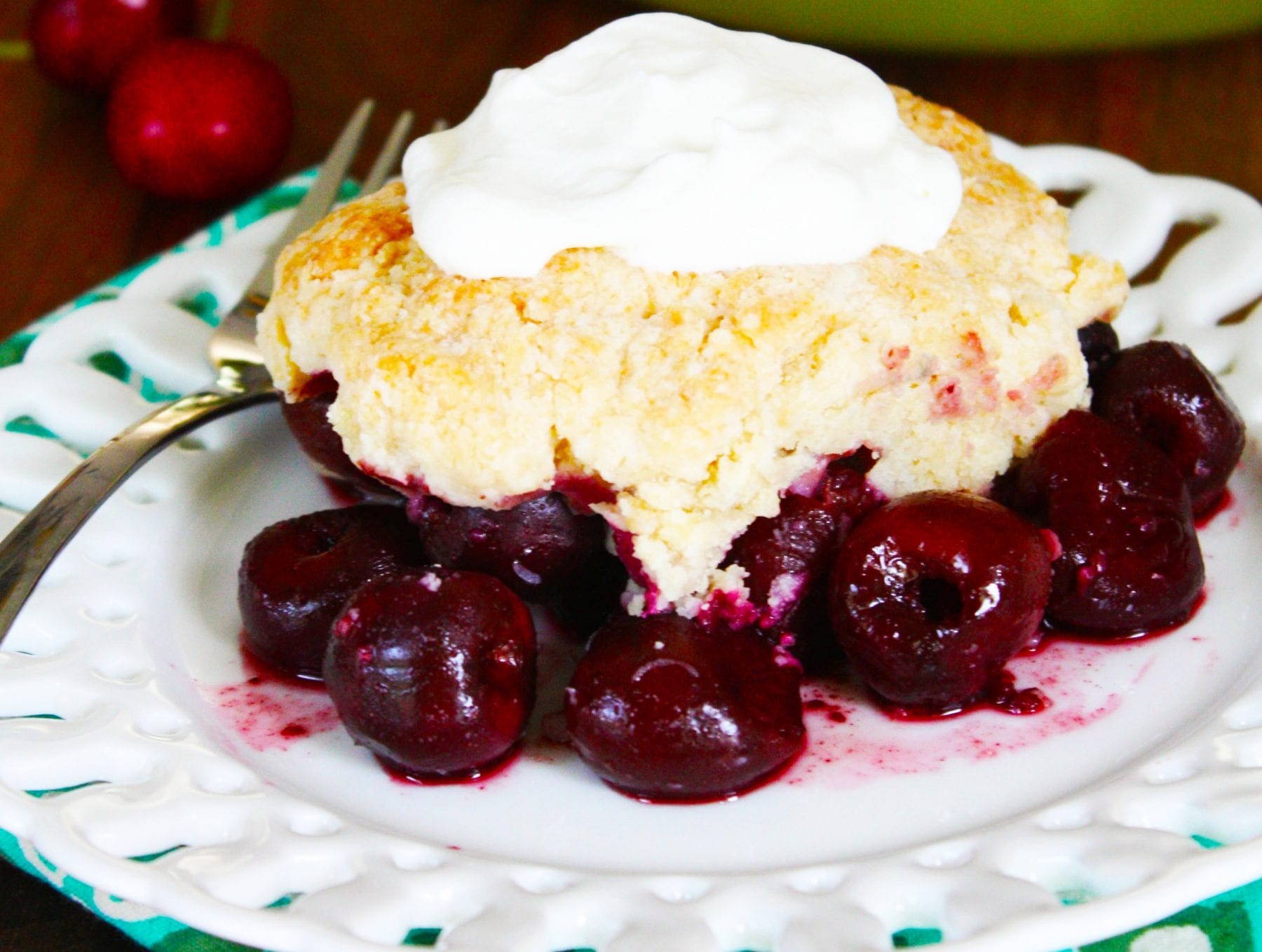 You can skip the bourbon and reduce the confectionaries sugar to make the whipped cream family-friendly. But the adults-only version is something special.
By Abby Himes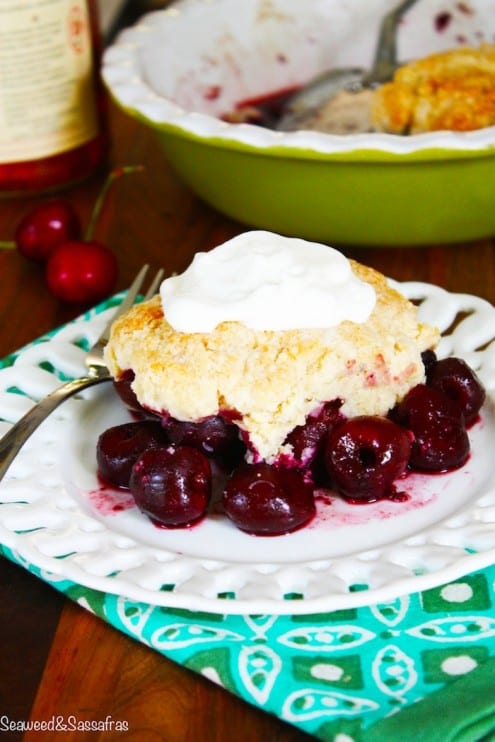 With a box full of cherries, shining like rubies, waiting to be pitted, weighed and poured into bowls for storage; I sat there thinking about what to make. Each cherry was so perfect, the rich wine color and little stem haphazardly poking in every direction. Cherries are just downright joyful if you ask me.
After a little research I found that sweet cherries like these are best straight from the bowl, on some cereal, yogurt, or as the star when used in baking – they don't need much extra sugar or starch, which made them perfect for a cobbler!
Sweet cherries with a hint of cinnamon and clove, blanketed with a flaky, sweet biscuit and topped off with an adults-only Bourbon whipped cream. My guy is a huge bourbon fan and this made him wander over into the kitchen and lean over my shoulder as the mixer whirred excitedly asking when it would all be ready. I can now tell you the way to a man's heart is through bourbon whipped cream.
Cherry Cobbler with Bourbon Whipped Cream
You can skip the bourbon and reduce the confectionaries sugar to make the whipped cream family-friendly. But the adults-only version is something special.
Ingredients
4½ cups fresh sweet cherries, pitted
1 teaspoon cinnamon
1 pinch clove
For the Sweet Biscuit:
1⅓ cups all purpose flour
1½ teaspoons baking powder
½ teaspoon salt
2 Tablespoons sugar
5 Tablespoons butter, cut into pieces
⅔ cup heavy cream
For the Bourbon Whipped Cream:
1 cup heavy whipping cream
2-3 Tablespoons confectioner's sugar
1 teaspoon bourbon
Instructions
Preheat your oven to 350 degrees F.
In a bowl, mix together the flour, baking powder, salt, and sugar.
Cut in the butter using a pastry blender or fork until the mixture resembles pea-sized crumbs.
Add the heavy cream and mix just until the batter comes together.
In a separate bowl, mix together the cherries, cinnamon and clove.
Pour the cherries into the bottom of the serving dish (I used a stone pie dish, but a glass or metal square pan would work too), spreading into an even layer (or two).
Use your hands to divide the dough into 4 even pieces and shape into a ball, flatten them slightly and place over the fruit. Or if you can roll it out using some flour to help with the stickiness, cut into circles with a biscuit cutter and lay over the top.
Bake for 40 – 45 minutes until golden brown and bubbly.
In a clean bowl, add the heavy whipping cream and whip at high speed until you get soft peaks. Add the confectioners sugar and bourbon, whip just a minute more to incorporate it in.
Serve on top and enjoy!
Abby Himes
Abby can be found cruising her local farmer's market and co-op looking for fresh, new, flavors and sustainable options. She sees food as an adventure, and is always excited to try something new. Abby is also the creator and voice behind the food blog, Seaweed & Sassafras.