Served at Les Solistes, Chef Roel's roasted pigeon recipe is a perfect segue into fall with rich, earthy flavors.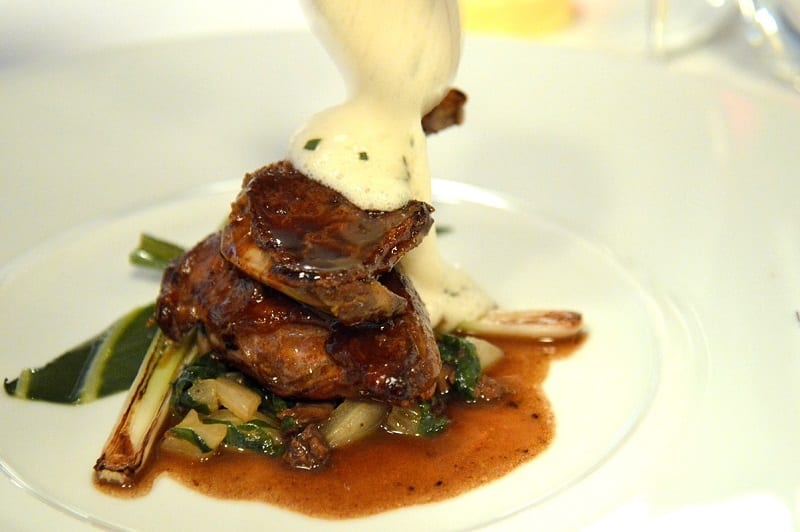 We are excited to share executive Chef Roel Linterman's pigeon course at Les Solistes By Pierre Gagnaire at Waldorf Astoria Berlin, a Michelin star restaurant.
Chef Pierre Gagnaire is known for his inventive fusion cooking and has over fourteen restaurants worldwide. He began in St. Etienne where he won three Michelin stars to begin his illustrious career. Consistently placing in top restaurant awards, and now with several more Michelin stars and restaurants, I was delighted to experience his concept and his executive Chef Roel Lintermans' creativity and execution of service at Les Solistes by Pierre Gagnaire at Waldorf Astoria Berlin. The restaurant is the perfect pairing of this master of restaurant concepts, who has the flagship Restaurant Pierre Gagnaire on the Rue Balzac in Paris and other restaurants worldwide, and a star chef in his own right, Belgian Chef Roel Lintermans.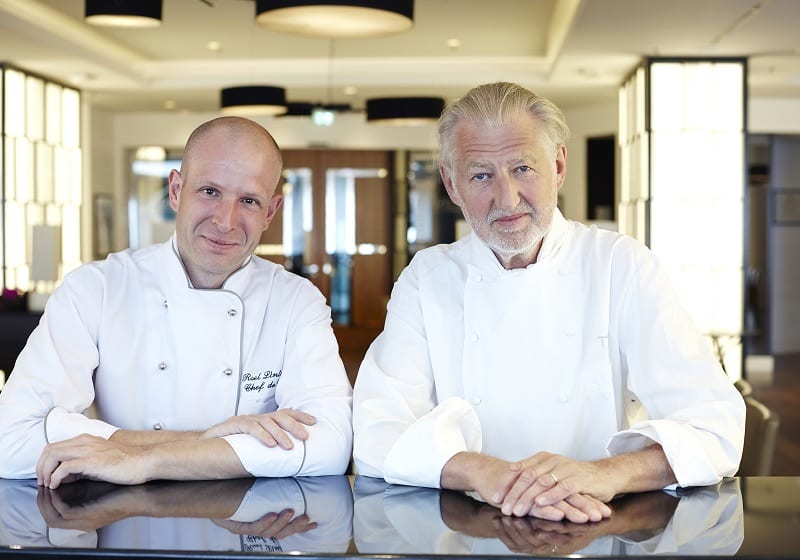 Walk into the sumptuous lobby of Waldorf Astoria Berlin and step onto the winding white staircase, deliciously lit to create art in itself. As you make your way up the stairs to the restaurant entry your expectations are elevated with each step. I was not disappointed as Chef Roel Lintermans' special pairing menu was inspiring. True to Pierre Gagnaire's concept of an unpretentious kitchen offering a playful combination of foods, Chef Lintermans' kitchen delivered with a painterly presentation of plates.
Chef Lintermans has had full charge of the kitchen as Executive Chef of Les Solistes while Chef Pierre Gagnaire designs for the culinary concept and menus. In November 2013, just one year after the opening, Les Solistes at Waldorf Astoria Berlin was awarded its first Michelin star and Chef Lintermans, who was voted 'Berlin Master Chef 2014', commented: "This award is a great honor for the entire restaurant team and a compliment on our daily work!" Lintermans' team members were specially trained in Gagnaire's three-star Paris restaurant for the predominantly French cuisine served in Les Solistes.
Waldorf Astoria Berlin General Manager Gregor Andréewitch appreciates what an asset this restaurant is, "With Roel Lintermans, we have the persona and skills of an outstanding chef. His expertise in the haute cuisine and in the collaboration with Pierre Gagnaire has been proven over a period of many years. The elegance and standard of the creations produced by the restaurant team are in keeping with that of a Waldorf Astoria hotel." he says.
Just listen to these combinations from the Amuse Bouche course:
peanut ice cream with broccoli, French onion cake with bechamel sauce, verbena-peach jelly with tandoori crab and cucumber, escargot croquette with tomato-basil mayonnaise. All accompanied by Sommelier Mathias Brandweiner's perfect summer choice of Charles Heidsick Rosé.
It is hard to choose a favorite taste or course because they are all so imaginative and unique. Chef changes the menu seasonally and daily according to market offerings. So I went with the wine I liked best; a glass of an incredibly special Egly Ouriet Grand Cru Brut Tradition champagne that blew me away paired with Cod with shellfish jus and grilled leek, Brandade with cauliflower. Sommelier Mr. Brandweiner informed me that he buys all the Egly Ouriet Grand Cru Brut Tradition that is produced so if you'd like to try it, you must come to Les Solistes by Pierre Gagnaire.
We had a lovely surprise for dessert- well many surprises. Pierre Gagnaire loves to dazzle his guests with dessert and here it is called the Grand Dessert, a combination of five desserts offered in two services paired with a beautiful 2011 Oremus Tokaj Szamorodny. We followed with a table-side tea service that was exceptional, and prepared gracefully by the Restaurant Manager Carolin Grosch.
I am grateful to Chef Lintermans at Les Solistes By Pierre Gagnaire at Waldorf Astoria Berlin to be able to share with you chef's recipe for the entire flavorful pigeon course I enjoyed presented with potato foam, baby Paris button mushrooms, iced cream of melon and sweet onion gel with green curry. I suggest for the home cook that a Cornish Game hen might be used in the place of pigeon. Forgo the potato foam and puree some cooked, mashed new potatoes. Pair as they did with a 2013 L'esprit de l'horizon rouge from Domaine de l'horizon or a lush pinot noir from the Ribbon Ridge area of the Willamette Valley. Here in original measurements is the course.
Print
Author:

Chef Roel Lintermans

Yield:

2

-

4

portions

1

x
Category:

Main

Cuisine:

French Haute
The pigeon (supreme, leg, heart-liver sauce:)

2

pigeons
Vegetable oil

500 g

Brown Chicken stock
Vegetable garnish:

1

bunch of spring onions

1

Swiss chard

50 g

big raisins

100 g

baby Paris mushrooms

50 g

of roughly sliced baby spinach
Potato-tarragon foam:

200 g

pulp of 'la ratte' potato

100 g

milk

100 g

cream

50 g

butter

5 g

chopped tarragon
Sweet onion jelly with curry:

5

white onions
Vegetable oil
Green curry

300 g

vegetable stock

100 g

sous-vide watermelon *

8

slices of dried strawberries in dryer
Ice cream:
Strawberry-melon ice cream

250 g

strawberries

250 g

watermelon mash

175 g

caster sugar

500 g

full fat milk

500 g

double cream

10

large egg yolks

2 tablespoons

lemon juice
Instructions
For the pigeon:
Clean the pigeon, roast the supremes in a pan with some oil until medium, confit the legs in some goose fat
Cut the bones and roast them in a pan with some chopped shallots and add the brown chicken stock
Chop the heart and the liver of the pigeon, pan fry very quickly and cover with the half of the ready sauce
Reduce the other half of the sauce with some honey until it becomes syrup. This glaze is used for the pigeon leg
Vegetables:
Clean and grill the spring onions with some salt and a fine olive oil
Clean and cut the Swiss chard and cook in salted water
Pan fry the cleaned baby Paris mushrooms, Swiss chard and the spring onions, add at the end the raisins and the sliced baby spinach
Potatoes:
Bake the potatoes on salt in the oven, mix milk, cream, melted butter and the pulp of the potatoes together, heat and put in a siphon, add the gas, let it rest for a few hours
Jelly:
Peel and slice the white onions, pan fry them quick and with color, add the veg stock, bring to the boil and let infuse for 3 hours with a hint of green curry, sieve and bind with some xanthan powder until it becomes jelly
Ice cream: Prepare the ice and freeze
Plating:
Vegetable garnish in the middle of the plate, drizzle the sauce with the heart and liver over this garnish, put the roasted pigeon breast on top and lean the confit leg against it.
Put the potato foam in a sauce pan and put a big spoonful, over the pigeon
In a glass: put a big spoonful of the chilled and spicy onion jelly, the strawberry-melon ice cream on top and garnish with the dices of watermelon and dried strawberry
* How to Sous Vide Watermelon via www.greatbritishchefs.com :
When watermelon is placed under vacuum the air expands and the liquid in the cells rapidly reaches boiling point. This ruptures the cell walls of the fruit so that when the pressure is returned to normal, the cells collapse. This results in a much denser piece of fruit with a translucent appearance. This technique can only be done by a machine with a vacuum chamber, not a bar sealer.
Cut the watermelon into 2cm-thick slices keeping the surface area as large as possible
Place the slices into a vacuum bag and seal on full pressure
Leave the watermelon in the bag until ready to use
Michelle M. Winner
Michelle was born with a fork in her hand. As a culinary travel writer and confirmed foodophile she delights in the world-wide discovery of new flavor profiles, spices, salts and herbs. Based in one of the world's foodie meccas; Portland, Oregon, not far from "Pinot Noir Heaven" Michelle shares culinary travel and chef's recipes. Her photography has appeared in Saveur Magazine and she has contributed culinary travel articles to Forbes online, WSJ online, Business Insider, Condé Nast Digital Media, Islands magazine and many others. A confirmed globetrotter, she still keeps her bags packed and fork in hand (well . . . except through airport security.)