Chef of Connecticut's Basso Café, Renato Donzelli lets us in on chef secrets and his recipe for fontina-stuffed pork chops.
By Michelle Tchea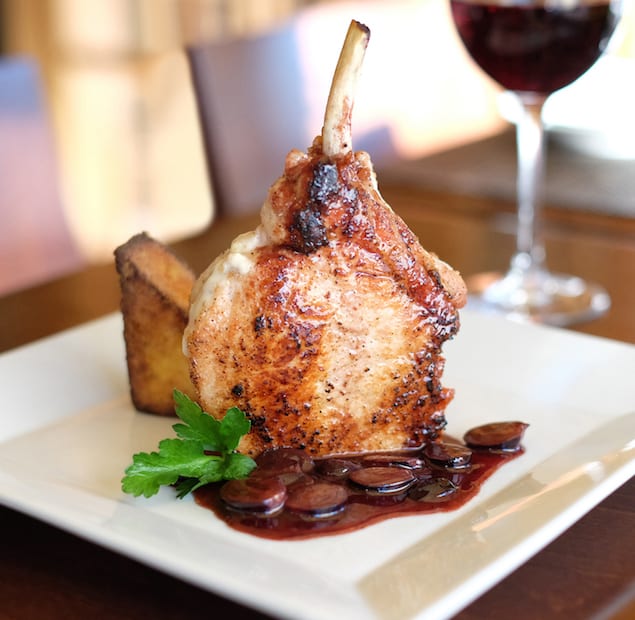 2007. © Basso Cafe Restaurant. All rights reserved
To celebrate this year's Greenwich Wine + Food Festival (kick starting September 23rd and running for 4 delicious days) The Cooking Junket has got in touch with one of the most innovative chefs of Connecticut: Chef Renato Donzelli of Basso Café in Norwalk
A minute with Chef Renato:
How would you describe your food?
Chef Renato Donzelli: I would describe it as genuine and delicate but also simple and creative.
What is the best advice you were given in the kitchen?
Don't be afraid to make mistakes.
How would you describe the CT dining scene?
It is gradually evolving and demanding.
What wine pairing or beer would you recommend with your recipe?
With this I would recommend  Chateau Haut Brion 1959, hahaha!! but a young Cabernet Sauvignon or Pinot Noir will work.
If you could cook for any three dinner guests, who would they be?
Barack Obama, Alex Guarnaschelli and Scarlett Johansson.
What would be your ideal last meal on earth?
I believe is not about choosing a final meal by quality or quantity; in fact, it should be chosen by who you are going to share it with and where. But if I'd have to choose, it would be a Pizza Napoletana and red wine. Although not any simple pizza, it would have to be a thin crust wood oven baked pizza with San Marzano tomatoes from the volcanic valley of Mount Vesuvius with mozzarella di bufala from Campania, paired with a nice glass of Barolo wine.
Chef Renato and thirteen other local chefs will be honored (and cooking at!) the Most Innovative Chefs Gala, Friday September 25.
The Most Innovative Chefs Gala is just one event in a blockbuster weekend lineup; the first Champagne Dinner Under the Stars event will take place on Thursday evening to kick off the festivities, and on Saturday, the Culinary Village, the center of the entire GREENWICH WINE+FOOD FESTIVAL, will offer tastings and demonstrations, celebrity chef book signings, the fourth annual Burger Battle, the second annual Top Bartender's Showdown, Barbecue & Bluegrass, and a live musical performance by Grammy and CMA award-winning country superstars Little Big Town.
For tickets, head to www.greenwichwineandfood.com

Pan Roasted and Fontina-Stuffed Pork Chop with Polenta and Black Grape Sauce
Author:
Renato Donzelli of Basso Café in Norwalk
Ingredients
3 tablespoons olive oil
3 cloves garlic, chopped
1 lb baby spinach
½ teaspoon salt
¼ teaspoon black pepper
¼ pound capocollo (spicy Italian ham), cut into small dice
¼ Fontina cheese, slides small square
4 thick-cut (1½ inches) pork chops for stuffing.
Black grapes seedless ½ Lb (sliced in half)
16 oz good burgundy or Cabernet wine
¼ teaspoon of sugar.
2 tablespoons cold unsalted butter, cubed
Instructions
Heat 1 tablespoon oil in large saucepan over medium heat. Add garlic; cook, stirring occasionally, 1 minute. Add spinach, ¼ teaspoon salt, ? teaspoon pepper, cook, stirring, just until spinach is wilted, about 2 minutes. Remove the spinach mixture to a medium-size bowl; let cool completely.
Place the pork chops on a flat work surface; cut a small slit horizontally, Stuff each chop with ¼ spinach and add couple pieces of cheese, Secure chops with toothpicks.
Preheat oven to 400 degree F.
Heat remaining 1 tablespoon oil in large skillet. Season each chops with salt and pepper cook 3 minutes per side or until browned. Place the skillet and the chops in the oven; Bake the chops in the oven for 15 minutes or until the internal temperature registers 155 degrees on an instant-read thermometer when inserted in the pork. Remove chops to a platter; keep it warm.
For the SAUCE: In a sauce-pot medium heat, add the seedless sliced black grapes, ½ spoon of garlic chopped, ¼ teaspoon of salt, ¼ teaspoon of sugar and stir, add wine and Bring to a boil and cook until reduced by half and slightly syrupy, about 7 minutes; remove from the heat. Whisk in the butter for a glossy sauce
Michelle Tchea
Michelle Tchea is a 4-time bestselling author. Her books include, Building a Perfect Meal, My Little SoHo Kitchen, Signature Dishes (Australia's Best) and Chefs Collective. Her work can be found in other leading luxury travel and food magazines including Travel+Leisure Asia, SMILE, NUVO Magazine and The Telegraph