Michelle M. Winner sits down with Chef Alejandro Abad to chat about his new gig as the Executive Chef at the Sofitel San Francisco Bay's signature restaurant Bay 223.
By Michelle M. Winner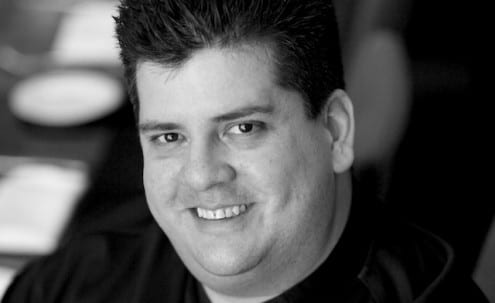 Chef Alejandro Abad  has recently been named Executive Chef at  Sofitel San Francisco Bay's signature restaurant " Bay 223. Chef Abad, a native of Barcelona began cooking at an early age  preparing meals at home with his father.  After 17 distinguished years in  the culinary arts, he has fine-tuned his craft by training in molecular cuisine, learning about wine and working in  fine dining establishments throughout Europe, including five years in Barcelona and Michelin-rated Restaurant Christophe and Restaurant Vermeer, in Holland.
His mantra is a single word: fresh. And the location here is so very conducive to " fresh."
Sofitel hotels worldwide each have a signature scent.  Here in the San Francisco Bay area it is lavender because of the proximity to the nearby Sonoma lavender farms and a link to the Provence region of France in homage to this French luxury brand.  Not only is there the scent of lavender in the lobby, there are touches throughout in the little shop ( soaps, candles, sprays, writing papers) and even in the restaurant ( lavender cheesecake anyone?).
 Enjoying a  dinner  recently in  Sofitel's Bay 223 prompted an improvised interview and request for a recipe.  Chef has offered  us one of his best recipes, a  lavender crusted lamb that is absolutely delicious.
Chef Abad, as new Executive chef what is your vision for the restaurant Bay 223 ?
CA: "My vision for this restaurant is not greater than the vision of the all the dedicated ambassadors of this hotel. My goal is to reach our guests and community with honest, well made and delicious food. All of us work hard to become worthy ambassadors of the French culture and it is the perfect blend with the quality of products you can find in the Bay Area."
And your inspiration behind the new menu?
CA: "The new menu is based on the change of season. Autumn is for food romantics, like me, the season has the best products for cooking, the sweet roots, the aromatic mushrooms, the glorious truffles, and the seafood in particular, One of my favorites this autumn is the rich flavors of the lobster bisque."
We love the combination of French and Californian flavors. Will you elaborate on how you marry the two in the menu?
CA: 'To pair Californian cuisine and French cuisine it is the fundamental ideology of the French Gastronomy. Including some of the best of SF bay's rich wines into our recipes, organic produce and local cheese can easily elevate the experience. I love to incorporate the grill technique with organic vegetables, along with the freshest local seafood and salmon pairing, and goat cheese are the perfect marriage. Utilizing the best products this region ( including San Mateo County) has to offer with French techniques to create a simple dishes with very sophisticated flavors."
Michelle M. Winner
Michelle was born with a fork in her hand. As a culinary travel writer and confirmed foodophile she delights in the world-wide discovery of new flavor profiles, spices, salts and herbs. Based in one of the world's foodie meccas; Portland, Oregon, not far from "Pinot Noir Heaven" Michelle shares culinary travel and chef's recipes. Her photography has appeared in Saveur Magazine and she has contributed culinary travel articles to Forbes online, WSJ online, Business Insider, Condé Nast Digital Media, Islands magazine and many others. A confirmed globetrotter, she still keeps her bags packed and fork in hand (well . . . except through airport security.)