Tamara Novacoviç digs deeper into her cheesecake addiction, and finally comes up with her suggestion for the ultimate cheesecake recipe.
Text And Photo By Tamara Novacoviç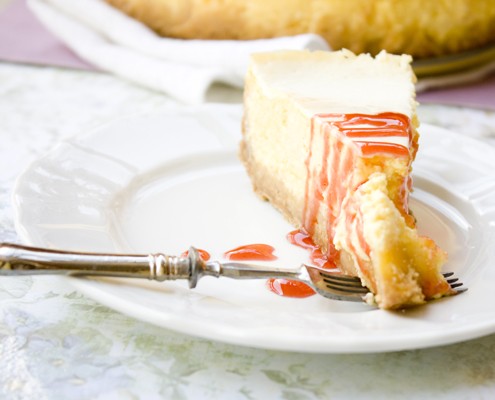 Do you remember my previous unbaked cheesecake post? Well, as I promised, it's time for part two of the cheesecake story.
If you read my post, you know how much I love cheesecakes. Today I would like to discuss the real cheesecake, proper cheesecake-baked version. I'm sure you are familiar with many different styles of cheesecake, such as  New York Cheesecake, Pennsylvania Dutch Cheesecake, Philadelphia Cheesecake etc. With baked cheesecakes, most common issues are cracks. I would like to share some tips that will help you make the best cheesecake and later a recipe for delicious cheesecake. I have been following these tips and they've proven to be very helpful:
– Always bake your cheesecake in round,
springform pan
.
– To prevent cracks, you can bake your cheesecake in
water bath
: line the outside of the springform pan to prevent leaks. Set it in larger pan and place in the oven. Add enough boiling water to come halfway up the springform pan.
– Sometimes, water from the water bath mentioned above can leak into the springform pan despite layering the outside. In this case, it's better to simply
place a small pan of water on the lowest oven rack
and place the cheesecake on the rack above. Please, take care when opening oven door and allow the bulit-up steam to escape.
– Cheesecake is usually baked for 50-60 minutes. It is done when its center is still a little
wobbly
. You should turn off your oven and let it cool inside for 10-15 minutes. You should then slightly open the oven door and let it cool inside for another 10-15 minutes. Then leave it at room temperature to cool and in the end put it in fridge for at least 3-4 hours. This
gradual cooling
will prevent the top from
cracking
.
– If your cheesecake top cracks anyway, it's not the end of the world. Simply cover it with
sour cream topping
or some
fruit sauce
.
See Also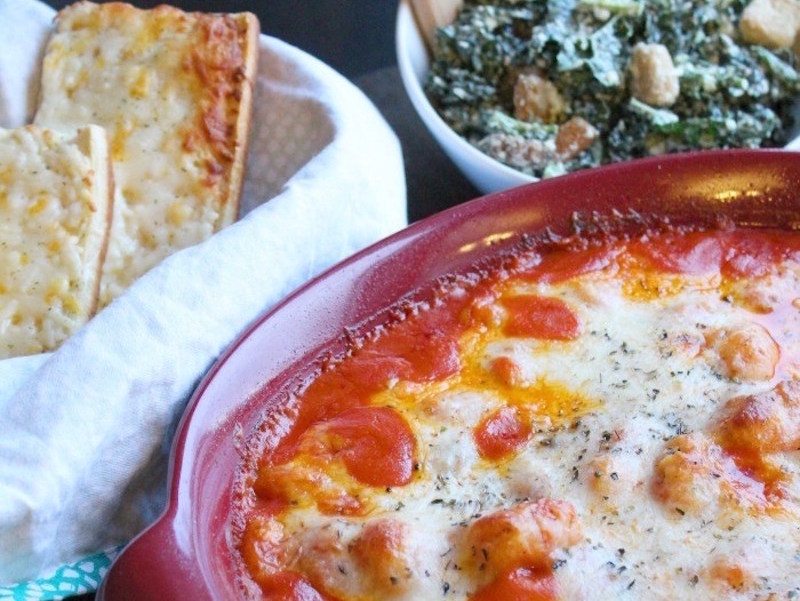 Having all this in mind, this time I tried a new recipe, which is actually a combination of 2 recipes I got from a friend of mine, Diana. I have to tell you that this is the best baked cheesecake I've ever made, absolutely delicious, creamy, with no cracks and it cuts perfectly. Give this recipe a try, you'll love it. It is a bit different from all the recipes I've tried so far.
Tamara's Ultimate Cheesecake
Base:
8 oz (250 g) cookies (I used petit beurre-butter cookies, but you can use digestives (McVities)
1/2 cup (125 g) butter
3 tbsp sugar
Filling:
17 oz (500 g) cream cheese
2/3 cup (150 g) sugar
2 tsp vanilla extract
1 egg
2 egg yolks
1/3 cup (40 g) vanilla custard powder
10 g powdered gelatin
6 tbsp (100 ml) vegetable oil
2 cups (500 ml) milk
Topping:
14 oz (400 g) sour cream
5 tbsp sugar
1/2 tsp vanilla extract
1. Preheat oven to 395°F (200°C).
2. Finely crumb cookies and combine them with sugar and melted butter. Press the mixture over the bottom of 9 or 10 inch springform pan. Bake it for 5 minutes.
3. In the meantime, prepare the filling: beat eggs with sugar and vanilla extract on medium speed until fluffy. Then gradually add cheese, custard powder, gelatin, oil and milk. The mixture will be a bit runny, but don't worry. Pour the mixture over the cookie base and put back in oven.
4. Lower temperature to 350°F (180°C) and bake for 50-60 minutes.
5. Meanwhile, stir together sour cream with sugar and vanilla extract. Spread this over the top of your cheesecake and return to oven for another 5-10 minutes.
6. Turn off oven and let the cheesecake inside for about 10 min. Then slightly opet the oven door and leave it in for another 10 min. Then let it cool on room temperature and finally put it in fridge for at least 3-4 hours.
Notes: You can add a bit of lemon zest to the filling. You can also top your cheesecake with some fruit sauce. Vanilla custard powder is used here as a replacement for flour or cornstarch in the filling.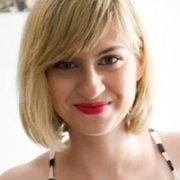 Tamara Novakoviç
Tamara Novakovic is a passionate self-taught cook, food blogger, freelance food writer and photographer behind bite-my-cake.blogspot.com. Her life journey has led her through Faculty of Humanities in Zagreb, Croatia to discovering passion for making cakes. She is currently a weekly food columnist for Croatian newspaper V magazine and food magazine Repete.