In line with global culinary pastry trends, Marissa Sertich serves a delicious Stilton cheese cake for dessert today.
By Marissa Sertich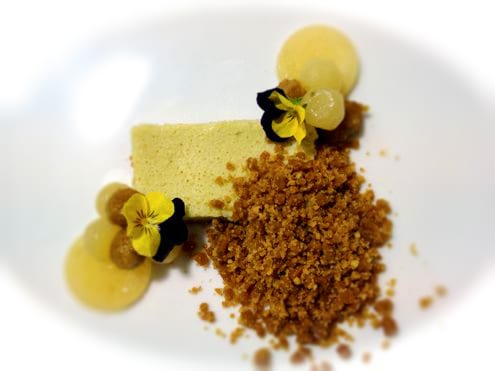 As a Pastry Chef it pains me to admit that the best way to end a meal is not always with a decadent chocolate cake or tangy citrus tart.  While the sweet flavor profile can sometimes be the perfect finalé to a great meal, dessert is moving to the savory side.  In addition to basil, rosemary, tomatoes, beets and other typically savory ingredients sneaking their way onto dessert menus, the European style of serving a simple cheese platter has become increasingly popular.  Pastry chefs require becoming cheesemongers as much as they are experts in the craft of sugar.
Honey, reduced vinegars, roasted grapes, dried fruits, and toasted nuts usually find their way into the mix.  Why not harness that savory energy and these delicious accompaniments to create something new?  -A new kind of composed, savory cheese dessert, rather than a simple spread that could be purchased in the store and consumed at home.  Let us call it "the reconstructed cheese plate."
Using goat cheese in a mildly sweet mousse or developing a blue cheese cheesecake, apply the cheese texture and flavor to a more finished product. I'm sure cheese-purists would disagree with me here – cheese is a beautiful, artistic creation all on its own – still, why not add a pastry chef's flair to create something unusual and unexpected.
Suddenly, mascarpone becomes mascarpone ice cream with figs and candied walnuts; Roquefort becomes a cheesecake with walnut chutney and muscat wine poached pears; Pecorino becomes a brulée with black pepper ice cream.  All satisfy the craving for something a little sweet, a little salty and a little creamy.  More than a cheese plate, the incorporation of these cheeses into a developed dish offers a little bit more creativity and love from the kitchen.
Try it yourself with this Stilton Cheese Cake from The Roundhouse at Beacon Falls in New York.
Print
Cheese Meets Dessert
This recipes makes 1-9″ cake.
Author:

Marissa Sertich

Prep Time:

20 mins

Cook Time:

15 mins

Total Time:

35 minutes

Yield:

1

0

1

x
200g

Cream Cheese

140g

Blue Cheese

100g

Sugar

3g

salt

2

each Eggs

1

each Egg Yolk

45g

Heavy Cream
Instructions
Preheat the oven to 300F
In a standing mixer, cream the cream cheese, blue cheese and sugar on medium speed until very smooth. Stop and scrape the bowl as necessary.
Add the eggs and yolk one at a time and mix until fully incorporated.
Add the cream all at once, mix on low speed until it is just incorporated.
Pour the cake into a greased spring-form pan.
Bake the cheesecake until it jiggles just slightly in the center. The cheesecake should have very little color.
Notes
For best results, un-mold and cut the cheesecake frozen for the cleanest and most elegant appearance.
Marissa Sertich
Marissa Sertich Velie is a New York based pastry chef and graduate of the Culinary Institute of America. She passionately documents her adventures of baking and eating her way through the fascinating (and sometimes nutty) underbelly of the American pie. Velie has a Master's degree in Food Studies from NYU.