Filled with gooey cheese, this garlic naan bread is ideal to snack on its own or served beside tandoori chicken.
By Ai Ping Sia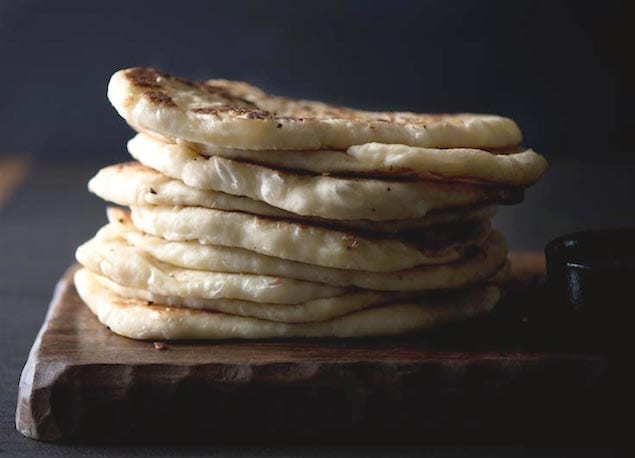 Cheesy Garlic Naan bread.
Amazing naan flavored with garlic and butter, beautifully charred and crisp on the outside yet soft, chewy with melting cheese waiting for you on the inside. Naan in its perfection.
For those who may not know, naan is a type of Indian leavened bread traditionally cooked in a Tandoor (oven). It resembles a pita bread. This naan recipe has a 85% hydration. It doesn't require kneading. The high percentage moisture in the dough, the use of yogurt and milk are the reasons why this naan is insanely soft and chewy inside.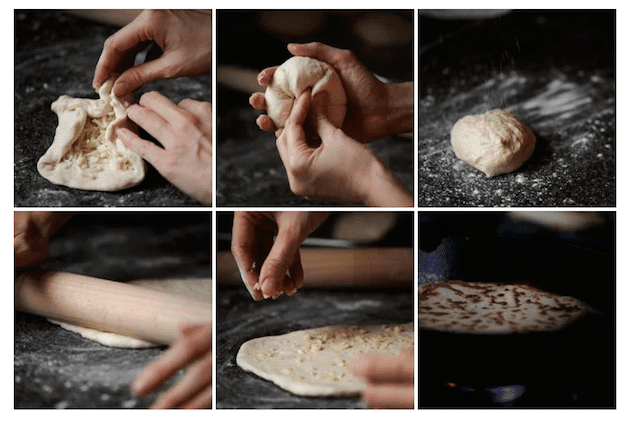 What better thing to go with naan than some smoky, roasted Tandoori Chicken. (Find that recipe here!) The flavors are so bold as they are marinated in yogurt & plenty aromatic spices. And let's not forget the mint chutney.
Also, if you haven't done so already, check out my last post Bacon Sausage Ham Pasta Casserole. This is for you meat lovers. Made with a creamy yet light cauliflower sauce and filled with oozing melting cheese. If this isn't comfort food, I don't know what is.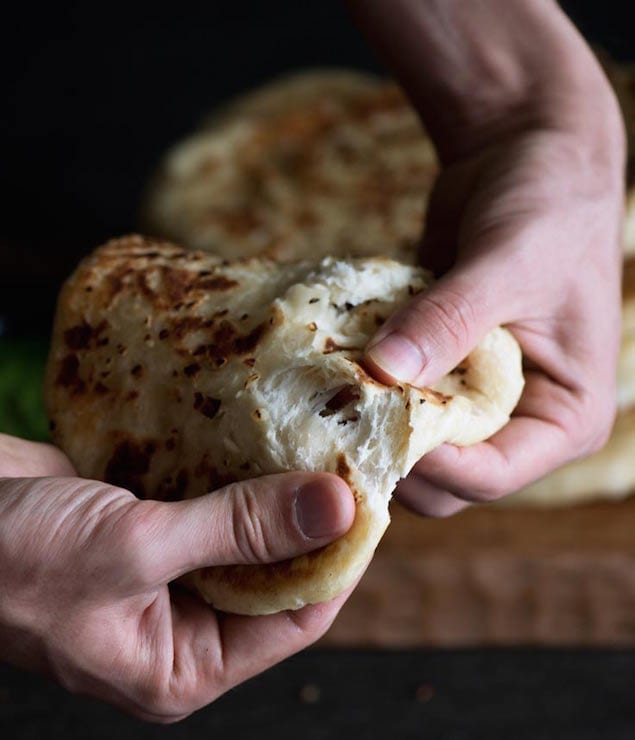 Cheese-Filled Garlic Naan Bread
Filled with gooey cheese, this garlic naan bread is ideal to snack on its own or serve beside tandoori chicken.
Ingredients
1⅓ cup (10.6oz) warm milk
2 tsp sugar
1 tbs active dry yeast
4 cups (17 oz) all purpose flour
½ cup yogurt, room temperature
¼ cup ghee or melted butter
1 tsp salt
2 cups shredded mozzarella
10 garlic cloves, finely minced
2 tbs butter, melted
Cilantro, chopped (optional)
Instructions
In a bowl, combine the milk and sugar. Gently stir in the yeast. Let sit for 15 minutes.
Add the flour, yogurt, ghee and salt. Using a wooden spatula, mix until flour is well incorporated. It will be extremely wet and sticky.
Swirl some oil on and around the bowl. Use your hands and bring the dough together especially the bottom so that the dough doesn't stick to the bowl. Cover with a clean cloth and let rise in a warm, draft free area for 1½ – 2 hours or until double in size.
Turn the dough onto a floured surface. Gently punch the air out. Knead it briefly and shape it into a log. Divide and shape the dough into 8 balls and place them on a lightly floured baking sheet. Cover with a clean cloth and let them rest for 30 minutes.
Take each ball and place it on a lightly floured surface. Lightly flour the dough and rolling pin. Flatten each dough and place 3-4 tablespoons of cheese. Pull the edges and seal the dough.
Gently shape it into a ball, and using a rolling pin, flatten and shape the ball into a teardrop shape. The thickness you're looking at is about ¼? or a little less. Take heed this time when rolling it as dough may tear. Pick up the dough on one end and let the other end dangle downwards. Let gravity help you stretch the naan a little more. If it doesn't budge or shrinks back, let it rest and try again a few minutes later.
Set the naan back on the surface. Sprinkle some garlic on the dough and use the rolling pin to gently press the garlic into the dough. Spread the top with melted butter.
Heat a cast iron pan over medium high heat until very hot – almost smoking. Gently place the naan on the pan (no oil needed). Cook for 1½ – 2½ minutes or until bottom has browned (almost charred). Flip and cook the second side for 1 – 1½ minutes or until beautifully browned or charred.
Brush more melted butter after if you wish. To keep naan warm, place them stacked on a towel lined basket or plate.
If you like your naan thinner, roll it to ⅛? thick and you'll need a bigger pan. Alternatively, divide the dough to 16 balls instead of 8. Thickness is just a matter of preference.
You can make naan in the oven too. I've tried it but I find that it makes a stiffer naan. If using oven, place a baking sheet or stone in the oven and preheat to 500 F or your highest setting for at least 30 minutes. Bake naan for 3-4 minutes or until brown or charred.
I've tried both the knead (less liquid) and no knead version. The difference in both naan is negligible. The only difference is the no knead dough requires more dusting of flour when rolling and shaping.
You can freeze the naan for future consumption. To reheat naan, sprinkle water on it, wrap it in aluminum and toast or broil for 4-5 minutes or until hot. To reheat on a pan, heat each side on low for 2-4 minutes or until hot.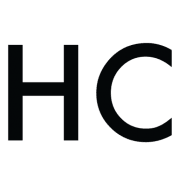 Ai Ping
Ai Ping is from Malaysia but also calls Taiwan and the U.S. her home. Though armed with an IT and business background, she still prefers cooking, photography & blogging. Her website, Curious Nut says it all with its motto 'exploring life through the lens'. She loves to eat and cook, eat and play, eat and explore and share the love with everyone.