Arianna Frea gets inspiration for these lovely bites from the cheese festival in Bra.
By Arianna Frea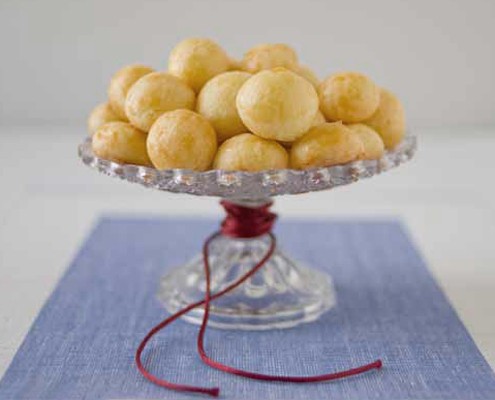 As soon as you get out of the car something special can be smelled in the air. Intense fragrances get mixed with various flavours. Walking around in the splendid village of Bra, between thousands of little stalls, meeting producers and refiners that offer their own products, its a trip at the discovery of the magical world of cheese.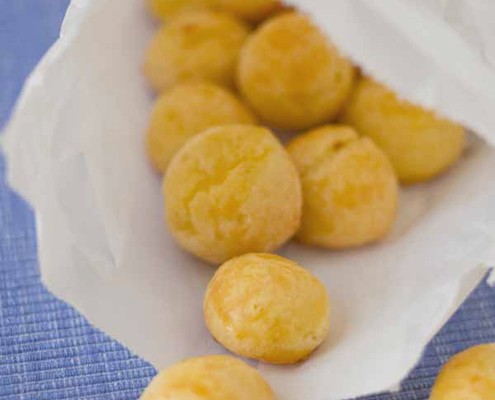 Among the many visitors you can meet gourmet experts, individuals with a soft spot for cheese or simply cheese enthusiasts, that here can discover delicious varieties, with antique flavours almost forgotten or new fragrances.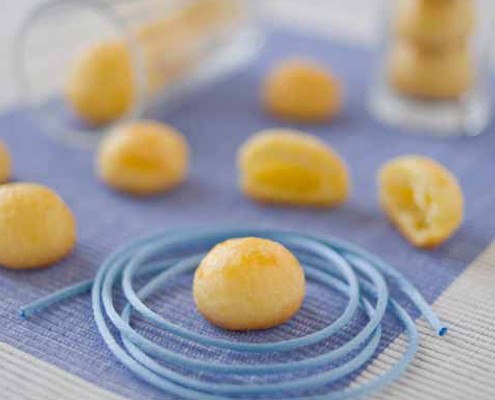 Having come back from our visit at the cheese exhibition, with a large load of several rare cheese varieties from all around the world, we decided to suggest a quick recipe, obviously made with cheese: Edamer and Parmigiano.
Greedy mouth watering cheese bites: a perfect fingerfood to share with friends.
Ingredients
1 cup (150 gr.) all purpose flour
a scant ¾ cup (150 ml.) water
a scant ¾ cup (150 ml.) whole fat milk
7 tablespoons (100 gr.) unsalted butter
3 whole eggs
1 egg yolk
a generous ½ cup (60 gr.) grated Parmesan cheese
2.8 ounces (80 gr.) grated Edamer cheese
1 pinch of salt
Instructions
Preheat the oven to 375° F (190°).
In a pot, heat together the water with the milk, salt and butter, and bring to the boil.
Keeping the pot on the heat, dump in the flour all at once and stir vigorously with a wooden spoon, for about 2 or 3 minutes, until the mixture detaches from the sides into a smooth ball.
Transfer the mixture to a bowl and allow to cool for a few minutes.
Add the eggs, one at a time, stirring quickly, adding the following one only when the first has been completely combined.
Add the grated cheeses, stirring until well-mixed.
Scrape the mixture into a pastry bag fitted with a wide plain tip, about 0.78 inches (2 cm.) and drop on a baking sheet small balls of the size of a walnut.
Brush with slightly beaten egg yolk, and cook for about 20-25 minutes, or until they are golden brown.
Let cool on a wire rack and serve.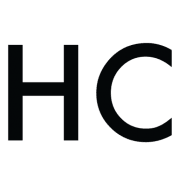 Arianna Frea
Arianna Frea is an italian food stylist based in Milan. She has a true passion and dedication to food and photography. She loves cooking with her husband, especially cakes and treats. Arianna is the author of the blog Cookingmesoftly.