Polenta, once cooked, is a versatile dish that can be served as a side or even a main course. Warm up on a cold winter's night with this creamy polenta baked with ricotta, goat cheese, mushrooms and sweetened with herbs and caramelized onions.
By Emily Nelson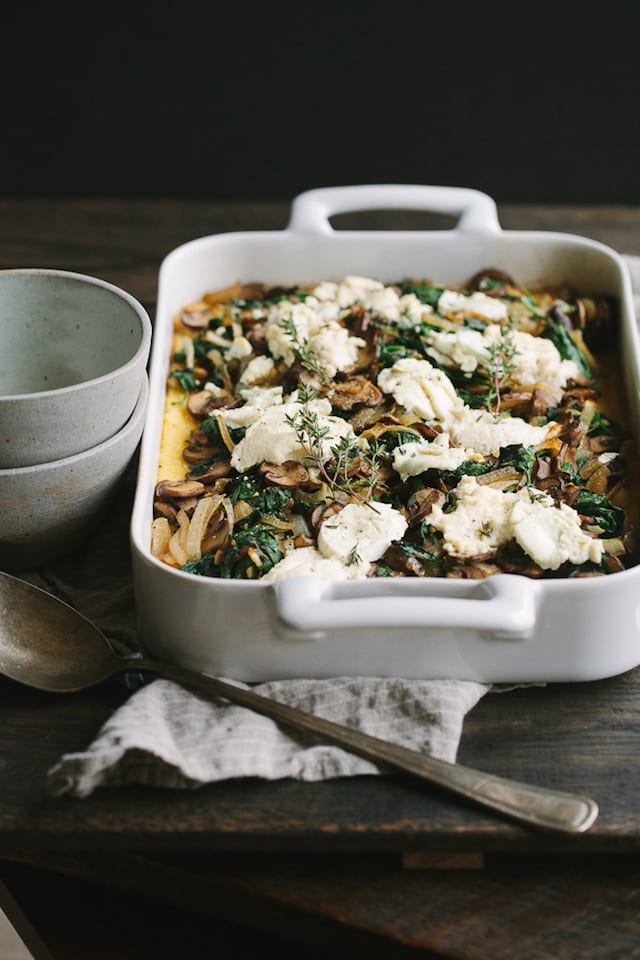 It's simple enough for busy days and nourishing enough to compensate for having a bit too much dessert.  The caramelized onions, mushrooms, and greens along with some fresh thyme make an excellent trio; the ricotta and goat cheese add a touch of creaminess, just enough to make it slightly indulgent but not overly so.  The key to perfectly creamy polenta is cooking it over low heat for at least 30 minutes, stirring occasionally and gradually adding more water.  While 30 minutes may seem a bit laborious, it's just enough time to caramelize the onions, soften the mushrooms, and wilt the greens while the polenta cooks.  Afterwards with some quick assembly, it all melds together in the oven with mounds of soft and melty ricotta and goat cheese.  It's perfect for chilly evenings gathered around the table with loved ones and friends.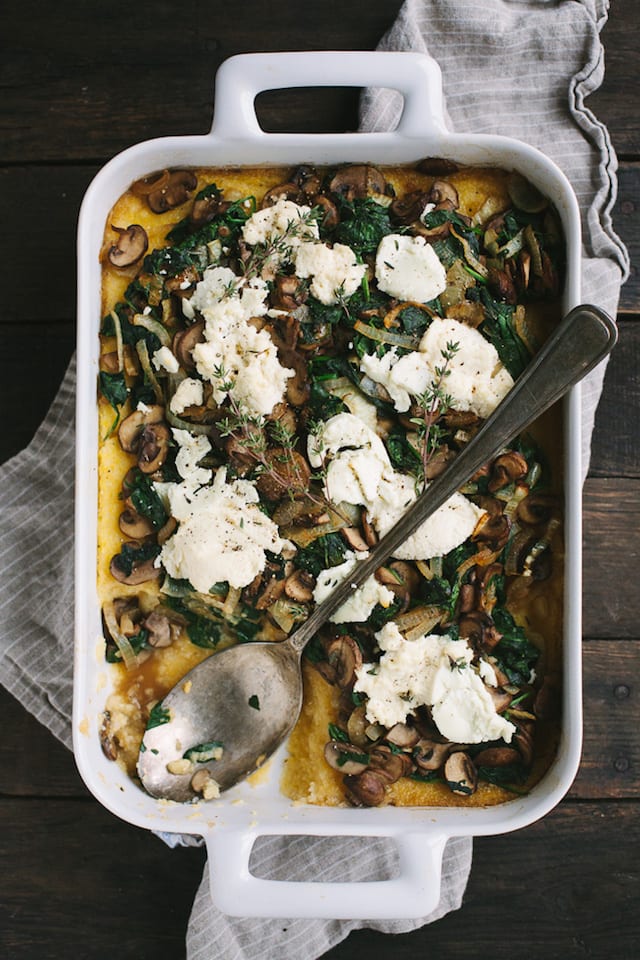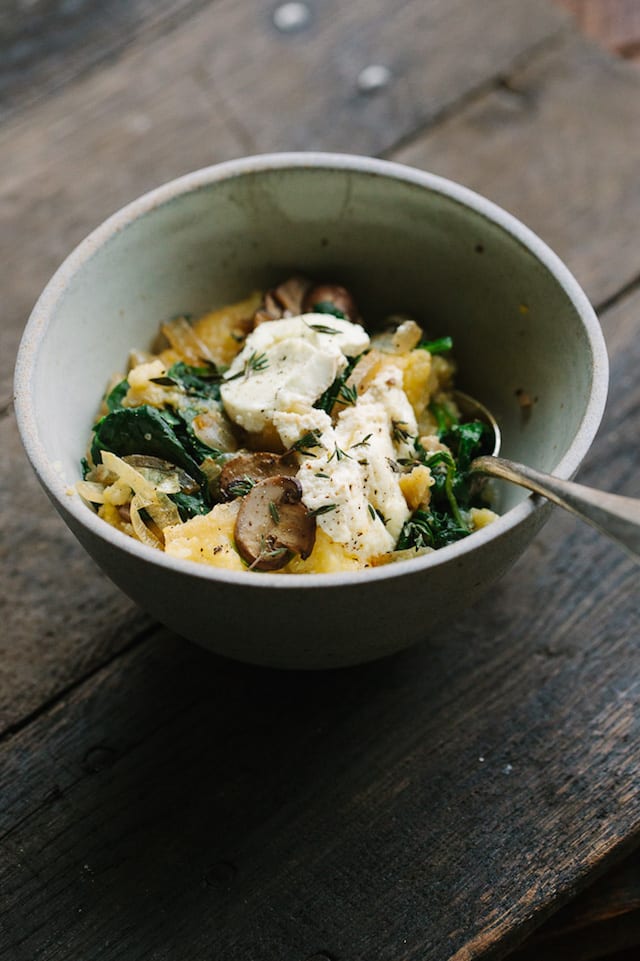 See Also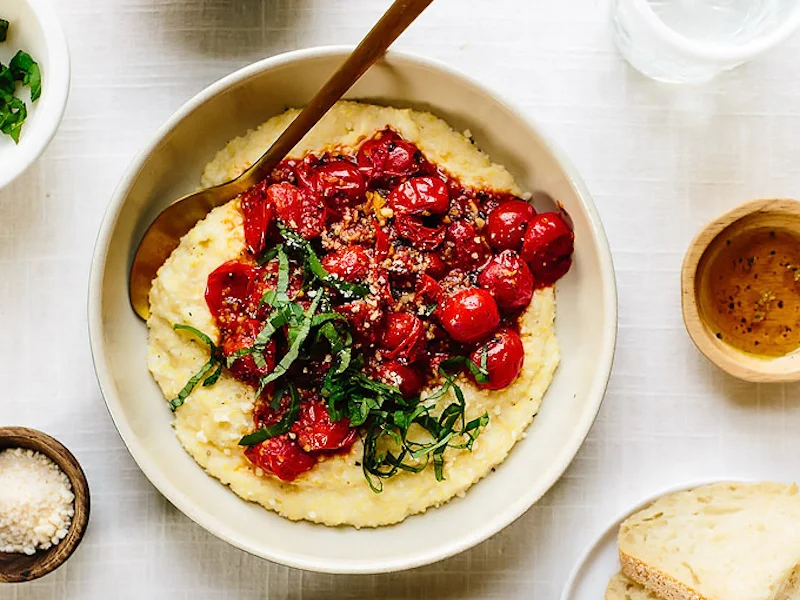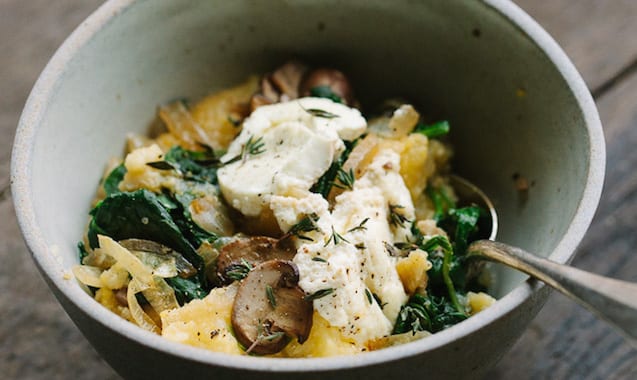 Ricotta Goat Cheese Polenta with Mushrooms, Spinach and Caramelized Onions
Emily Nelson
Ingredients
2

cups

polenta

8

cups

water

1¾

teaspoons

kosher salt

2

tablespoons

unsalted butter

2½

tablespoons

olive oil

divided

1

large onion

sliced

2

cloves

garlic

minced

16

ounces

cremini mushrooms

sliced

12

ounces

baby spinach or other greens

2

ounces

goat cheese

¾

cup

whole milk ricotta

2

teaspoons

fresh thyme leaves
Instructions
Preheat oven to 375.

In a heavy pot, bring 6 cups water and salt to a boil. Gradually stir in polenta, stirring quickly to avoid lumps. Turn heat to low. When water is completely absorbed, add another ½ cup of water and continue to stir occasionally. Continue adding water, ½ cup at a time, after each time water is absorbed by polenta. Continue to cook for at least 30 minutes, stirring occasionally. Stir in butter last.

In a wide saute pan over medium heat, heat olive oil. Add the onions and stir to coat the onions in oil. Season with salt and pepper to taste. Continue to cook over medium low heat until onions are golden and caramelized, stirring occasionally, about 20 minutes. Transfer onions to a bowl and set aside.

Heat remaining tablespoon of oil in the same pan. Add the mushrooms and garlic and cook until mushrooms release their liquid and then evaporates. Add spinach and stir together until spinach is just wilted. Return onions to pan and stir to combine.

Spread the polenta on the bottom of a lightly oiled 9x13 baking dish. Arrange mushrooms, greens, and onions over the polenta. Dollop mounds of ricotta and slices of goat cheese over the vegetable mixture.

Bake for 20 minutes until cheese is melted and soft. Sprinkle with fresh thyme leaves to serve.
Emily Nelson
Emily is a self-taught cook and photographer with a passion for creating beautiful and wholesome food for the family. Her focus is mostly on whole grains, fresh and seasonal produce, and naturally raised meats. When she's not in the kitchen, she loves playing music and spending time with her husband and two children.