This labor intensive meal is worth the wait when it comes to these comforting pies with a buttery, cheese-y crust.
By Emily Nelson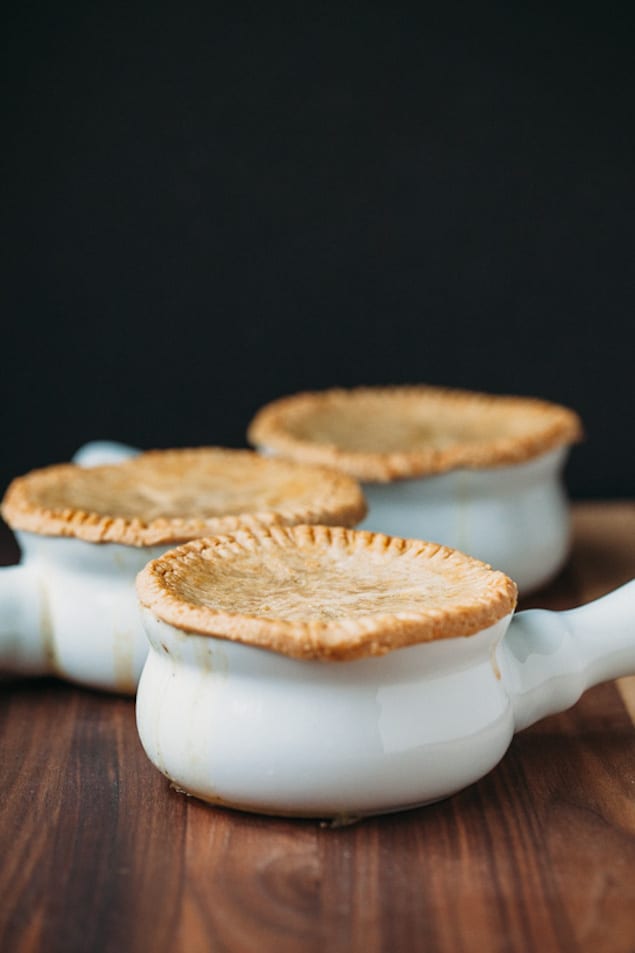 Adding cheddar cheese makes the crust extra special and complements the turkey filling perfectly. I used turkey drumsticks for the filling, but this is also a wonderful way to use up leftover turkey from Thanksgiving. Homemade turkey stock is essential and is the base to making this dish truly spectacular. I admit this is not the quickest meal to prepare, but I promise the all of the time invested will be worth it. I usually roast the turkey and make the stock on one day and prepare the filling and crust the next day. Breaking it up into two days requires some planning ahead, but it seems to make everything much more manageable. This recipe is enough for 6 individual pot pies or it can also be made in a 9×13 casserole dish.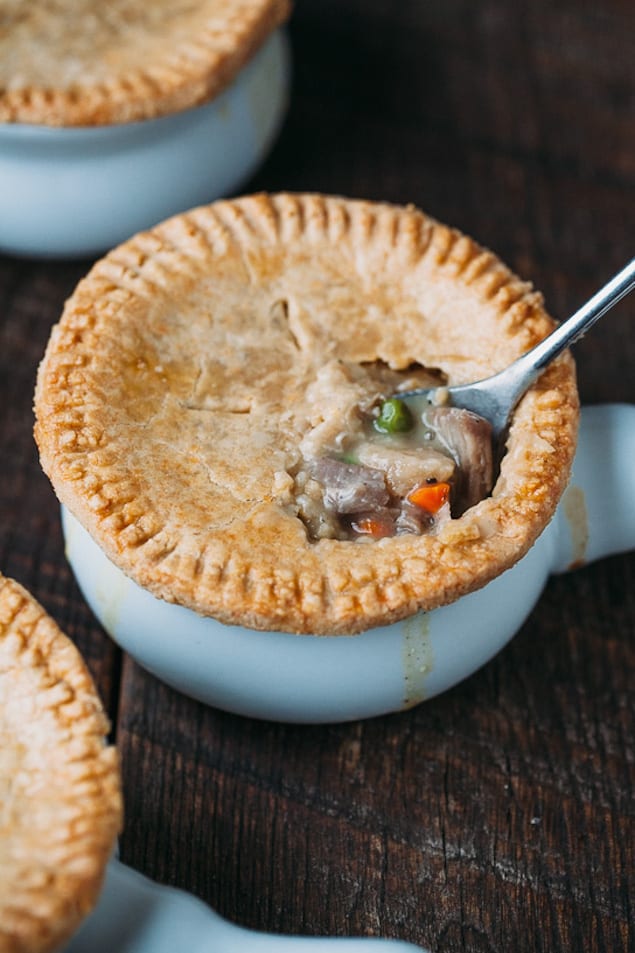 Cheddar Crusted Turkey Pot Pie
This labor intensive meal is worth the wait when it comes to these comforting pies with a buttery, cheese-y crust.
Ingredients
Turkey
3-4 pounds Turkey drumsticks
1½ tablespoon kosher salt
1 teaspoon ground black pepper
1½ teaspoon sage
2 tablespoons unsalted butter, softened
Filling
6 tablespoons butter
2 cups diced onion, about 2 onions
1 cup finely diced carrots, about 3 carrots
1 teaspoon kosher salt
dash of sage, ground thyme, and black pepper
½ cup + 2 tablespoons all-purpose flour
4 cups turkey stock
4 cups shredded or diced cooked turkey
1 cup frozen green peas
Cheddar Cheese Crust
1 cup all-purpose flour
1 cup whole wheat pastry flour
¾ teaspoon fine grain sea salt
¾ cup grated sharp cheddar cheese
10 tablespoons unsalted butter, chilled and cut into cubes.
5 tablespoons ice water
1 egg + 1 tablespoon water, optional for egg wash
Instructions
Turkey
Preheat oven to 400.
In a small bowl, combine the salt, pepper, and sage. Sprinkle mixture over turkey drumsticks and use hands to season under the skin when possible. Spread softened butter evenly over the turkey.
Roast turkey for 15 minutes at 400. Lower heat to 325 and continue roasting turkey for another 40-60 minutes, depending on the size of the turkey pieces. Turkey is done when skin is golden brown and meat thermometer registers at 165. Remove turkey from heat and allow at least 30 minutes to cool.
When turkey is cool enough to handle, remove skins and discard. Use hands or two forks to shred enough meat to make 4 cups. Do not worry about removing all of the meat from the bones. The meat left on the bones will help make the broth rich and flavorful.
In a large pot, bring 10 cups of water, turkey bones, and drippings to a boil. Reduce heat and simmer for 3 hours. Strain stock and set aside 8 cups.
Filling
In a large pot, melt butter over medium high heat. Add onions, carrots, and seasonings and sauté until onions start to become translucent, about 5-7 minutes.
Sprinkle flour over onions and carrots and stir together for another minute. Gradually add turkey stock and stir until thickened. Add turkey meat and peas and cook for another 5 minutes.
Cheddar Cheese Crust
In the bowl of a food processor, add the flour, salt, and cheddar cheese. Pulse to combine. Sprinkle butter cubes over mixture and pulse again until mixture resembles coarse crumbs. Add the water and process until just combined. Form a disk with the dough and chill for 30 minutes.
Roll dough large enough to cover a 9x13 baking dish or to make 6 individual circles.
Assemble and Bake
Preheat oven to 400.
Divide filling evenly between 6 individual bowls or pour into a 9x13 baking dish. Gently place crust on top and trim off excess crust. Use a fork to decoratively trim the edges. Cut slits in the top to allow steam to escape. Brush with egg wash if desired.
Bake for 30-40 minutes until crust turns golden brown and filling is heated through.
Emily Nelson
Emily is a self-taught cook and photographer with a passion for creating beautiful and wholesome food for the family. Her focus is mostly on whole grains, fresh and seasonal produce, and naturally raised meats. When she's not in the kitchen, she loves playing music and spending time with her husband and two children.