Enjoy this super-creamy, refreshing, and outrageously delicious Chai Vanilla Milkshake.
By Denise Browning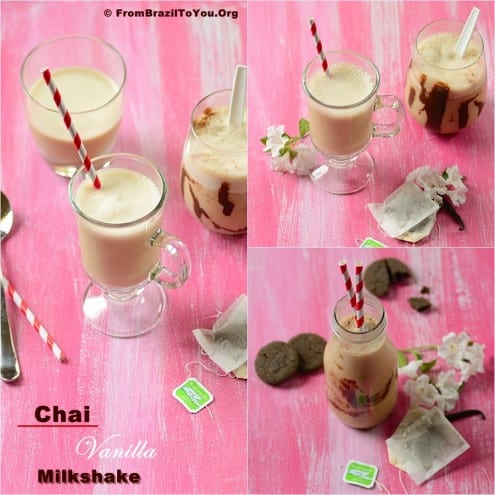 Chai Vanilla Milkshake
Enjoy this super-creamy, refreshing, and outrageously delicious Chai Vanilla Milkshake.
Ingredients
2 cups crushed ice
2 cups non-fat vanilla yogurt (I used Dannon Light & Fit)
4 tablespoons Vanilla Chai Latté powder (I used one from the Pacific Chai brand)
1 tablespoon malted milk powder (I used Nestlé Carnation Original Malt)
4-6 tablespoons sugar or sugar substitute
4 scoops non-fat frozen vanilla yogurt or your favorite vanilla ice cream
Instructions
Place ingredients in the blender following the exact sequence above (i.e. crushed ice first in the bottom of the blender, and so forth). Blend everything well until obtaining a homogeneous, creamy mixture (You might experience a bit of difficulty in getting the shake to blend at the very beginning, but keep alternating crushing, pulsing, and liquidifying. If necessary, remove cup from blender and stir a bit with a spoon before blending mixture again). Serve the Chai Vanilla Milkshake immediately!!!
Denise Browning
Denise Browning is a native Brazilian foodie, trained Chef, cooking instructor, restaurant menu/recipe developer, and former lawyer. She is also the author of From Brazil To You - a blog that features Brazilian, fusion, and international dish recipes, stories, and photography of Brazil. Her writing has appeared in Cia Brasil Magazine, while her photography is frequently featured on Foodgawker, TasteSpotting, and Foodepix. She lives in Texas with her American husband and two children.