Our Shanghai correspondent Cindy Wang discovers Cha & Living, a modern Chinese furniture shop and a secluded tea house, and finds it the perfect place to spend a quiet afternoon.
By Cindy Wang

Cha & Living, tugged away inside one of the many creative quarters that have sprung up in Shanghai in the recent years, is a world of hushed elegance. Filled with precious aged elm wood, thick sandalwood, bamboo, palm, lacquer, this Taiwanese furniture design shop is an endeavor to integrate beautiful cultural items into everyday life. The thoughtfully composed space, a pleasure to look at from every angle, also functions as a tea house.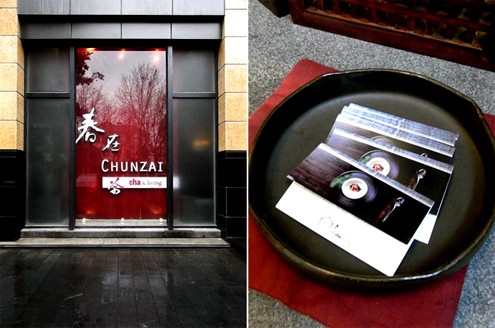 Cha & Living
Elegant and tranquil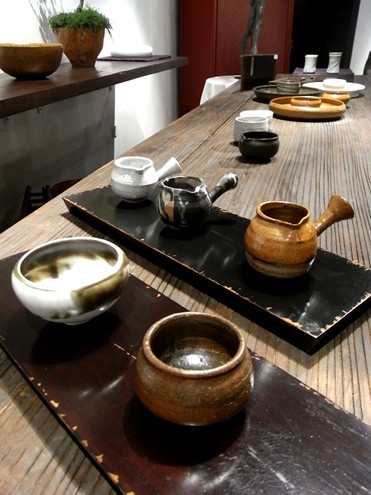 Rustic aesthetics
We were seated in a secluded sofa area, a most ideal spot for a soulful tête-à-tête. While we perused the menu, our waitress brought us complimentary cups of Jinxuan from Mount Ali, a type of Taiwan Oolong tea with a special fragrance and a very light creaminess.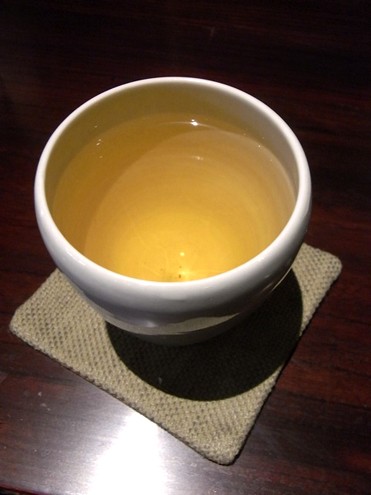 Jinxuan tea from Mount Ali
We ordered two tea sets (¥60/$9), each including a pot of tea and a collection of mini desserts. The light-baked Oolong (2010 Spring) was of a pale green color and fragrant with a light fruity sweetness, while the dark-baked Oolong (also 2010 Spring) tasted faintly of charcoal and – surprisingly – coffee. We also tried a pot of brown sugar great galangal tea, which was quite pungent and marvelously soul-warming, perfect for a cold winter day.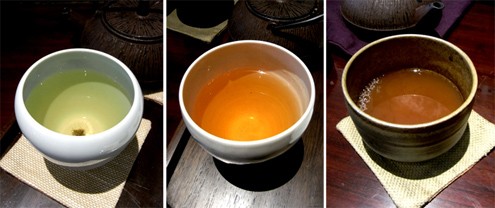 Light-baked Oolong, 2010 Spring
Dark-baked Oolong, 2010 Spring
Taiwan brown sugar great aalangal tea
The dessert plate that came with the tea set was a collection of tidbits, randomly selected from Cha & Living's list of sweet bites. Though they look Western, the desserts are heavily Chinese-influenced. Hawthorn, wolfberry (goji berry), longan, and other Chinese ingredients are weaved into typical Western treats like scones, muffins, cheesecakes, and chocolate. Each dessert is also available a la carte (¥35~45/$5~7).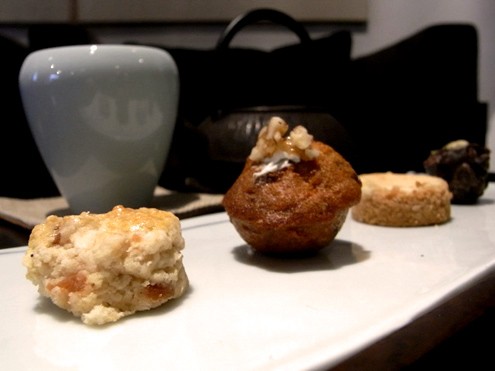 Dessert Set 1


Honey & Chinese hawthorn scone, wolfberry & longan muffin, cheesecake, longan & walnuts chocolate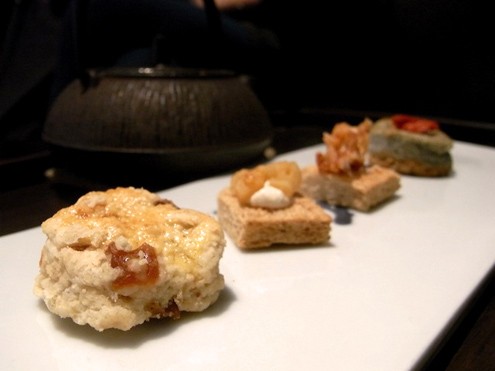 Dessert Set 2

Honey & Chinese hawthorn scone, biscuit topped with pesto cream cheese and dried turnips, black sesame cheese cake, biscuit topped with foie gras cheese mousse & spicy sausage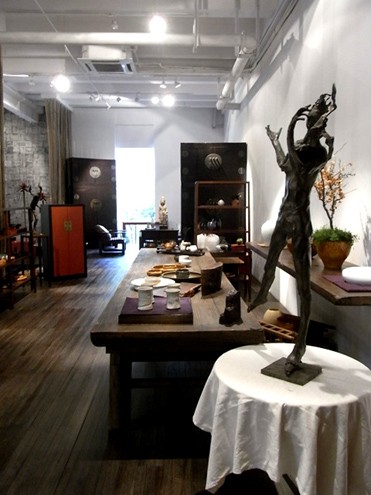 A pleasure to look at from every angle
Cha & Living is the perfect place to spend a quiet afternoon – bring a friend, bring a book, bring a peace of mind.
Cha & Living
Address: Rm 102, Building 1, 1107 YuYuan Rd, near JiangSu Rd, Shanghai, China
Tel: +82 (21) 5403-5268 or +82 (21) 3430-7266
Hours: 11:00am-9:00pm
Website: www.chunzaidesign.com
Price: [Tea] ¥35~45/$5~7, [Desserts] ¥35~45/$5~7, [Tea Sets] ¥60/$9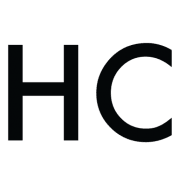 Cindy Wang
Cindy started as the Shanghai/Taipei city columnist at Honest Cooking, but has packed up her life in August 2012 and moved to Paris to pursue her dream of becoming a pastry chef. With a dedicated sweet tooth, Cindy scours the city of Paris for the best pastries and shares them with the world both on her own blog Sugared & Spiced and here at Honest Cooking.