Discover the often unfamiliar knobby celtuce root and learn how to use it in a vignarola-style spring vegetable braise.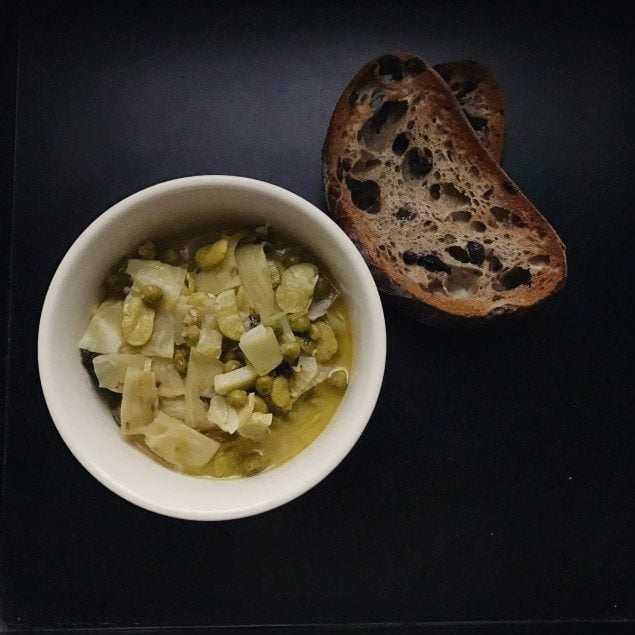 Spring is a spectacular parade of all my favorite ingredients. From fava beans to fiddleheads, gourmet chicories to garlic scapes, greens literally burst forth from the markets. It's also a wonderful seson to to discover new friends, including the ugly-but-intriguing celtuce.
For those who are unfamiliar, celtuce is most often spotted on asian menus, perhaps in some form of stir fry. Even in New York, I had only crossed it once, but given my affection for celeriac, I couldn't resist grabbing a couple of these knobby-roots-having-a-bad-hair-day.
Trim off the rough exterior, and the texture is akin to a crisp, tender broccoli stem. The flavor is subtle, a mix of lettuce, celery and a touch of hazelnut. Sauteed or braised, it holds its crispness nicely, gaining a translucence that actually looks rather elegant.
Of course, as is the case with most odd veg, there aren't many celtuce recipes on the internet. But the few article that do exist suggest either raw or stir-fry preparations, and I thought I would attempt something akin to pan-fried. As it so happened, I had also spent the previous evening shelling fava beans, and the limited recipe searches on that end yielded an intriguing option: vignarola.
Traditionally, a braise of artichokes, peas and fava beans with crispy bits of pancetta, vignarola is quintessential Roman spring at its finest. The problem being, of course, that the mise en place for both fresh artichokes and favas is a massive labor of love, and all the moreso when a recipe requires both. Since I'm less patient than the average nonna, I decided celtuce would make a solid understudy for finicky artichokes.
Flavor-wise, it was certainly a gamble, but the structural integrity of the celtuce held up beautifully against the favas and peas. With no pancetta at hand, I started the recipe with a frozen puck of schmaltz (or improvised schmaltz really – just the drippings from a recently roasted chicken). After sauteeing down the celtuce therein, I deglazed the pan with white wine, added in the favas, peas and some white pepper, and braised them, slowly, over low heat for about an hour. The wine I chose was not particularly acidic, so I added a bit of sherry vinegar to round things out. Then I added some umami by grating in a block of mystery cheese somewhere on the manchego-to-parmesan spectrum, because why not. And what do you know…it was really fantastic. It was beautifully green—pale olive, in fact—and captured all the things I love about Italian home cooking. With a little salt, a little fat and some intuition, whatever mishmash is in your pantry can truly turn into a masterpiece.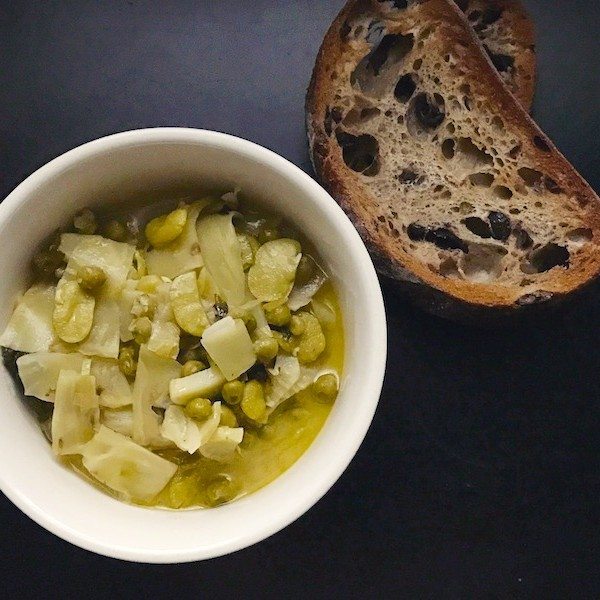 CELTUCE, FAVA AND PEA VIGNAROLA
Ingredients
two heads of celtuce

3

tbsp

of schmaltz / chicken drippings

1-2

cloves

of garlic

1.5

cups

of whatever white wine you have on hand

two cups of shelled fresh favas

one cup of frozen peas

2

inches

square, of a salty / umami-forward cheese

sherry vinegar

to taste

salt

to taste

white pepper

to taste
Instructions
Trim the rough outer skin of the celtuce stem, much as you would for celeriac or broccoli. The interior is rather tender, so be careful not to remove too much of the flesh. Slice the remaining stem into thin, 1-inch long rectangles.

Heat up the chicken drippings in a pan and add the celtuce slices. Season with salt and sauté for 5-7 minutes on medium heat, until the slices become more translucent. About halfway through, add thinly sliced garlic.

Reduce the heat and add white wine to the pan. Add your shelled favas and peas as well, with a bit more salt and freshly cracked white pepper. Add just enough water to make the mixture the consistency of a rustic stew (rather than a soup). Cover and stir periodically, simmering over low heat for at least 40 minutes.

As the flavors start to come together, taste and adjust the seasoning with sherry vinegar. Once the acidity is to your liking, grate in your cheese and stir. Continue to simmer the dish for another ten minutes, then taste again to assess the adjustment of flavors.

At this point, if you're satisfied with the dish, toast some crusty bread. Ladle the vignarola into bowls and enjoy, possibly with a glass of the remaining white wine leftover from your cooking.
Carly DeFilippo
Carly is a Contributing Writer at Honest Cooking. Though the first line of her college application essay was "I love tunafish," it wasn't until she pursued graduate studies in Paris that she ever considered a future in food. Based in Manhattan, Carly is a freelance writer and the co-founder of Cognoscenti Creative, a boutique branding agency dedicated to establishing artisans as influencers.