A surprising combination that's fresh, crunchy and light without being too virtuous.
By Sara Clevering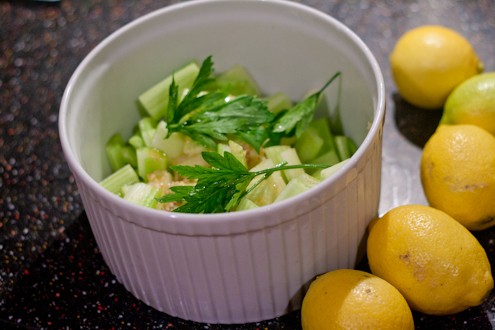 Then there's always that "kid-friendly" recipe, "ants on a log" where you slather it with peanut butter and decorate with raisin ants.  Did anyone actually like this, or was it just me who just ate the raisins off, and then (separately) the peanut butter?
To add insult to injury, since celery is so often pushed as the "healthy" or "lo-fat" alternative to chips and nuts, it sometimes smacks of deprivation.
Don't feel deflated!  I say, dress it up with an anchovy vinaigrette.  The briney, punchy taste of anchovies works wonders on a simple salad comprised of nothing but chilled chopped celery.  It's a surprising combination that's fresh and crunchy.  And light without being too virtuous.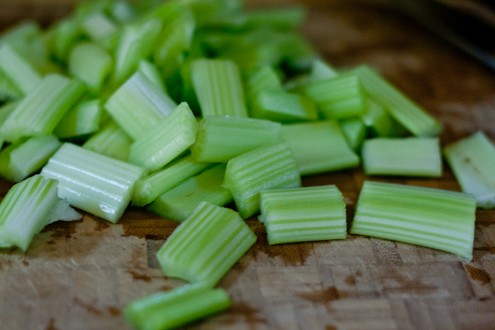 Celery Salad with Anchovy Dressing
Ingredients
Vinaigrette
¼ cup (60mL) olive oil
2-3 anchovy fillets
juice of one lemon or 3 tablespoons of white wine vinegar.
2-3 cloves of garlic, minced.
fresh parsley for garnish
Instructions
Trim and chop the celery, put in a bowl, and cover in cold water. Alllow to chill for an hour.
Make the vinaigrette: If you have an immersion blender or similar equipment, combine all vinaigrette ingredients and blend until well emulsified into a golden liquid. Taste it, and add additional salt if needed. (I always add salt after tasting, because anchovies are salty to start with). If you don't have an immersion blender, chop the anchovies finely (they will eventually become a paste), and mix with the garlic and lemon juice or vinegar. Then drizzle in the olive oil, whisking constantly to emulsify and combine.
Drain the celery well, and dress with the vinaigrette. Garnish with parsley and serve.
Notes
Allowing the celery to chill in water for at least an hour before dressing it perks it up, ensuring it will be at its freshest and crispest. Make sure to drain it well, or the flavor of your dressing will be unpleasantly watered down.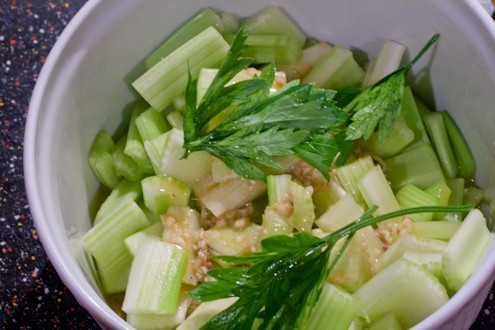 Sara Clevering
Sara sees cooking and baking as a delicious way to connect with the past and travel the world from her kitchen. She is commited to preparing homemade, unprocessed meals for her family and is always looking for tricks to fit this into a busy schedule. Sara is currently in the Boston area after several years living in London, Spain, and the Czech Republic, and travelling extensively in Eastern and Western Europe, always making sure to experience local culture through food. She also blogs with her sisters at www.threecleversisters.com