Filipino dishes may not be common in the restaurant world, but as people discover the flavors of the cuisine they are having trouble forgetting its memorable flavors. Discover what happens when the Philippines head to the Netherlands.
By Rowena Dumlao Giardina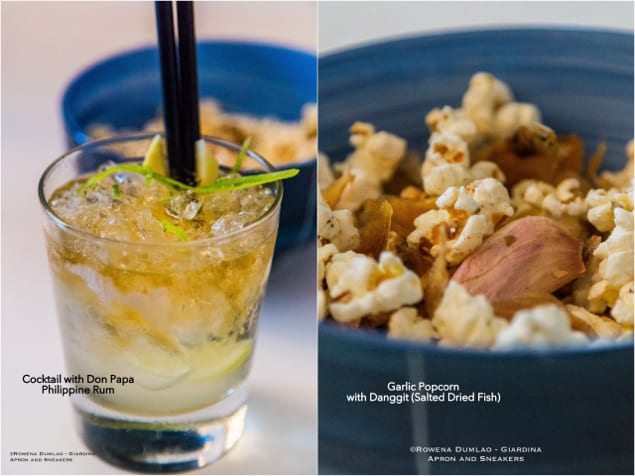 With thousands of miles in between, the Philippines and the Netherlands came together in a gastronomic event in Eindhoven. Michelin-starred Restaurant De Karpendonkse Hoeve hosted Purple Yam Restaurant (New York City and Manila) owners, Amy Besa and Chef Romy Dorotan, along with their team of young chefs for a whole week of Philippine cuisine this past September.
The launching of the Philippine Cuisine Week was held at the residence of the Philippine Ambassador in the Hague. Dishes of great importance to the Filipinos were presented by Amy Besa, Chef Romy Dorotan and their team. They used artisanal ingredients coming from different parts of the Philippines. Transported from the Philippines were different kinds of heirloom rice from the Cordillera mountains, vinegar, varieties of bananas made into preserves, spices, wild honey and mangoes. Along with fresh Dutch ingredients, they created a harmonious blending of subtle aromas and flavors of Filipino dishes like how they never presented before. And as best as I can describe them – they were so good that they continue to linger in your mouth and you wish for the flavors to remain.
Filipino dishes portray flavors of sourness, sweetness and saltiness and the best known dishes are adobo which is braised meat that uses vinegar, sinigang which is a sour soup with meat, fish or shrimp using souring agents in the form of sour fruits like tamarind, lemon or guava, and kinilaw which is the Philippine version of ceviche.
Accompanying the degustation of the dishes were cocktail blends of Philippine rum mixed with ginger, vanilla and citrus peels mixed by a team of Dutch bartenders. Popping a surprising mixture of garlic popcorn mixed with danggit, Filipino salted, sun-dried rabbitfish was quite a treat.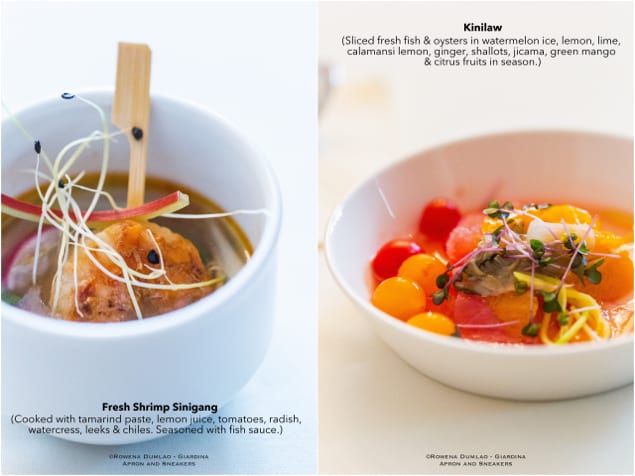 Sinigang is sour soup mixed with vegetables and meat, fish or shrimp that is seasoned with fish sauce and usually eaten with rice. Levels of sourness differ from kitchen to kitchen in the Philippines. Chef Dorotan's version is very moderate and very pleasant that it was a welcoming flavor to the palates that are not accustomed to strong flavors. Kinilaw is eaten as appetizer in the Philippines. This version was executed perfectly as the fresh slice of fish and oyster were served in watermelon ice that were mixed with different kinds of citrus fruits.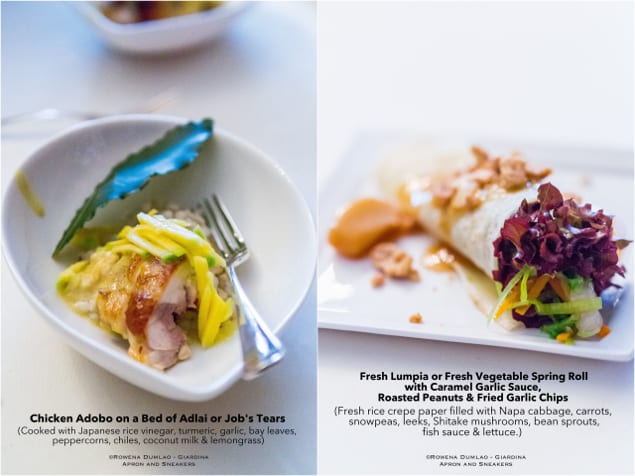 Adobo is probably the most popular Filipino dish that exists and it is also the unofficial national dish of the country. Adobo dishes are presented in numerous variants of recipes but with vinegar as the most basic ingredient of cooking it. Chef Dorotan's version doesn't use soy sauce which is why it is white and it is cooked with Japanese rice vinegar. Lumpia or spring roll also has so many kinds. The fresh vegetable lumpia is one of the lightest and is also the healthiest as it is filled with different kinds of vegetables. Peanuts and garlic sauce are important condiments that go along with the fresh vegetable lumpia.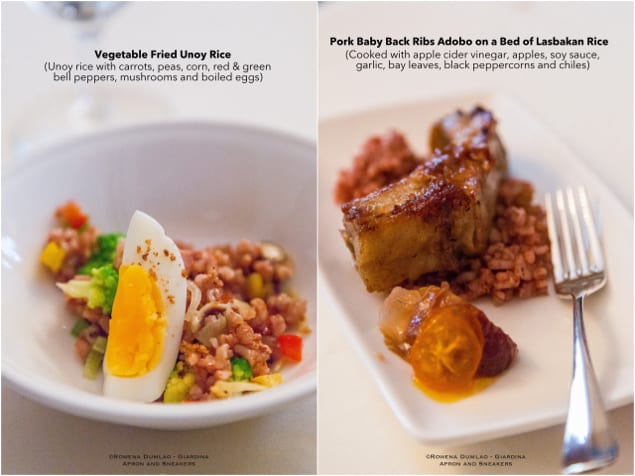 Vegetable fried rice is one of the delicious ways to mix leftover rice and vegetables in the Philippines. Chef Dorotan's version uses a kind of heirloom red rice called unoy that grows in the Cordillera mountains of the Philippines. It is mixed with vegetables and boiled eggs that were sprinkled with palapa, an artisan coconut and spice mix from that represents the flavors of the southern part of the country. This time, these adobo baby back ribs were cooked with soy sauce and apple cider vinegar. Along with the ribs, another kind of heirloom red rice called lasbakan was served.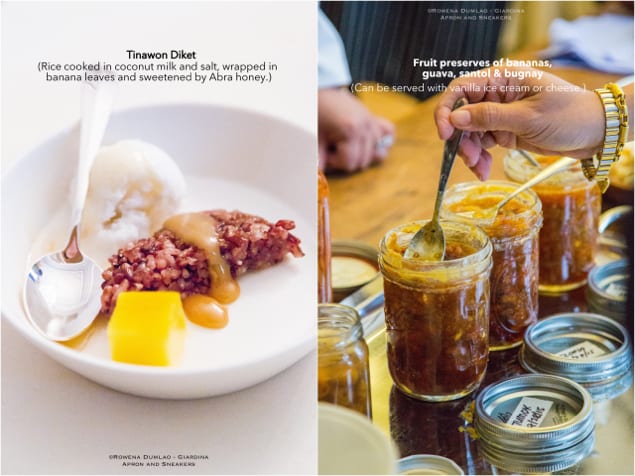 Suman is a kind of rice cake dessert in the Philippines. Again, suman has so many variants in different parts of the country. Generally, it is glutinous rice that is cooked in coconut milk, wrapped in leaves that can be banana, palm or bamboo and topped with something sweet like sugar, coconut, or sweet sauce. Being an archipelago, the Philippines has so many kinds of tropical fruits to boast of. Just the varieties of bananas alone are a lot the flavors that have diverse flavors from each other. With the degustation, Chef Romy and his team brought with them preserves of 3 kinds of bananas, bugnay, guava and santol that we paired with vanilla ice cream and also different kinds of Dutch cheese.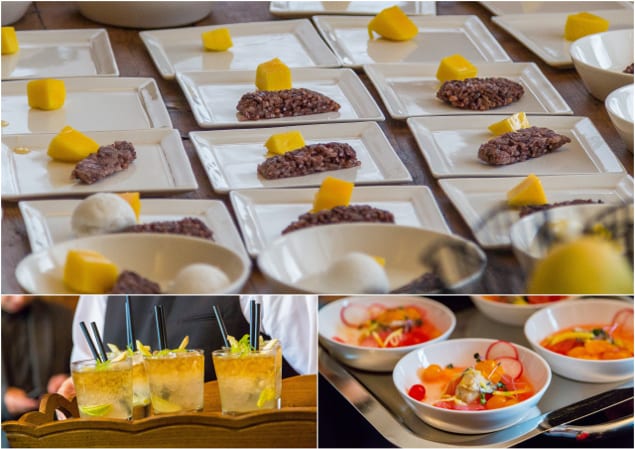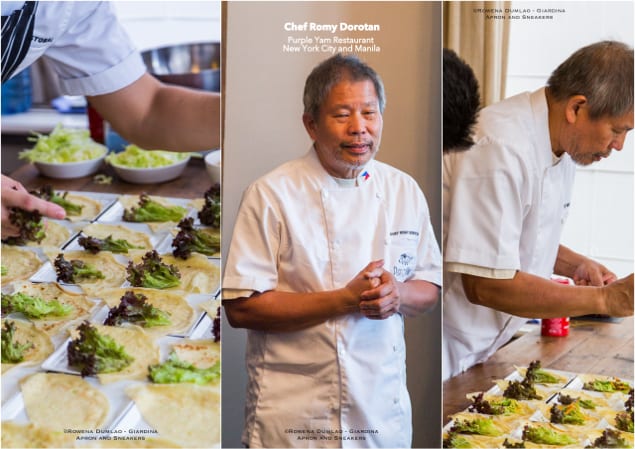 Chef Romy Dorotan, along with his wife, Amy Besa are co-authors of an award-winning cookbook called Memories of Philippine Kitchens which won the Jane Grigson Award in 2007. They are also the owners of Purple Yam Restaurant in New York City and Manila.
Rowena Dumlao Giardina
Rowena Dumlao - Giardina is the author and photographer of Apron and Sneakers and The Chosen Table. Besides her blog, she's also a recipe developer and a travel writer for other food and travel sites.