Ring in the New Lunar Year with some good luck and some great dumplings.
By Michelle Tchea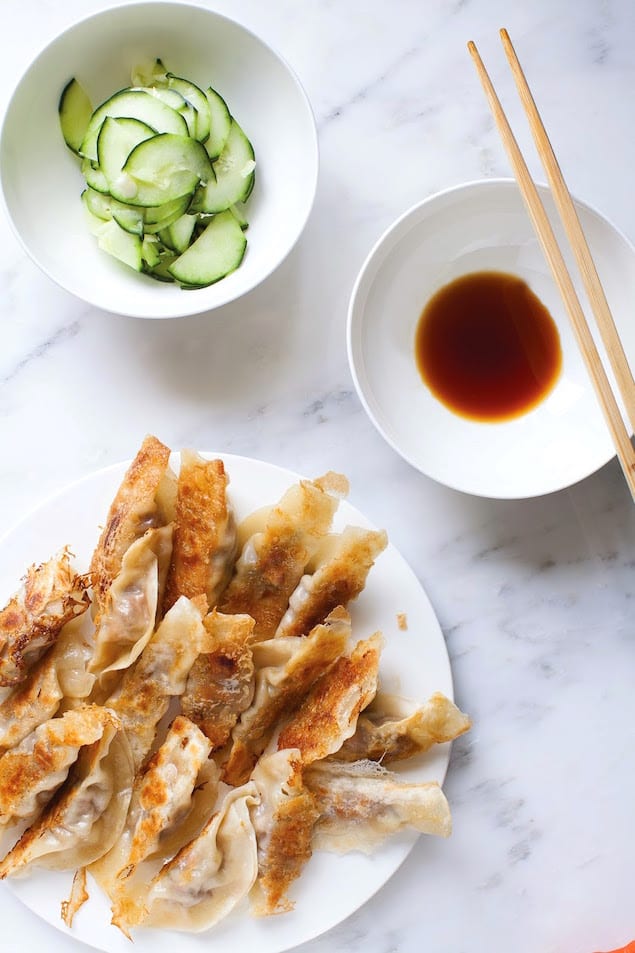 Known as food for good luck, fortune and prosperity, every Chinese New Year spread will include home-made dumplings
For those who don't have the confidence of making their own pastry dough for dumplings, here is a cheat's version.
See Also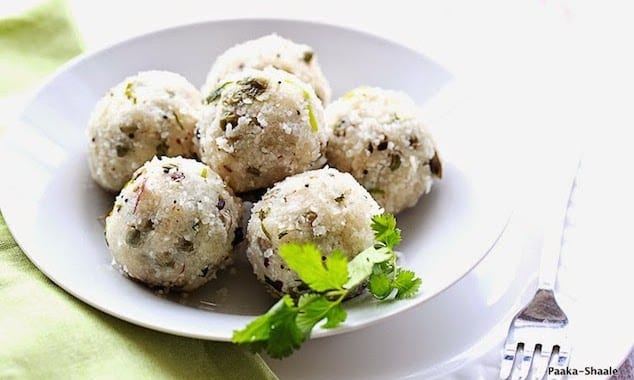 Traditionalists- don't scoff and scorn at these slightly simpler dumplings – they are equally tasty and perfect for a tiny kitchen in New Year when you don't have the bench-space.
Print
Dumplings with Pickled Cucumbers
---
Author:

This recipe is from my book, My Little SoHo Kitchen

Yield:

Makes at least 24 Dumplings
Description
Ring in the New Lunar Year with some good luck and some great dumplings.
---
Dumplings
Ground pork

150 g

(

51/3 oz

)
Ginger

2.5

-cm (1-in) knob, peeled and finely grated
Spring onions (scallions) 1 tsp, finely chopped
Cold water

2 Tbsp

+ more for sealing
Light soy sauce 1 tsp + more for dipping
Fresh prawns (shrimps) 150 g (51/3 oz), shelled and diced
Cabbage a handful, finely shredded
Dumplings wrappers at least 24
Olive oil for pan-frying
Pickled cucumber
Cucumber 1
Salt to taste
Garlic

2

cloves, peeled and pounded
Red chili

1

, thinly sliced
Vinegar to taste
---
Instructions
Dumplings
Mix pork with ginger and spring onions. Add cold water and soy sauce, followed by prawns and cabbage. Mix well and refrigerate for about 15 minutes to let it steep in the marinade.
Spoon about 2 teaspoons of the filling into a Dumplings wrapper. Ensure filling is compact before folding the wrapper over. Moisten the edges of the wrapper with some cold water. Seal one end of the Dumplings first, then form pleats from the sealed end until filling is securely enclosed. Repeat until pork mix is used up. These dumplings can be kept frozen for about a month.
Heat oil a large non-stick pan. When hot, add dumplings. Add enough water so that the liquid is less than halfway up the Dumplings. Cover and cook for 10–15 minutes. Once the water has evaporated, continue to cook until the base of the Dumplings turn a golden brown color.
Serve with pickled cucumber and soy sauce.
Pickled Cucumber
Wash cucumber and remove alternating strips of peel.
Thinly slice cucumber. Sprinkle salt all over and leave in a colander to marinate for about 30 minutes.
Rinse off residual salt under cold running water and drain well.
Mix cucumber slices with garlic and chili. Top with vinegar.
Let it sit for at least 6 hours, preferably overnight, before serving.
Category:

Appetizer, Side

Cuisine:

Chinese
Michelle Tchea
Michelle Tchea is a 4-time bestselling author. Her books include, Building a Perfect Meal, My Little SoHo Kitchen, Signature Dishes (Australia's Best) and Chefs Collective. Her work can be found in other leading luxury travel and food magazines including Travel+Leisure Asia, SMILE, NUVO Magazine and The Telegraph