Slightly crispy on the outside with a smooth, cheesy center these nutritious faux tater tots are a great way to incorporate more vegetables into your day.
By Kelly Morisson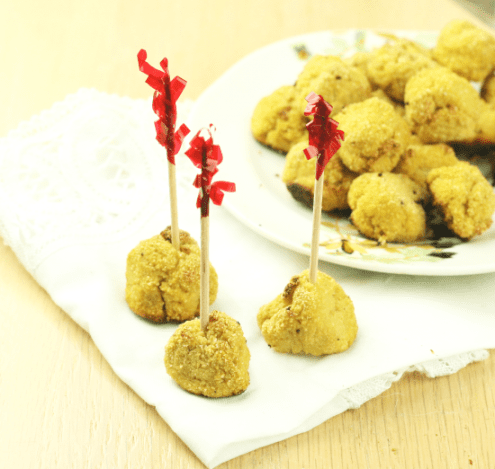 Cauliflower Tater Tots
Slightly crispy on the outside with a smooth, cheesy center these nutritious faux tater tots are a great way to incorporate more vegetables into your day.
Ingredients
1 head cauliflower, separated into florets
¼ cup cheese or nutritional yeast
2 tablespoons flour of choice (I used coconut)
salt and papper to taste
Instructions
Preheat oven to 350. Grease or spray a baking sheet with cooking spray and set aside.
Place the cauliflower florets into a large microwave-safe dish along with 2 tablespoons of water. Cook the cauliflower in microwave for 6 minutes or until soft. Transfer the cauliflower (and any remaining water) into your favorite appliance, the food processor.
Puree in the food processor until very finely ground and uniform. Add in cheese or nutritional yeast and flour and process until smooth. Salt and pepper to taste. Scoop in heaping teaspoon sized balls and space evenly apart on the prepared baking sheet. If the mixture is way too wet to form into balls, add in more flour. Feel free to play around with the spices too! Bake in the oven at 350 for about 35-40 minutes, or until golden. Broil for 1-2 minutes or until crispy. Let cool so you don't burn thyself! Devour.
Kelly Morrison
At the age of thirteen, Kelly Morrison founded Foodie Fiasco, a popular healthy recipe website that provides the ultimate guide to having it all: happiness, decadence, and loose pants. Five years later, she currently resides in West Hollywood, CA, where she spends her days developing recipes, photographing food and her cats, and writing bios in the third person.