An inventive way to combine leftover veggies into a flavorful meal that's fun to prepare.
By Chitra Agrawal
Kofta is kind of like the Indian meatball –  minus the meat and traditionally made from paneer, potato, spices and herbs and stuffed with cashews and/or raisins.  I make the comparison because growing up vegetarian in a predominantly Italian neighborhood, I remember being surrounded by meatball subs in the cafeteria on numerous occasions.  If I could serve vegetarian kids a variation today, it would have to be the kofta sub.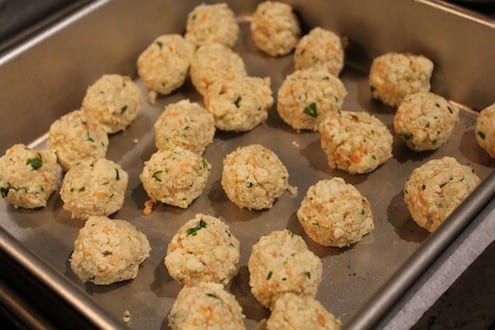 Many North Indian restaurants serve malai kofta, which is a rich creamy tomato curry with kofta balls in it. I learned a healthier (but still delicious!) variation on the recipe from my grandmother and Great Aunt last time I was in Delhi that is made from cauliflower. This was my first attempt at making this curry on my own, and I realized that what's great about making kofta is that you really can make them out of anything you want, as long as you are able to bind the ingredients together into a ball.
See Also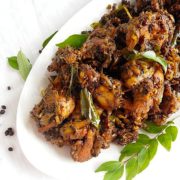 I made these koftas out of cauliflower, carrot, potato, paneer and mixed in some ginger, cumin seed, garam masala and cilantro.  For variations, you could make these balls with vegetables like cabbage, peas, broccoli, peppers, squash, pumpkin and I think toasted fennel seed would be a nice spice to add to the mix.  Some flour is important though to include as a binder in all of these variations.  You can also serve the fried kofta balls without the gravy as an appetizer with chutney.
Print
Cauliflower Kofta in Tomato Gravy
An inventive way to combine leftover veggies into a flavorful meal that's fun to prepare.
Author:

Chitra Agrawal

Prep Time:

25 mins

Cook Time:

40 mins

Total Time:

1 hour 5 minutes

Yield:

4

1

x
(Kofta Balls)

1 cup

cauliflower, grated

1/2 cup

fresh paneer (if store bought, you can just mash it up)

1/2 cup

potato, boiled and mashed

1/4 cup

carrot, grated

1/2 teaspoon

cumin seed

1/4 teaspoon

garam masala

3 teaspoons

cilantro, chopped

2 teaspoons

ginger, grated

1

small green chili or

1/2

jalapeño, chopped

1 teaspoon

salt
~3-4 tablespoons flour (all purpose, chickpea or corn)
(Tomato Gravy)

2 tablespoons

oil or ghee
pinch of asafetida (hing)

1 teaspoon

cumin seed

1

red onion

2

cloves garlic

1

inch ginger, grated

2

medium size tomatoes, chopped

1 tablespoon

coriander powder

1 teaspoon

garam masala

1/4 teaspoon

chili powder

1/3 teaspoon

turmeric

1/2 teaspoon

amchoor (dried mango powder), optional
paneer whey as needed or water to make it soupy
salt to taste
cilantro, chopped
Instructions
In a mixing bowl, combine all of the kofta ingredients.
Mix in 1 tablespoon at a time of the flour, until you are able to shape the ingredients with your hand into golf size balls that easily bind and stay together. If you feel that you have added too much flour, just adjust with adding water and vice versa.
Heat oil in a wok.
When the oil is hot, place kofta balls in one at a time. If you find that they are breaking, add more flour to the balls to help them bind.
Deep fry kofta balls until golden brown and set aside on paper towel.
In a pan, heat oil under medium-high heat.
Throw in asafetida and cumin seed and shake up the pan.
Fry until cumin seeds starts to brown and become fragrant.
Throw in the onions and fry until translucent.
Add in the garlic and ginger and fry for 30 seconds.
Add in the chopped tomatoes and mix well.
Mix in the coriander powder, garam masala, chili powder, turmeric, amchoor powder.
Mix in 1 cup of whey from paneer or water and let the curry cook for 5-7 minutes under medium heat until boiling, then simmer.
Add salt and more or less liquid depending on how watery you want the curry to be.
Next add in the kofta balls and spoon the gravy over them carefully, continuing to cook for 1 minute.
Turn off the heat.
Garnish with fresh chopped cilantro.
Serve with roti or rice.
Chitra Agrawal
Chitra writes the food blog, The ABCD's of Cooking, which chronicles her adventures cooking American Born Confused Desi recipes. When she is not recipe blogging, Chitra can be found hosting her online cooking show and a supper club featuring Indian-inspired, vegetarian cuisine. She also teaches cooking classes and sells Indian street foods (sometimes yummy Indian tacos!) at events and artisanal markets in Brooklyn. Her cooking has appeared in the New York Times Dining Journal and she is a contributor to The Huffington Post, Gojee, The Daily Meal and Brooklyn Based.