Castello Summer of Blue — The French Connection Sandwich with Cucumber and Blue Cheese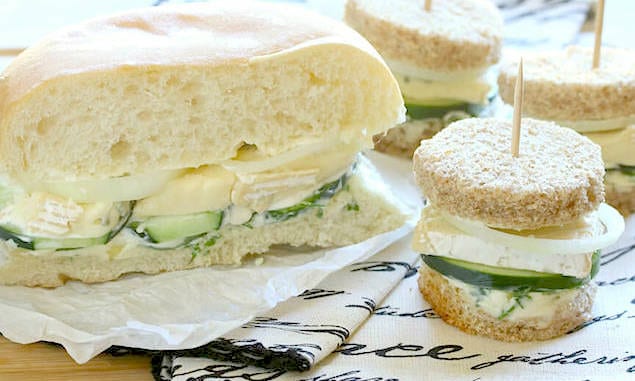 PARTNER POST – Get inspired with creatively crafted Castello Blue Cheese as we celebrate a Summer of Blue with #BluesdayTuesday.
A traditional French Connection is slathered with garlic butter and layered with crisp cucumber slices, brie blue cheese, and onion for a simply delightful sandwich.
By Kimberly Killebrew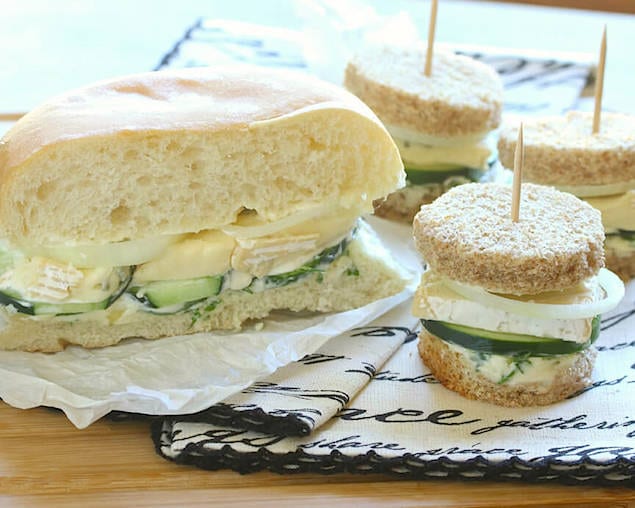 Cheese has a way of reconnecting me to my original home of Europe. Every time I sample some European cheese my mind is taken back to the lands and regions where I spent my childhood.
And that's what food is largely about for me. It either connects or reconnects me with places I know and love or places I've never been but long to experience.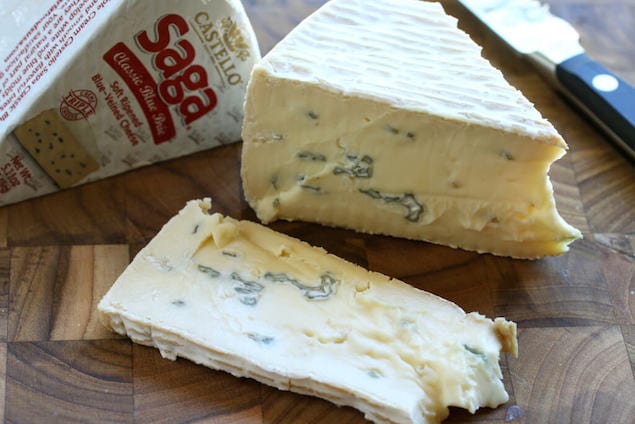 One of my favorite European excursions was heading to King's Lynn and stopping at their "bap" shop (that's what the Brit's call bread rolls) for a particular sandwich: The French Connection. I have no idea if this tiny sandwich shop is still in existence, but they offered a nice selection of filled baps. But the one my mom and I always got was this French-inspired delight that was slathered down with a generous amount of fresh garlic butter, mayonnaise, and then layered with crispy cucumber, onions, and a generous amount of brie.
Castello's world-class European-imported cheese has reconnected me to my home on many occasions, including this one. I was able to try some of their fabulous blue-veined brie and of course it immediately made me think of those wonderful sandwiches in King's Lynn. I thought if there was one way to improve upon the French Connection it would be to use a brie that has some glorious blue cheese veins running through it.
See Also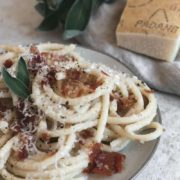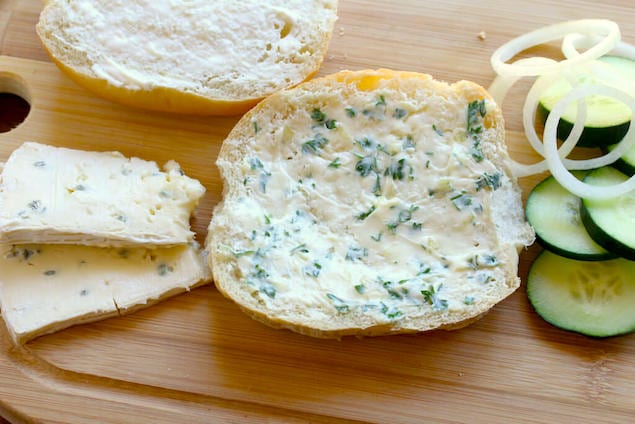 So today I'm sharing the recipe for the French Connection and I'm doubling up this time – I'm going to show you how to make it TWO ways: The traditional way and in hors d'oeuvres form, which is absolutely fabulous. I promise your guests will love them!
Castello Summer of Blue — The French Connection Sandwich with Cucumber and Blue Cheese
A traditional French Connection is slathered with garlic butter and layered with crisp cucumber slices, brie blue cheese, and onion for a simply delightful sandwich.
Author:
Kimberly Killebrew
Serves:
4 sandwiches or 12 hors d'oeuvres
Ingredients
4 large soft rolls (if making hors d'oeuvres instead, cut 24 round circles out of sandwich bread about 2 inches in diameter and proceed using the standard directions)
Large wedge of brie, at room temperature
1 cucumber, washed and thinly sliced
1 small onion, thinly sliced
Mayonnaise
For the Garlic Butter:
¼ cup unsalted butter, at room temperature
2 large cloves garlic, smashed and finely minced
2 tablespoons chopped fresh parsley
⅛ teaspoon salt
Instructions
Combine the ingredients for the garlic butter and set aside until ready to use. If storing it in the fridge, let is soften at room temperature before using it.
Spread the bottom half of each roll with a generous amount of garlic butter and top halves with mayonnaise. Layer the sandwiches with cucumber, brie and onion and place the top half of the sandwich on top. If making hors d'oeuvres with the sandwich rounds, use on slice of cucumber and you can secure the sandwiches by sticking a toothpick down the center.
Kimberly Killebrew
Raised in Western Europe, widely traveled, and currently residing near Seattle with her husband and children, Kimberly loves preparing and experimenting with a large range of flavors and cuisines. This is reflected in her food blog, The Daring Gourmet, where she invites all to "tour the world through your taste buds." Passionate cook, recipe developer and photo enthusiast, her culinary repertoire includes everything from gourmet to simple comfort food, and, as she puts it, "simply downright good eats."