Grilled steaks are topped with rich melting blue cheese and chive compound butter and tangy balsamic onions. Make this easy, elegant meal all year round.
By Emily Clifton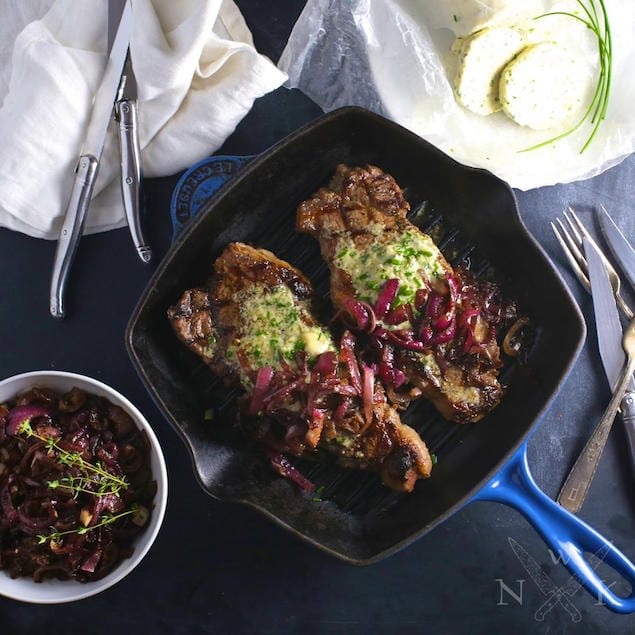 There's something about the combination of rich beef and tangy blue cheese in this recipe that just works (which is why the best burger combination is blue cheese and crispy bacon, in my opinion). Well, this recipe takes that classic pairing to the next level.
We grilled New York Strip steaks and topped them with the most delicious blue cheese and chive compound butter and served it with Balsamic Roasted Red Onions with Thyme.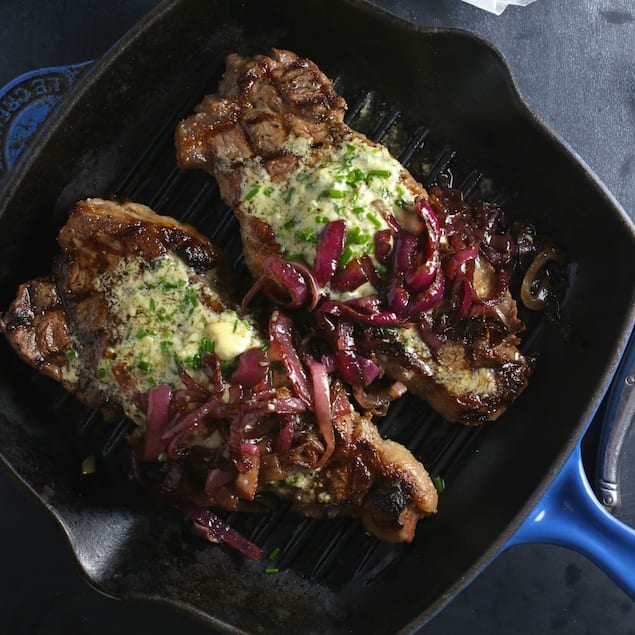 Let's talk about this Castello Noble blue cheese for a minute, shall we? Matt and I are both officially obsessed with it. It's got the subtle tang that defines good blue cheese, but has a creamy, almost buttery texture. It's full of flavor without being overpowering and would be perfect on a simple cheese board like this one with local strawberries and toasted hazelnuts.
I love compound butters because they're a quick and easy way to elevate simple dishes. They can be made days or even weeks ahead and you can simply cut off a slice or two whenever you're ready to use them. I've made blue cheese butter before, but this time I added some chopped chives along with a dollop of sharp dijon mustard.
It's super delicious and there's so many ways to use it beyond just steak. Try tucking some under the skin of a few chicken breasts before roasting, or melt a slice over grilled vegetables, or tuck a thick slice inside of a burger before you grill it. Gaaaaah, that one's my favorite.
See Also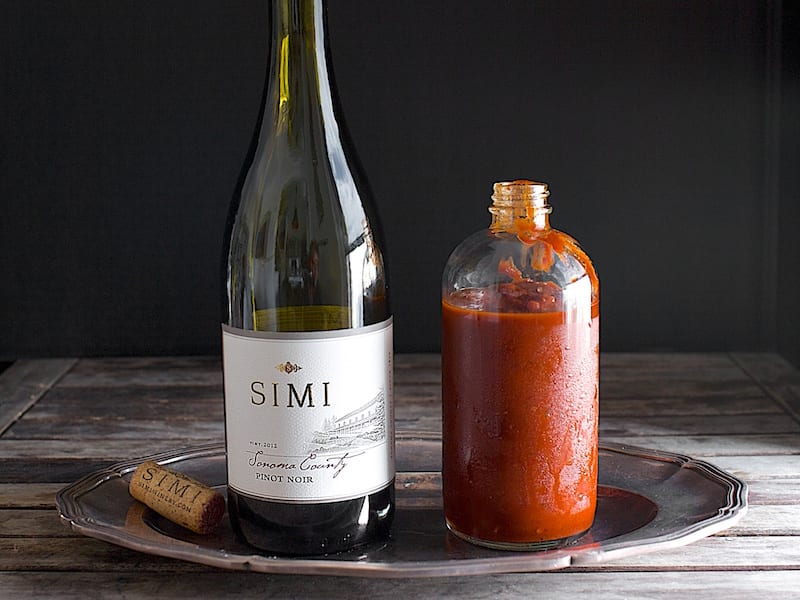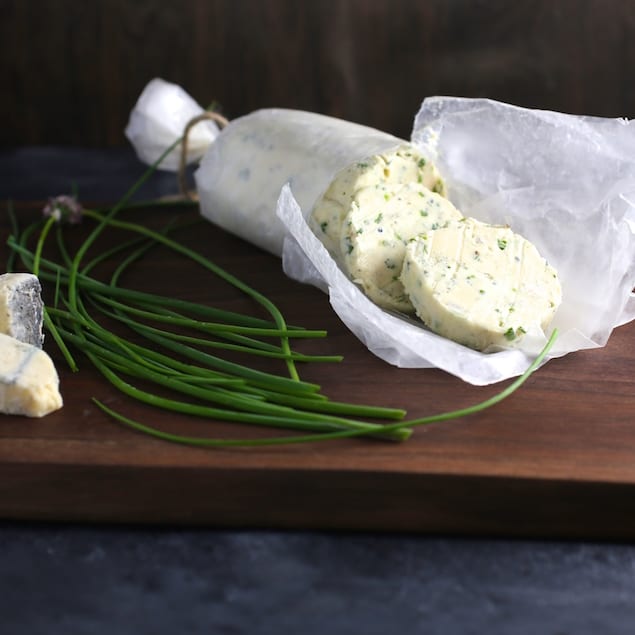 TIPS:
We used New York Strip steaks but you could use your favorite cut for grilling. Rib eye, flatiron or hanger steaks are particularly good on the grill.
If you don't have access to a grill, you could sear the steaks in a very hot pan (I love this method almost more than grilling because you can get such a great crust. The cooking time is usually about the same).
This is a great chart that tells you exactly how long to cook your steaks for, depending on thickness.
Take your steaks out at least 30 minutes before you plan to cook them. Make sure they're very dry before you season them so they'll develop a nice crust.
The leftover Blue Cheese Compound Butter will last in the freezer for up to 3 months.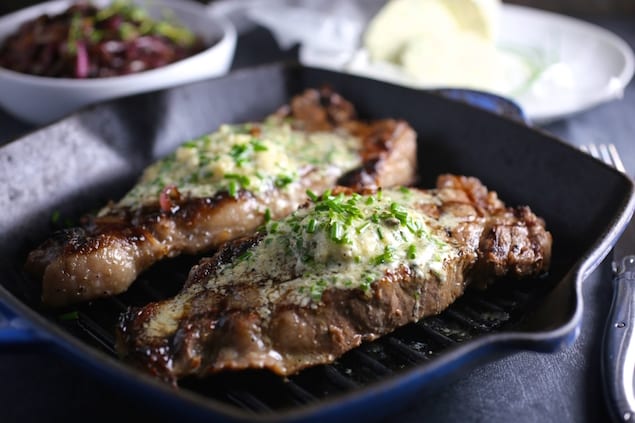 Find the recipe for Balsamic Roasted Onions here.
Print
Grilled Steak with Blue Cheese and Chive Butter
Grilled steaks are topped with rich melting blue cheese and chive compound butter and tangy balsamic onions. Make this easy, elegant meal all year round.
Author:

Emily Clifton

Yield:

2

servings

1

x
Category:

Main
For the Steaks:
2

(1½ inch thick) steaks (New York strip, rib eye, flatiron or hanger steaks)
Course kosher salt
Freshly cracked pepper
Grapeseed or other neutral oil for grill
For the Blue Cheese and Chive Compound Butter:
½

lb (8 oz) unsalted butter, (

2

sticks) room temperature

2 teaspoons

smooth Dijon mustard

3 tablespoons

chives, fresh, chopped fine

1/8 teaspoon

course sea salt

1/8 teaspoon

freshly cracked black pepper

4 oz

Castello Noble Blue Cheese
See the link above for the Balsamic Onions
Instructions
Make the compound butter:
Place the softened butter into the bowl of a stand mixer with the paddle attachment (if using a hand-held mixer, place butter into a mixing bowl) and beat until light and fluffy, 3-4 minutes. Add chives, mustard, salt and pepper. Beat on medium speed until everything is well mixed, 1-2 minutes.
Crumble in the blue cheese and gently mix until it's incorporated. It shouldn't be perfectly smooth, there should be a few small flecks of cheese here or there. Taste for seasoning and add salt and pepper if desired.
Place the butter in the center of a sheet of parchment paper, wax paper or plastic wrap. Form a log by rolling the bottom half of the paper over the butter (roll it back and forth a few times until it's the thickness you want), then roll it all the way closed. Twist the ends to seal and tighten the log (you can tie them with twine if you like) and refrigerate until hardened, about two hours.
Note: This recipe makes about 12 servings of the butter. The sealed roll will keep for 4-5 days in the refrigerator or up to 3 months frozen.
Make the steaks:
Prepare a charcoal or gas grill. If gas, preheat on high for at least 15 minutes ahead of time. Remove steaks from the refrigerator 30 minutes before cooking so they come to room temperature. Season them liberally with course salt and pepper on both sides.
Rub grill grates well with oil. Grill steaks until medium rare, about 3-4 minutes per side (or however you like them done).
Remove steaks and immediately top each with a slice of Blue Cheese butter. Let it melt for 5 -7 minutes as the steaks rest. Serve with Balsamic Roasted Red Onions with Thyme.
Notes
The recipe makes enough compound butter for 12 servings.
You could also pan-sear the steaks in a heavy-bottomed skillet. Cast iron is perfect for this.
Emily Clifton
I love to cook and learn about food. I was born and raised in New York City and I was exposed to a lot of different food cultures as a kid though I was weirdly picky. I hated mashed potatoes but I loved kim chee. Hated fish, loved escargot. I said I was weird, don't judge me. My mom is a great cook but I definitely don't have any "passed down from grandma" types of recipes. Both my grandmothers were horrible cooks. I mean really, truly bad. I give my mom a lot of credit for knowing that string beans are not actually supposed to be gray. In real life I'm a film/TV editor which just might be the most fun job in the world. Occasionally it can be the most annoying job in the world which is why I really appreciate it when I get to take a break and do my other favorite things which is cook, take photographs and write.