PARTNER POST – Get inspired with creatively crafted Castello Blue Cheese as we celebrate a Summer of Blue with #BluesdayTuesday.
Smokey, sweet, and creamy, this grilled romaine salad will be your last love of the summer. Bacon and stone fruit turn a basic grilled side dish into something hearty and unique with blue brie cheese. It's beautiful inside and out.
By Ann Kaufman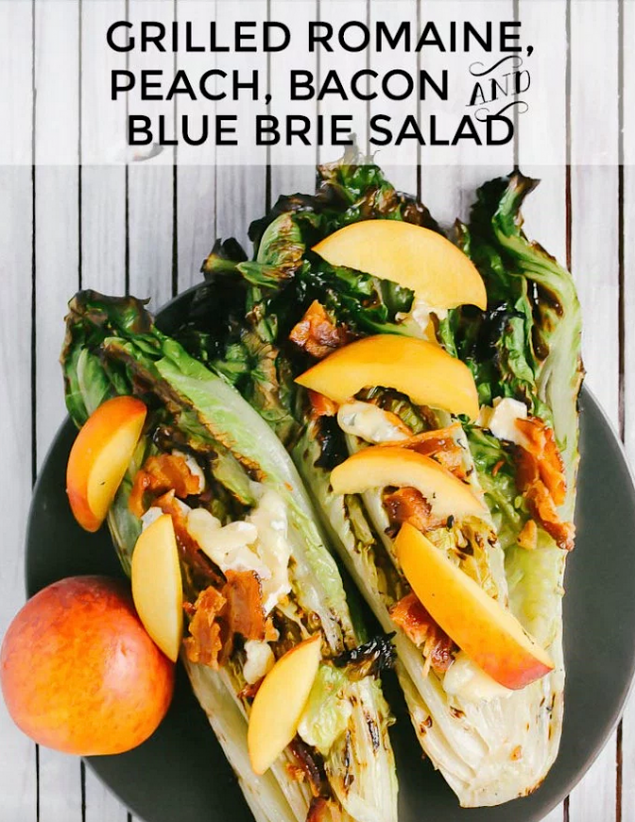 For the last few months of summer, I've been messing around in my kitchen with Castello's Saga blue brie. It's a decadent creamy brie, spiked with all the bite and earthiness of a really great blue cheese.
Today's recipe is an easy grilled romaine salad garnished with summer ripe nectarines, crispy bacon and slightly-melted dabs of Castello Saga blue brie. The blue brie melts very easily, creating a rich "dressing" for the grilled romaine that needs nothing but a little heat from the grill.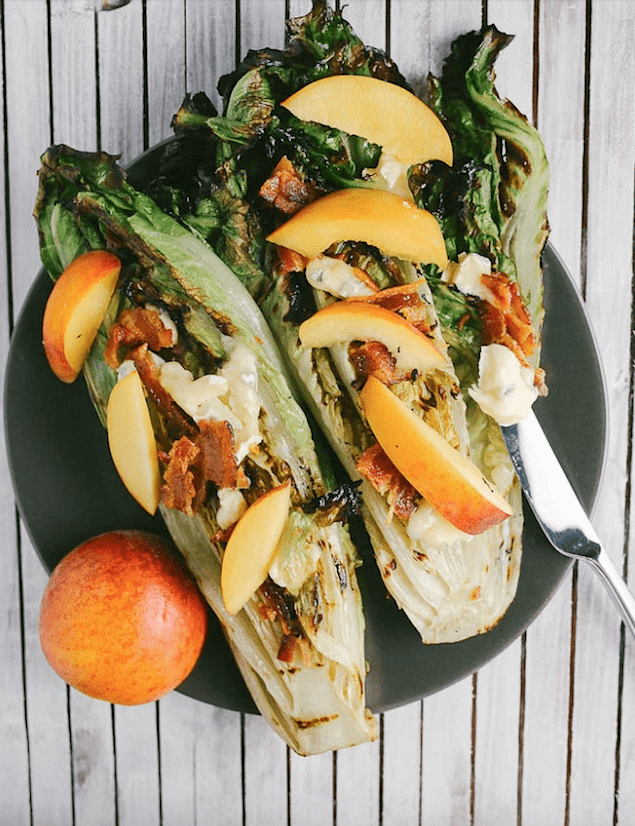 Earlier this summer, a friend showed me how lightly-oiled romaine lettuce hearts, when charred on the grill, can turn an otherwise humdrum salad into a spectacular showpiece. He threw his romaine hearts on the grill, letting them char a bit on each side, before tossing some hearty chunks of blue cheese on top of them and letting the heat from the just-grilled romaine hearts soften the cheese a bit. The result was a smoky, creamy, crispy mouthful.
See Also
Back at home, I wondered how I could punch up the grilled romaine hearts to make a filling weekday side. We've been buying a lot of nectarines this summer, and so the other day, with a dozen rolling around in our fruit bowl, I sliced them up as an accompaniment. To further bring out the smokey goodness, I added some crispy bacon, too. The result was a filling, hearty salad that needed no dressing. The blue brie melted into a creamy sauce, and my favorite part about eating this summery, satisfying concoction was swirling slightly charred leaves in pools of saucy blue brie. Basically, this salad is summer on a plate — smoky, steamy, sweet and just a little bit heartbreaking.
Castello Summer of Blue — Grilled Romaine and Blue Brie Salad
Smokey, sweet, and creamy, grilled romaine salad will be your last love of the summer. Bacon and stone fruit turns a side into something unique with blue brie cheese.
Ingredients
4 romaine lettuce hearts
2 ripe nectarines, sliced and skin-on
6 strips bacon
6 ounces Castello saga blue brie
2 tbsps extra-virgin olive oil
salt and freshly ground pepper, to taste
Instructions
Do ahead: wash romaine lettuce hearts thoroughly. Cut in half lengthwise and dry on paper towels (let dry as much as possible).
Place bacon on an ungreased foil-lined baking sheet and place in oven. Turn on oven to 350 degrees and set timer for 10 minutes. After 10 minutes, remove baking sheet from oven and carefully drain off the bacon grease into a melt-resistant container (preferably glass). Return baking sheet to oven and cook for another 10-15 minutes until bacon is crispy. Remove baking sheet from oven, drain bacon grease again, and, using tongs, remove bacon to a paper towel-lined plate to drain and cool.
Using a sharp knife, cut blue brie into large chunks (approximately ½-inch wide).
Heat oiled grill to 350 degrees.
Rub romaine hearts all over with olive oil. Place romaine hearts, cut side down, on grill and cook, turning once, for about a total of 4 minutes (until romaine is charred).
Remove from grill and season with salt and pepper. Immediately sprinkle blue brie on top while romaine hearts are hot. Garnish with nectarine slices and crumbled bacon. Serve immediately.
Ann Kaufman
Ann Kaufman is an emotional food enthusiast who writes about food at Grits & Chopsticks. When she's not writing about food, she's caring for her two young children, lawyering and thinking about her next meal.