PARTNER POST – Get inspired with creatively crafted Castello Blue Cheese as we celebrate a Summer of Blue with #BluesdayTuesday.
A savory custard tart is filled with fresh rosemary, a hint of dried lavender, and a handful of blue cheese before being topped with sweet roasted figs. A stunning combination of flavors.
By Kathy Gori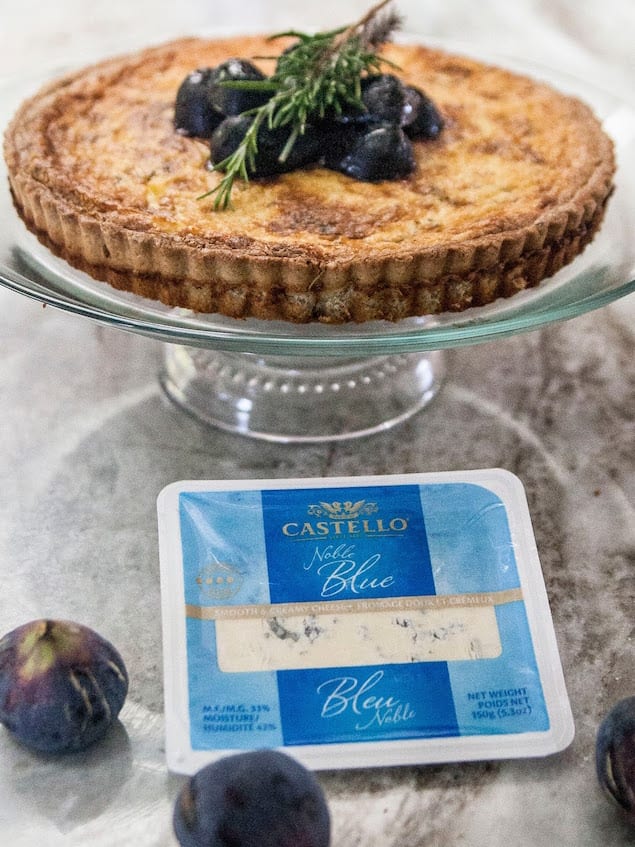 Growing up in an Italian household, I've been a cheese lover since childhood, and now living in Sonoma I have access to a wide variety of cheeses, so when I say I love a cheese, I've certainly had plenty of cheese eating experience. I love the cheeses I've had from the people at Castello.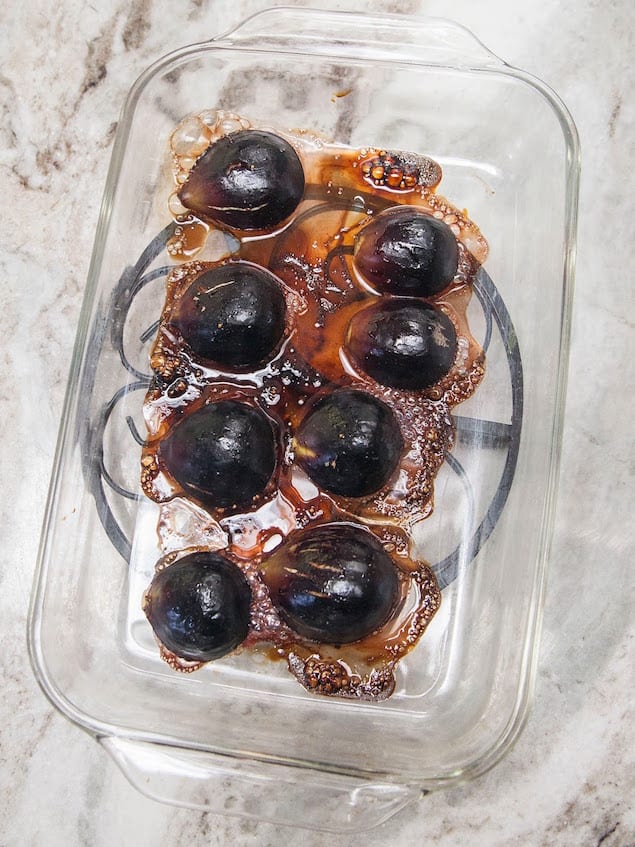 Most people's experience with Blue Cheese is limited to ranch dressing, or maybe crumbled up on top of a burger to jazz things up, but blue cheese is a very sophisticated cheese with a whole range of talents, that go far beyond being poured over a salad. As I discovered, there's almost nothing that it can't do. I decided in putting my Noble Blue to good use, I'd make it the star of a sophisticated Saturday night supper. I made a tart, using the Blue Cheese, herbs from my garden, homemade creme fraiche, and some of our local figs and eggs from the Farmers Market (our Panache figs aren't ready yet) and to top it off, I'd make it gluten free since so many of our friends are gluten intolerant.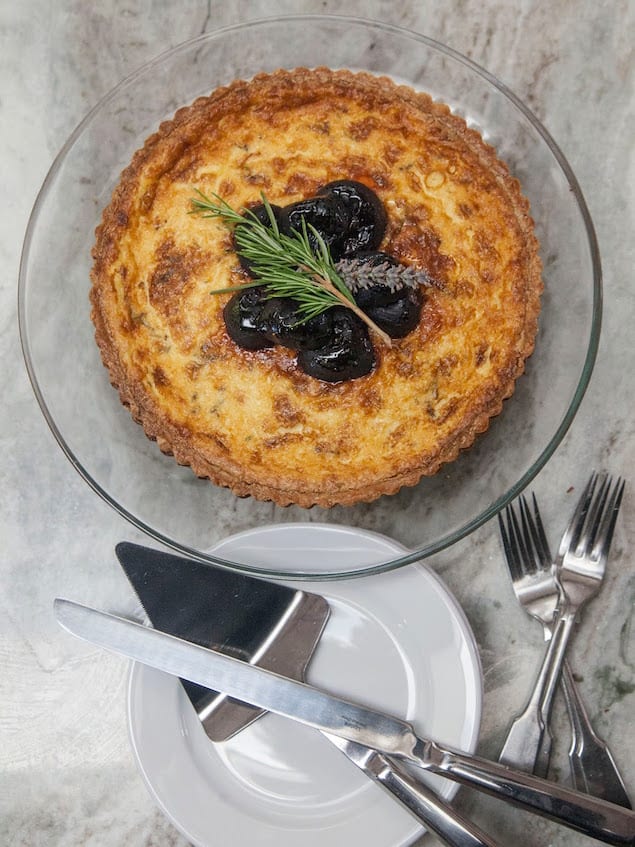 The flavors of the Blue Cheese combine wonderfully with the sweet figs, and the bits of rosemary and lavender.

Castello Summer of Blue — Fig and Blue Cheese Tart
A savory custard tart is filled with rosemary, a hint lavender, and blue cheese before being topped with sweet figs. A stunning combination of flavors.
Recipe Type:
Main, Side, Baking
Ingredients
Tart Shell
1 and ¼ cups of flour (regular or gluten free..I use my own gluten free special blend ) plus a bit extra for kneading
3 Tbs sugar
¼ tsp kosher salt
7 Tbs unsalted butter chopped up
1 egg yolk
½ tsp vanilla extract
½ tsp fresh lemon juice
3 Tbs ice water
1 Ten inch tart pan
For The Filling
One 8 oz package of Castello Noble Blue Cheese
3 eggs and 2 egg yolks
1 cup creme fraiche
1 cup of whipping cream
1 Tbs chopped rosemary
1 Tbs chopped dried lavender
1 shallot finely chopped
8 fresh figs
2 Tbs fig balsamic vinegar
1 Tbs unsalted butter
Instructions
Tart Shell
Add the flour, sugar and kosher salt to a food processor.
Pulse it a couple of times to mix stuff up.
Cut 7 Tbs of butter into small squares.
Add them to the flour, salt, sugar mixture and pulse again. You want the flour mixture to be nice and finely mealy.
Set it aside.
Put 1 egg yolk in a small bowl.
Add in the vanilla and the lemon juice and 3 Tbs of ice water.
Mix everything together with a whisk then drizzle the mixture into the bowl of the food processor.
Pulse it again until you have a nice dough.
Put the dough onto a pastry cloth, knead it with a bit of flour and shape it into a disc about 5 inches across.
Place the disc of dough into the bottom of your 10 inch tart pan.
Place a piece of Saran wrap or cling film over the dough. Then using your fingers push the dough out to fill in the bottom of the tart pan and up onto the sides of the pan. This makes spreading your crust a LOT easier, especially when working with gluten free flour which can be sticky. It also keeps your paws off the dough.
Work the dough up the sides of the pan. The Saran wrap makes that easier too. Keep the plastic wrap on top of the dough and using as fork poke holes through the wrap, not the dough.
Now place the tart pan containing the dough into the freezer for about 10 minutes to firm things up.
Preheat your oven to 375 degrees.
Once your tart has firmed up, and the oven is up to speed, remove the plastic lining. Lay a piece of tin foil inside the unbaked dough and fill it with rice, or beans or pie weights...this is called Blind Baking.
Pop the tart dough into the oven, on the middle rack.
Bake the tart dough until the sides are set and the edges are pale golden. This takes about 20 minutes.
Take the tart out of the oven and remove the tin foil and pie weights, then put it back in UNFILLED for another 15 to 20 minutes or until it's baked through and is nice and golden brown.
Set the baked crust aside and reset your oven to about 390 degrees.
Make the filling
Peel and chop the shallot finely. Finely chop the fresh Rosemary and lavender.
In a large separate bowl whisk together the 3 eggs and two extra egg yolks. Set it aside
Melt 1 Tbs of unsalted butter in a skillet. When it's hot add in the shallots, rosemary and lavender. Sauté them until the shallot is lightly browned. Set this aside.
Meanwhile back at the bowl full of eggs, add in 1 cup of creme fraiche. Whisk this together. Then add in 1 cup of whipping cream, and the shallot and herb mixture.
Then finally crumble the Castello Noble Blue Cheese in. Mix everything together well and pour the filling into the tart crust.
Slide it back into the oven and bake between 1 hour or 1 hour and 10 minutes.
You'll know this is done when the tart filling has browned and still has a bit of a wiggle in the center. Don't worry this will firm up as it cools. Set the tart out and let it cool.
While it's cooling wash, and halve the figs.
Put them into a baking dish and drizzle them with 2 Tbs of Fig Balsamic Vinegar. Pop them into a 400 degree oven for about 15 minutes or so.
Your tart which came out of the oven rather on the puffy side should have cooled and settled down a bit.
When you can handle it comfortably slip the ring off the pan carefully. Set the tart on a serving plate.
Decorate it with the halved roast figs, cut side down. Finish it off with a sprig of rosemary and one of lavender. Cut it up and serve.
If you want to make this a bit ahead, then put the tart back on a baking sheet, cover it lightly with foil and pop it into a warming oven (about 170 degrees)