Castello Summer of Blue — Blue Cheese Bison Burgers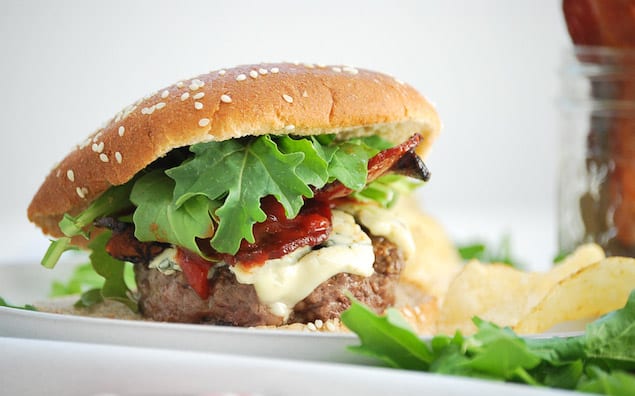 PARTNER POST – Get inspired with creatively crafted Castello Blue Cheese as we celebrate a Summer of Blue with #BluesdayTuesday.
Glazed bacon, creamy blue cheese, and a flavorful bison patty makes this burger a grilling winner. Fire up the grill and try this summer favorite.
By Laney Schwartz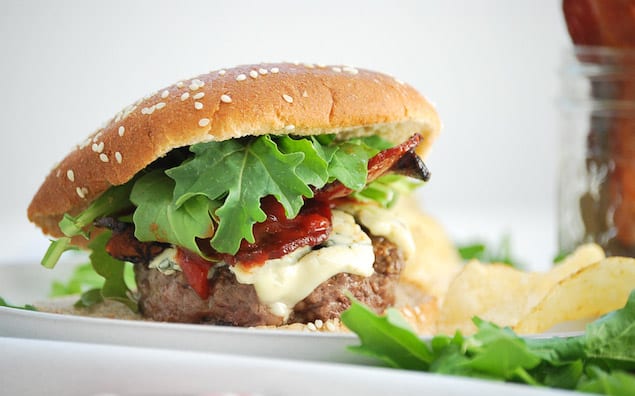 This burger is NO JOKE.  Bison, blue cheese, and bacon.  It's the perfect trio.
I wanted to spice things up a little (not literally), so I decided to use ground bison for these burgers instead of beef or my typical go-to, turkey.  Have you tried it??
Bison tastes similar to beef, with just a slightly sweeter and richer flavor.  It's super lean, and nutritionally you get more protein and nutrients with fewer calories and less fat! Totally worth a try if you ask me!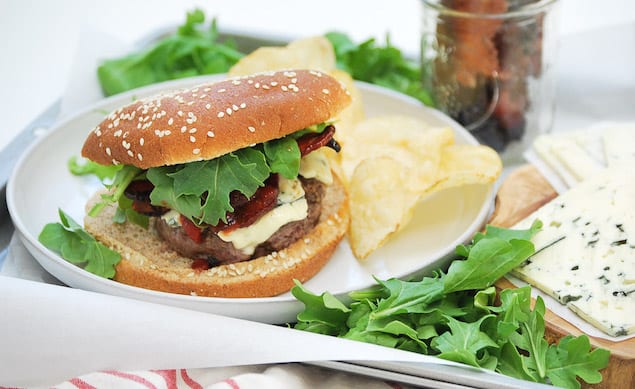 But the bison alone wasn't enough for me. It's these blue cheese burger slices that really take this burger to the next level. For anyone who knows and loves blue cheese is well aware of the crumbly mess if can make. I love Castello's perfect blue cheese slices that are juuuuust right for a summer burger!
Glazed with maple syrup and brown sugar, this crispy bacon officially put the burger over the top.
So get grilling this summer, before it's too late!
Castello Summer of Blue — Blue Cheese Bison Burgers
Glazed bacon, creamy blue cheese, and a flavorful bison patty makes this burger a grilling winner. Fire up the grill and try this summer favorite.
Ingredients
1 pound ground bison
½ teaspoon salt
¼ teaspoon garlic powder
¼ teaspoon onion powder
⅛ teaspoon pepper
4 Castello Burger Blue Slices
8 slices maple brown sugar bacon
4 hamburger buns
Ketchup
Arugula
For the maple brown sugar bacon
8 slices bacon
¼ cup maple syrup
1 tablespoon brown sugar
Instructions
Preheat oven to 400 degrees. Prepare the bacon. In a small bowl stir together the maple syrup and brown sugar. Set aside. Place a cooling rack on a sheet pan and arrange the bacon in 1 layer on the rack. Bake for 12-15 minutes, until the bacon begins to brown. Remove the pan carefully from the oven. Brush the bacon slices with maple syrup mixture and bake for another 3-5 minutes, until the bacon is golden brown and begins to crisp. Transfer the bacon to a plate lined with paper towels and set aside.
In a large bowl add the bison, salt, garlic powder, onion powder, and pepper. Using a fork, carefully mix spices into the meat. Be careful not to over mix. Using your hands form 4 burger patties and place on a plate.
Preheat a pan or grill over medium/high heat. Spray with non-stick spray and lower the heat to medium/low. Cook the burgers 5-6 minutes on each side. The last few minutes of cooking add 1 slice of blue cheese to each burger until just melted.
Serve each burger on a bun, topped with 2 slices of bacon, ketchup, and arugula. YUM!
Laney Schwartz
Laney spends her time being a home cook, mom, wife, workout junkie, and ultra crazy food lover.