PARTNER POST – Get inspired with creatively crafted Castello Blue Cheese as we celebrate a Summer of Blue with #BluesdayTuesday.
Savory blue cheese and pancetta gougères are a puff of bold cheese flavor that are delicious on their own or as an awesome appetizer bites with a meat or greens filling to pair.
By Amanda Powell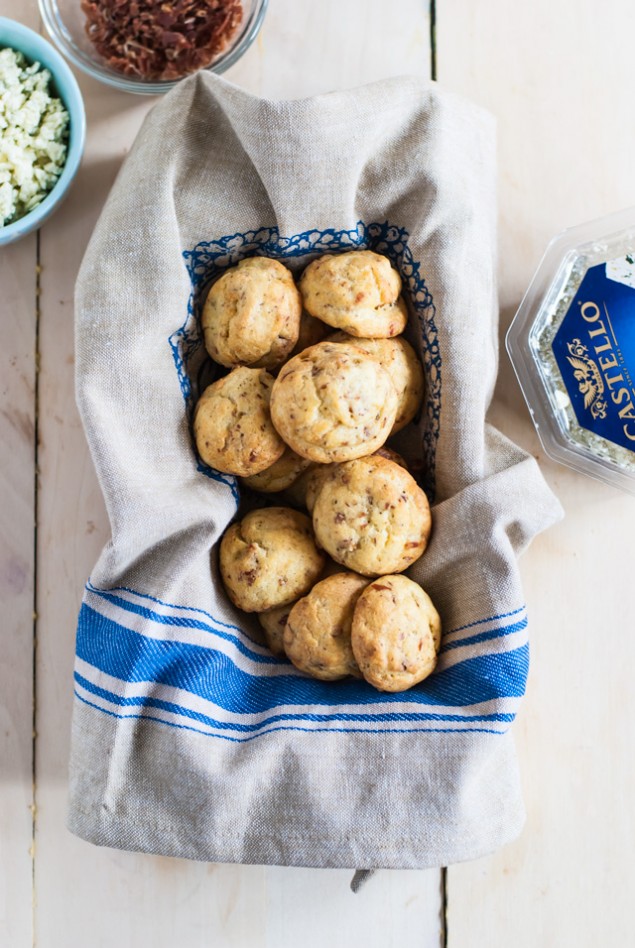 I am very particular about my blue cheese. I don't really have a good reason as to why I am so particular about how I eat my blue cheese, but I think a good part of has to do with the fact that I believe many ways people use blue cheese doesn't fully complement the distinctive flavors. I think when used properly, blue cheese is one of the best tasting cheeses, and can really help certain flavors in other foods come out.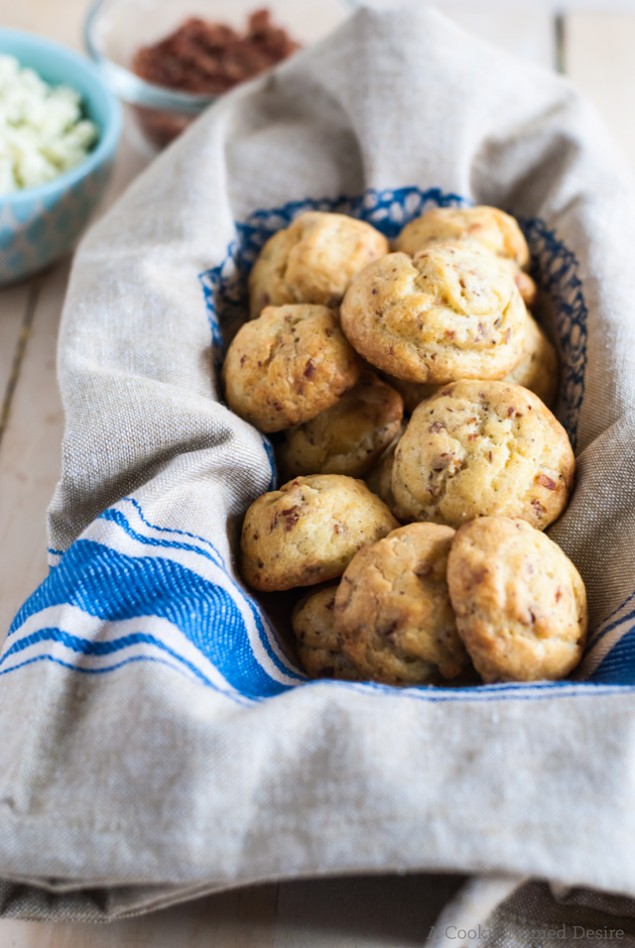 That is why I love adding blue cheese to gougères, which are basically savory cream puffs or profiteroles. These blue cheese and crispy and pancetta gougères may seem as though they are fancy, but they are actually so simple to make, and are great dinner rolls for a Tuesday night meal. You can eat them on their own, or spread a bit of butter on them, or even fill them with a number of fillings – my personal favorite being garlic-y collard greens and meat.
Also, you can easily double the recipe, make them larger and use them as burger buns during a Tuesday night BBQ. Imagine a juicy burger sandwiched between these large blue cheese and crispy pancetta gougères.
Castello Summer of Blue — Blue Cheese and Pancetta Gougères
Savory blue cheese and pancetta gougères are a puff of bold flavor, delicious on their own or as appetizer bites with a meat or greens filling to pair.
Serves:
about 10 gougères
Ingredients
1 cup white wine
8 tablespoons unsalted butter, cut in cubes
1 cup all-purpose flour
½ teaspoon salt
¼ teaspoon freshly ground black pepper
4 large eggs
½ cup Castello crumbled blue cheese
½ cup finely chopped crispy pancetta
Instructions
Preheat the oven to 400 degrees F, line a baking sheet with parchment paper or a silicone mat.
In a large saucepan, add the wine and butter and heat until the butter melts and the mixture begins to simmer.
In a small bowl, mix together the flour, salt, and pepper together. Pour the flour mixture into the wine mixture and mix until well combined.
Slowly mix in one egg at a time, fully incorporating each egg before adding the next. It will seem as though the eggs will never full mix in, but I promise it will after enough mixing!
Fold in the blue cheese and pancetta and mix until well incorporated.
Fit a piping bag with a large round tip and pipe rounds onto your baking sheet that are about 2 inches wide. Wet a finger with water and use that to smooth out the tops of the dough.
Bake for about 25 - 30 minutes, or until they are puffed and golden brown.
Eat as they are, or slice them open and fill with more meat and bitter greens and butter!
Amanda Powell
Amanda is a self-taught baker and photographer. Her passion for food began when she started college in London and was able to experience authentic food from across Europe. She loves being in the kitchen with her daughter and developing her skills in the kitchen.