Castello Summer of Blue — Blue Cheese and Chicken Salad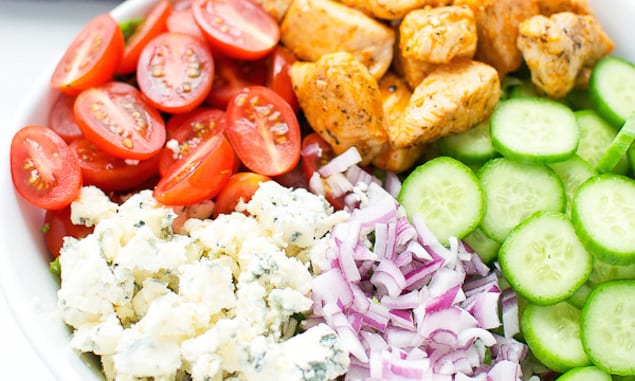 PARTNER POST – Get inspired with creatively crafted Castello Blue Cheese as we celebrate a Summer of Blue with #BluesdayTuesday.
Tossed in a spicy sauce, this chicken salad is served with cool cucumbers, creamy blue cheese, and a tangy white balsamic vinaigrette. A light summer dish with plenty of protein.
By Lyubomira Lsl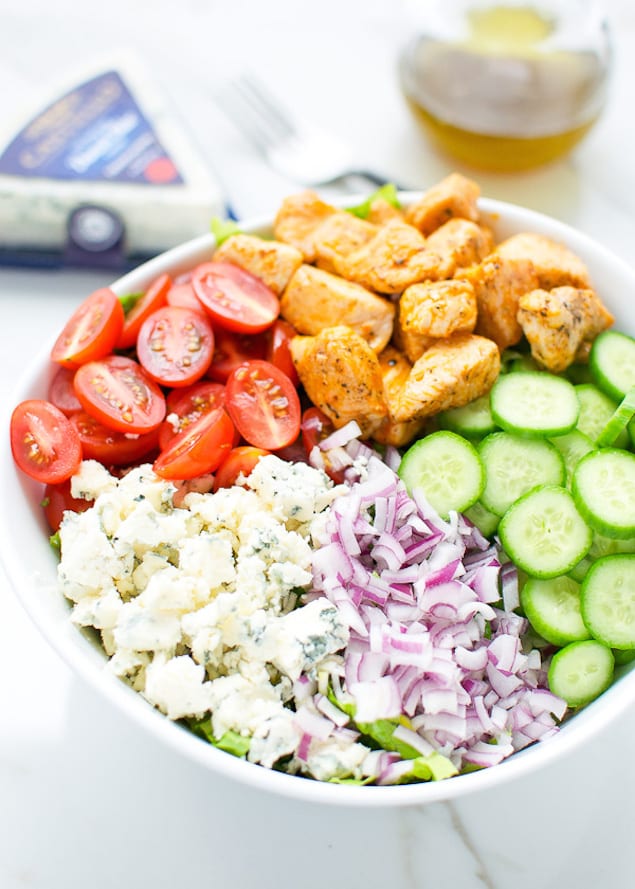 To me, summer is all about light and easy meals. That's why when Castello sent me some of their Traditional Danish Blue Cheese, I knew exactly what I was going to make.
Don't get me wrong, this creamy blue cheese would be perfect on top of a juicy burger!
But I love my salads. They are the perfect addition to any meal or summer gathering. That's how this buffalo chicken and blue cheese salad came up.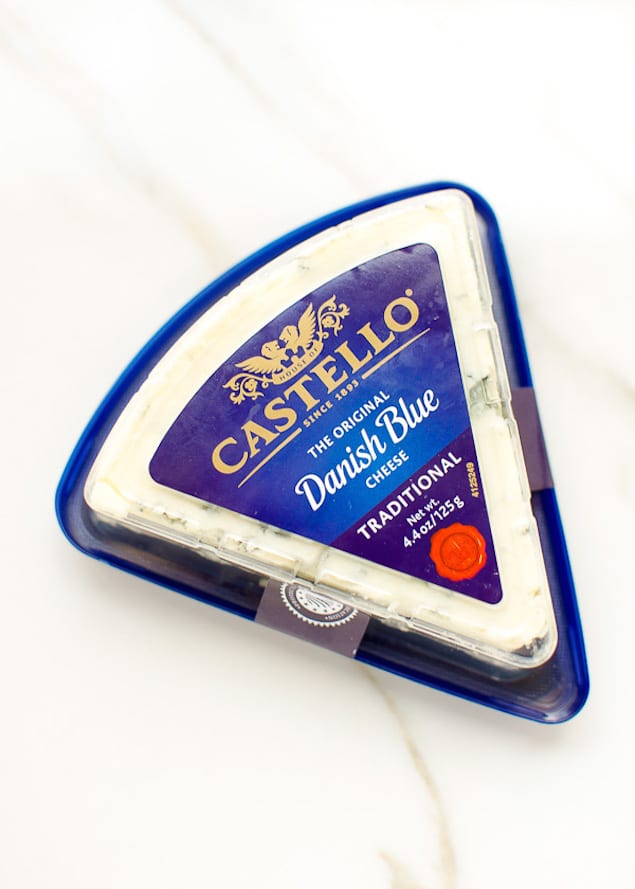 Juicy chicken is tossed in hot buffalo sauce, with creamy blue cheese, crunchy cucumbers, tomatoes and onions, for a salad that is just perfect for summer!
There is something unique about combining blue cheese and buffalo sauce. I made a white balsamic vinaigrette for the ultimate balance of flavors.
I like blue cheese and use it in a lot of salads in the summertime. And Castello is one of my favorite brands so far!
Castello Blue Cheeses are epicurean delights. The tangy characteristics are balanced with sweet and salty flavors and are ideal to top a grilled burger or add to a buffalo chicken salad. From crumbled, soft to spreadable, to a sliced blue cheese, perfect for melting with floral notes, Castello has a wide range of unique blue cheeses. Check out Castello's website for more information on their cheeses.
Castello Summer of Blue — Blue Cheese and Chicken Salad
Tossed in a spicy sauce, chicken is served with cucumbers, creamy blue cheese, and a white balsamic vinaigrette for a cool summer salad with tons of protein.
Ingredients
For the White Balsamic Vinaigrette:
½ cup extra virgin olive oil
¼ cup white balsamic vinegar
1-2 tbsp Maple syrup or honey
½ tsp salt
¼ tsp black pepper
¼ tsp Italian seasoning
For the Buffalo Chicken:
2 (6-8 oz) boneless skinless chicken breasts
1 tsp salt
¼ tsp black pepper
¼ tsp dried oregano
2 tbsp olive oil, divided
1 tbsp butter
4 tbsp buffalo hot sauce
For the salad:
6 cups chopped romaine lettuce
8 mini cucumbers, sliced into thin rounds
2 cups grape tomatoes, cut in half
1 medium purple onion, chopped
1 (4.4 oz) pack Castello Traditional Danish Blue Cheese, crumbled or sliced
Instructions
For the dressing:
In a bowl, whisk all ingredients together until blended. Store in airtight container until ready to use.
For the Buffalo Chicken Bites:
Cut chicken breast into 1-1½ inch cubes. Season with salt, pepper and oregano. Add 1 tbsp olive oil and toss to coat.
Heat 1 tbsp olive oil in a medium skillet over medium-high heat. Add chicken pieces, making sure there is some space in between each one. Cook for 3-4 minutes per side, until no longer pink, the outside turns golden and thermometer registers 165 F. Transfer chicken to a plate, lined with paper towel.
Wipe grease off the pan and melt butter. Add hot sauce and stir to combine. Toss chicken in the prepared sauce.
For the salad:
In a large bowl add lettuce, tomatoes, cucumbers, onions, blue cheese and buffalo chicken bites. Pour dressing on top and toss to combine. Enjoy!
Lyubomira Lsl
Hi, I'm Lyubomira (people call me Mira). I have background in construction engineering and design, but recently discovered my new passion – cooking and food photography.I try to share simple, straightforward recipes, fast to prepare with widely available ingredients.