Bold flavors, bacon, coffee, and blue cheese, make this burger a savory summer delight. Grill up the smoky stack and serve with sweet, grilled pineapple.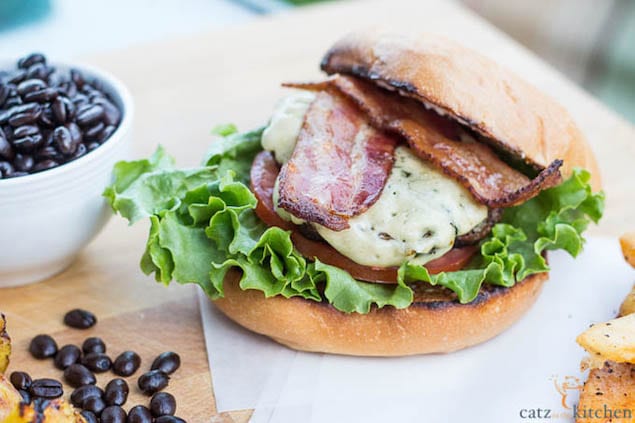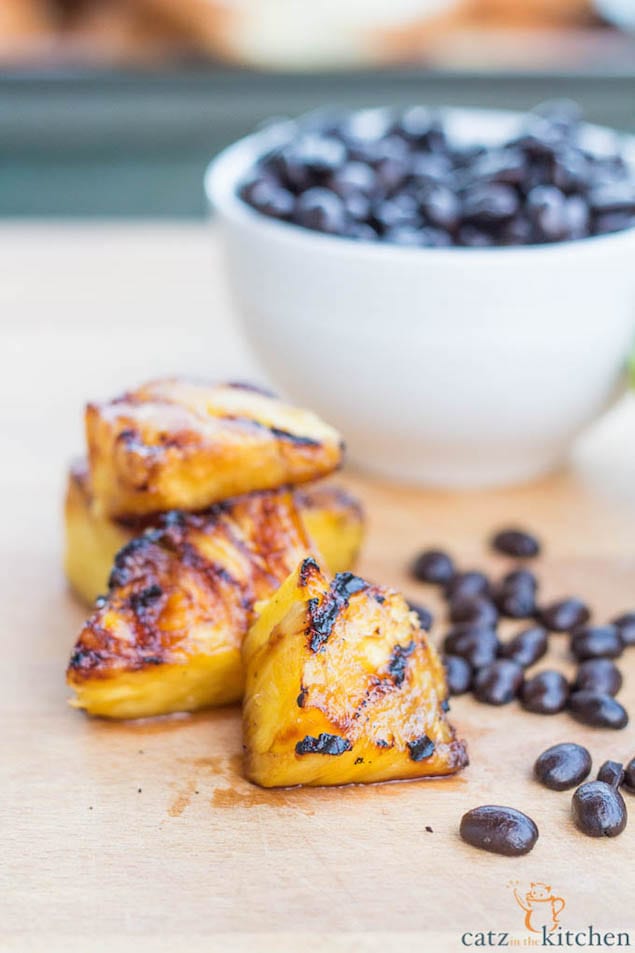 This incredible burger features creamy blue cheese,  coffee rub, bacon, and sweet pineapple. For the coffee rub, I would say each to his or her own! Use the combination of spices and blend of coffee that appeals to you. I'll share with you what I did, but a rub is one of those things that's designed to be played with and tweaked until you get it just the way you want it.
The same goes for sides, of course. The blue-cheese / bacon / coffee combo is a savory tour de force, so we decided to serve sweet grilled pineapple chunks on the side as a contrast. (Do that. It's good.)

Castello Summer of Blue — Bacon and Blue Cheese Coffee-Rubbed Burgers
Bold flavors, bacon, coffee, and blue cheese, make this burger a savory summer delight. Grill up the smoky stack and serve with sweet, grilled pineapple.
Author:
Joshua & Chelsia Rief
Ingredients
Burgers
4 hamburger buns (Kaiser rolls, brioche, or other stiffer varieties are a good way to go)
1 lb ground beef (90/10 will work, but blend 80/20 and 93/7 if you can)
8-12 slices thick cut bacon (2-3 slices per burger), fried or baked
4 slices Castello Burger Blue cheese
4 large pieces green leaf lettuce
1 large hothouse tomato, sliced
Mayonnaise, ketchup, mustard, or other condiments, as desired Oil (vegetable, canola, or olive) for brushing
Coffee Rub
¼ cup espresso, finely ground 2 tbsp ancho chile powder
2 tbsp brown sugar
2 tbsp smoked paprika
1 tbsp kosher salt 1 tbsp black pepper
Instructions
Preheat grill to medium high heat, about 400 degrees. For a charcoal grill, arrange for direct heat.
If using multiple varieties of beef, blend well in a bowl by hand. Form into four patties, using a burger press, if available.
Add rub ingredients to a bowl and mix together.
Rub both sides of each patty well with coffee rub. Try to avoid contaminating any remaining rub with raw
beef, so that it can be saved for future use.
If grill grate is not pre-oiled, spray with grilling spray to avoid sticking.
Cut the hamburger buns in half if not pre-sliced, and brush the cut sides with oil.
Place patties on grill and close lid. Grill for approximately 4 minutes per side. (The USDA recommends a
minimum internal temperature of 160 degrees for beef.)
For the last minute of grilling, add Castelo Burger Blue cheese slices on top of patties, close lid again, and
allow to melt over tops and sides of patties.
Remove patties from heat and allow to rest for 2-3 minutes.
Place buns cut side down on the grill for about 30 seconds to a minute, until cut edges are slightly browed or charred.
Remove buns from heat and spread condiments of your choice on cut side. On bottom bun, layer green leaf lettuce, tomato, burger, bacon, and top bun. Serve immediately!

Chelsia Rief
Hi, I'm Chels! You'll find me in the kitchen most days – either that or the desk around the corner from the kitchen. No doubt about it – the kitchen is the center of my little household. I believe cooking together and eating together helps keep us together!